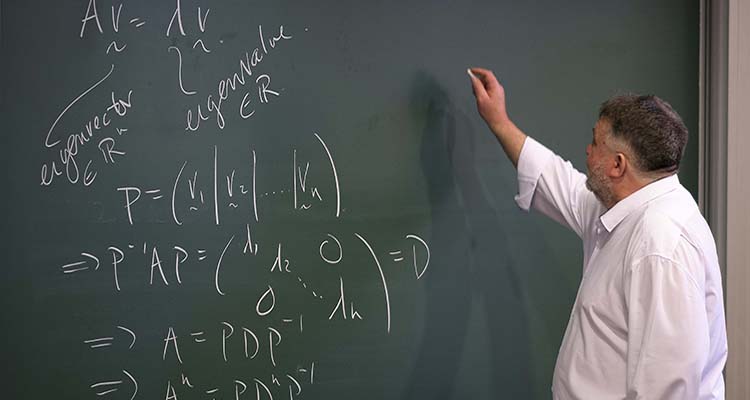 Milan Pahor, who has spent 35 years teaching in the School of Mathematics and Statistics, has won the 2019 KPMG Inspiring Teaching Award in a first-year undergraduate program.  
The Office of the Pro Vice-Chancellor, Education and KPMG have announced that Milan Pahor, from the School of Mathematics and Statistics has won the 2019 KPMG Inspiring Teaching Award in a First Year Undergraduate Program.
Now in its third year, the KPMG Inspiring Teacher Award has grown in popularity, with nearly 2,000 first year undergraduate student participants. This year 295 teachers received votes, demonstrating the great breadth of inspiring teachers at UNSW.
Mr Pahor is an education focussed mathematics lecturer with 35 years of teaching experience. He received the Faculty of Science Teaching Excellence Award in 2012 and his passion for teaching has inspired The Milan Pahor Appreciation Society group on Facebook which has over 2,200 members. 
Mr Pahor speaks about why he loves teaching at UNSW and what it means to him to win the award. 
Mr Pahor believes his love of teaching ultimately comes down to students and staff.
"The students have worked so hard to get to university. I find them incredibly motivated, approaching their studies with confidence, determined to understand mathematics at the deepest possible level," says Mr Pahor.

"It is of course rare to spend your entire working life in one organisation, but I have never really been tempted to leave UNSW. I have always appreciated that the School fully understands the need for diversity within the staff skill-sets and supports a broad range of contributions. Increasingly we are operating under pressure, but in all my time at the School of Mathematics I have witnessed nothing but a firm commitment to our students, teachers and research staff. I am always inspired by the professionalism of my colleagues."
His advice to new teaching academics? They should enjoy the entire process of teaching and learning.
"The director of first year studies said to me early in my teaching career 'you must always remember that you cannot learn how to bake a cake by simply eating cakes.'
"As a skilled eater of cakes this came as a great surprise to me! But what he was stressing was that a polished, professionally created final product almost always reveals nothing at all of the technicalities of its own creation. Now more than ever I feel that students need to see the mathematics actually being done in front of their eyes, errors, dead-ends, frustrations and misunderstandings. They need to see the cake being made," he says.
Our UNSW students' feedback reflects his enthusiasm, and they shared their thoughts when voting for the award:
"Milan is the most remarkable and inspiring lecturer I have encountered at UNSW. His lectures were thoroughly engaging, delivered with immense clarity and confidence. His written notes, which were always provided on Moodle ahead of time, were incredibly easy to follow and understand." 
"Milan cares about the progress of his students' learning and teaches in a thorough yet inspiring way. He uses traditional methods of blackboard and chalk and always clearly conveys concepts to students with his explanations and examples and encourages them to actually be present in the classroom to learn." 
"Mr Pahor completely changed my perspective on mathematics. Coming from a weaker mathematical background, Milan provided a great sense of encouragement and clarity when dealing with difficult concepts. This helped me to achieve a result far higher than I expected and I am now concentrating my degree in mathematics as a result." 
Milan will receive a $3,000 cash prize and certificate, to be presented at an awards lunch hosted by KPMG. It will be attended by senior representatives from KPMG and UNSW, leading industry representatives from his discipline field, and a representation of students that nominated.  
Joining Milan in the group of top-five teachers voted for this year are: 
Dr Nicholas Apoifis, School of Social Sciences 

Dr Daniel Mansfield, School of Mathematics and Statistics (2017 recipient of the KPMG Inspiring Teacher Award) 

Marc Chee, School of Computer Science and Engineering 

Professor Chris Tisdell, School of Mathematics and Statistics
Comments