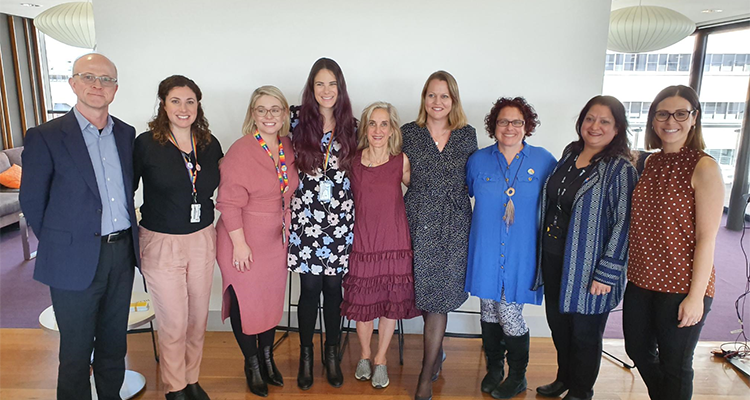 At the inaugural Diversity Fest, a panel of female UNSW leaders discussed their careers and gave tips on how to get to where you want to be. 
"If you see something you're interested in, take initiative. Don't be afraid to put your hand up and strive for more," said Jillian Segal AO, UNSW Deputy Chancellor. 
As part of the inaugural UNSW Diversity Fest, Ms Segal AO hosted a professional women's lunchtime event, Her Career Compass as part of her UNSW Women Connect Series. The event was co-hosted by co-Gender Champions Adrienne Torda, Associate Dean Education and Innovation in the Faculty of Medicine, and Vinita Chanan, Director of Plus Alliance.  
Her Career Compass was born from the desire for UNSW professional women to learn more about career pathways and progression opportunities, leadership and work-life balance from passionate, strong, empowered women leaders. 
Panellists Alison Avery, Head of Precinct Communication and Engagement; Rebecca Harcourt, Program Manager – Indigenous Business Education; and Jillian Segal AO, brought a wealth of knowledge across their different career paths. They openly shared their experiences and reflected on some of the bravest, most powerful moments of their careers. 
Career balance: Learn to reflect and grow 
For Ms Avery, this was about creating a healthy and successful balance between her career and family, which was an extremely challenging yet rewarding experience. Ms Harcourt reflected on her opportunity to champion change within Indigenous and rural communities, as well as helping staff achieve their career goals from all walks of life. Finally, for Ms Segal, it was about taking on new challenges and building different skills to distinguish herself regardless of how competent she felt at the time. 
The resounding message in each career reflection was around networking and surrounding yourself with the right people. Ms Segal suggested choosing a few professional colleagues that you respect and can confide in to discuss opportunities and help you achieve your stretch goals.  
Build your networks: Always learning 
Ms Harcourt emphasised the need to surround yourself with a suite of champions from all areas of your community. Learn from everybody, both in an out of the workplace. Have key people that you strategically ask for help from to navigate tricky topics such as promotions, changing jobs and parental leave, all of which are critical to your success and peace of mind. 
Ms Avery, a mother of two, stressed that while having children isn't for everybody, she was grateful to have had the experience. She attributed her ability to balance her career and family to her supportive partner and workplaces, both of which made all the difference. Her advice was to "make it work around what you want it to look like". Each stage of your child's growth is different, and the structure and flexibilities you need to strike a balance will need to change accordingly. Managing both eventually becomes easier, and as they begin school you can take on bigger challenges.  
Navigating your career: Today is the perfect day to start 
Ms Avery offered some wise advice she'd been given: "If you turn up to work three days in a row and are miserable, then it may be time for a change. This could be a change in role, your situation, objectives or something else. It's clear that something isn't right." This realisation should trigger conversations with your inner circle and establish why you feel that way and where you should be going. 
Ms Segal is of the opinion that life happens in five-year lots. Every five years you should ask: "Am I still happy doing what I am doing? Do I want to change something? Is there another path I could take?"  
Changing every year can be disruptive; planning is essential. Think about where you'd like to be in five years and what path you could take to get there, she said. It may require switching roles, volunteering somewhere or upskilling. 
Finally, it's important to use the resources available in your organisation. UNSW has built myCareer to enable staff to have purposeful conversations with their managers about their career trajectories. There are also educational resources, access to workshops and training programs. 
Career progression looks different for everyone. It doesn't have to be linear; it can take on different directions, uncover opportunities, build professional and personal networks, and teach you to put your hand up for new opportunities as they arise.  
Her Career Compass had several inspirational takeaways, but the one consistent theme throughout the event was these women were all about supporting each other. 
UNSW's Employee Assistance Program provider Benestar provides a wide range of health and wellbeing resources on their website and app, which is available to download for free for all staff. Benestar also provides counselling services to assist you with managing work and life experiences, issues or concerns that arise. 
Comments