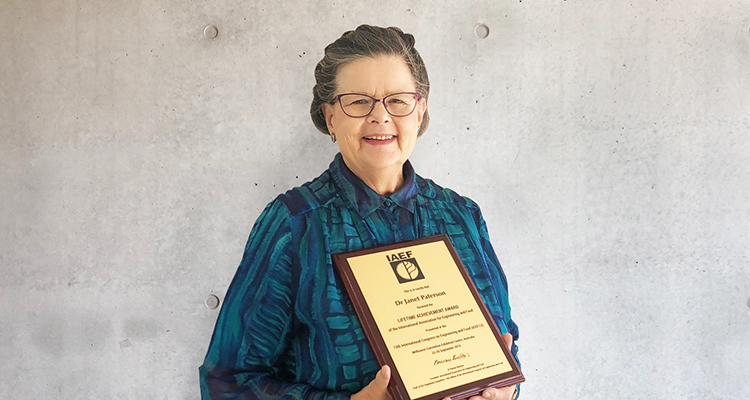 UNSW Engineering lecturer Dr Janet Paterson has received a lifetime achievement award for her work in food engineering.
Dr Janet Paterson, food engineering lecturer at UNSW Engineering, has been recognised for her life-long contribution and international impact on the progress of food engineering by the International Association of Engineering and Food at their recent global congress.
"Receiving the award is a great honour and was totally unexpected," said Dr Paterson. "It comes after my interdisciplinary work in science, technology and engineering enabled by my original UNSW course in food technology."
Commenting on the fact that she was the first woman to ever receive this international accolade, Dr Paterson continued: "In my university study, in professional associations and during most of my employment men were in the majority, particularly in higher positions. I am therefore gratified that the International Association of Engineering and Food has now, for the first time, recognised a woman for a Lifetime Award in Food Engineering."
In 1992 Dr. Paterson began lecturing in food engineering in the School of Food Science and Technology at UNSW. She introduced research and teaching in rheology: the study of the flow of matter. She has worked with many national and international organisations and food manufacturers, including Arnott's Biscuits, George Weston Foods, Danisco/DuPont and The Commonwealth Scientific and Industrial Research Organisation (CSIRO)
Dr Paterson contributed the processing component to a research project determining the bioavailability of folate to be added to rice and bread in Australia in order to reduce the number of babies born with spina bifida and anencephaly. Even though she has officially retired, Dr Paterson continues, as part of her honorary appointment, to teach and supervise students in order to encourage "the production of professional, imaginative and ethical graduates."
The International Association for Engineering and Food (IAEF) is a global body of around 25 delegates representing national professional engineering societies. The organisation runs the International Congress on Engineering and Food (ICEF), every four years. This event is the most important congress in the field of food engineering. It has been held in a variety of international locations and this year saw the first ICEF in the Oceania region on 23-26 September, in Melbourne's Convention and Exhibition Centre.
Comments