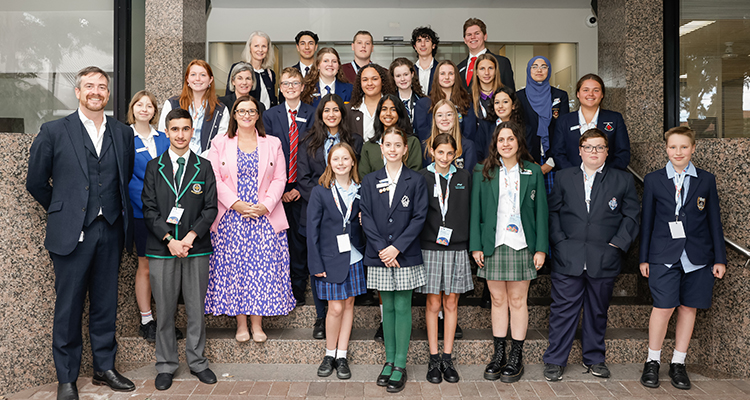 The NSW Department of Education Student Voices and Schools (DOVES) and the NSW Minister for Education and Early Learning The Hon. Sarah Mitchell MLC visited UNSW for a lively discussion with Vice-Chancellor and President Attila Brungs a visit to the Sunswift workshop.
The visit on Thursday 3 November 2022 was an opportunity for the outstanding group of high school students to engage with Professor Brungs about the role of the University in society and learn a bit about UNSW. Over lunch, they discussed the ways that education can make the world a better place, touching on some of the important initiatives of UNSW.
The DOVES, a group of high school students also known as the Minister's Student Council, was created in 2021 following a request from the Minister Mitchell, to develop a formal structure to access student views. It consists of 27 advocates from each of the nine educational directorates in NSW.
Minister Mitchell addressed the DOVES and discussed her own time at UNSW as a rural student.
"I had a wonderful time as a UNSW student – I met interesting, like-minded people and made some life-long friends," she said.
"It's great for the DOVES students to come to a university like UNSW and see the possibilities for their future studies or careers. There are so many pathways in life, and I want all students to know that nothing is impossible."
Professor Brungs also discussed his time at the University and some the things that set it apart: a focus on entrepreneurship, support for students throughout their lives, the success of our students and diversity as a path to excellence.
"I loved my time at UNSW. It was a very special place then and it is a very special place now," he said.
The DOVES asked Professor Brungs a series of questions about his career, the University's goals, engagement with students, rural campuses, scholarships, pathways to university, transitioning into the workforce, student life and wellbeing.
Professor Brungs also welcomed the DOVES back to campus in the future: "I would love to have your insights and have you back to campus on a regular basis."
Before leaving, the DOVES had the opportunity to visit the Sunswift workshop. Here, Professor Richard Hopkins showed off the high-performance solar-powered car designed and built by students, which is on track for an incredible Guinness World Record attempt. The students asked Professor Hopkins a series of in-depth and enthusiastic questions about the car and engineering at UNSW.
Comments