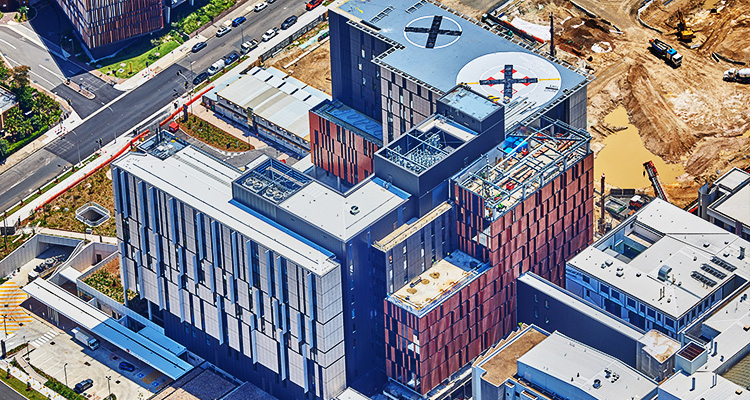 The state-of-the-art building supports innovative approaches to healthcare.
The much-anticipated Acute Services Building (ASB) is the first major upgrade to the Prince of Wales Hospital in 25 years. Located in the Randwick Health & Innovation Precinct, it will provide health workers with purpose-built facilities that support contemporary clinical practice.
Health-related educational and translational research spaces will co-locate with clinical services. These include laboratories and places to support collaboration and the testing and trialling of new models of care and innovative treatments.
UNSW has a 5000 square metre extension off the eastern side of the new building, called the Integrated Acute Services Building (IASB). It will embed research, education and training initiatives with clinical activities and will strengthen links between clinicians and researchers. Providing important insights into current healthcare practice, the connection between the IASB and the hospital will lead to learning and advances in the way healthcare is delivered. UNSW's space is due to open in 2024.
Professor Vlado Perkovic, Dean of UNSW Medicine & Health, reiterated the value of an integrated, co-located space with research, education, clinical and training facilities that strengthens links between clinicians and researchers in real-time.
"We've had teaching affiliations with the Randwick Hospitals Campus for more than 60 years. When the IASB opens next year, we'll finally have a seamless physical connection between the University and the hospital," said Prof. Perkovic.
"Our students, educators and researchers will learn firsthand about the health challenges in our community. They'll discover unmet needs, work together to find solutions and incorporate those solutions into clinical care. Not only does this directly benefit the health of our community, but it puts us at the forefront of health research and education."
Find out more about UNSW's IASB.
Hospital services, access and traffic changes
Some Prince of Wales Hospital services will start moving to the new ASB from early March. The new building will open in stages, with Respiratory & Infectious Diseases the first inpatient ward to move followed by the Haematology & Oncology wards.
Learn about the changes to services.
The main entry to the ASB is on Botany Street, opposite UNSW's Gate 11, and will be accessible from Tuesday 14 March. 
A new four-way traffic light intersection is located at the Gate 11 entry to UNSW on Botany Street. This intersection supports the movement of traffic, cyclists,and pedestrians. The plan is to ease congestion in the area, improve traffic flow (particularly at peak times) and provide safe pedestrian, cyclist and vehicle access to the campus and ASB.
Read about the Randwick Campus Redevelopment.
Comments