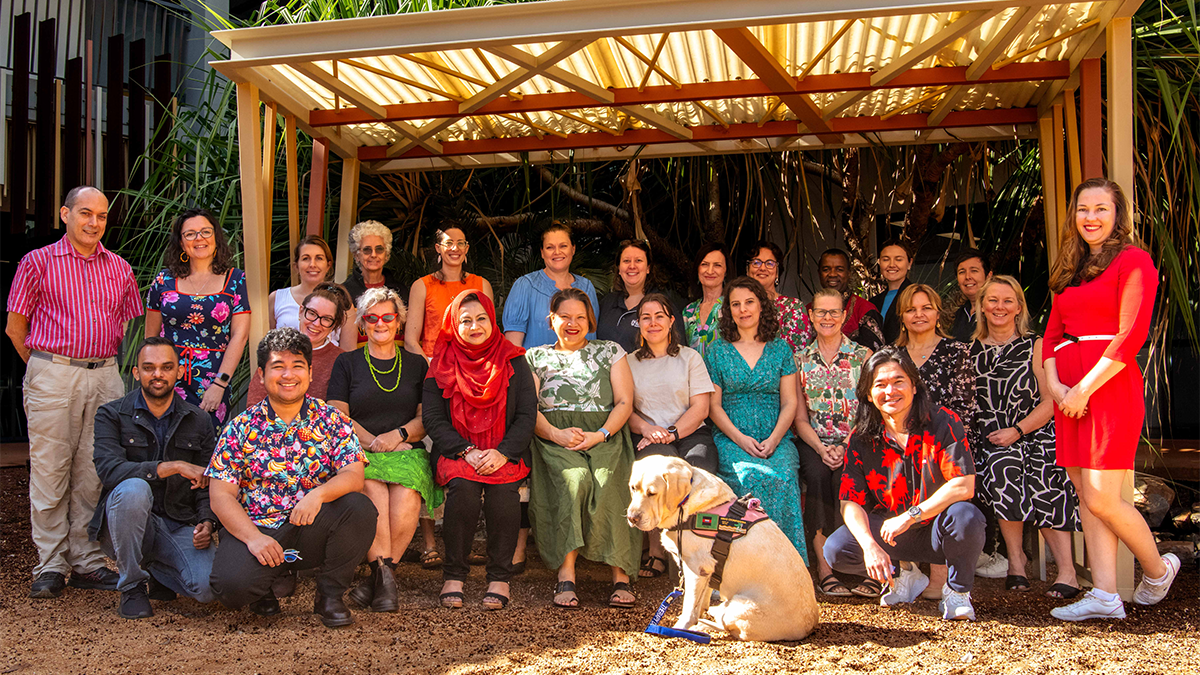 The first UNSW Course Design Institute program delivered at Charles Darwin University (CDU) has helped participants improve unit learning outcomes and assessments. 
The Course Design Institute has been empowering academics at UNSW since 2018 to design courses and understand the deeper aspects of learning and teaching.  
In July, Dr Alex Bannigan, Head, Academic Development & Engagement at UNSW, travelled to Darwin, on Larrakia Land, to co-facilitate CDU's first ever Course Design Program in collaboration with Laura Fairbrother, Curriculum and Learning Specialist – HE at CDU.  
Training the trainer to support ongoing excellence 
Ms Fairbrother discovered the Course Design Institute while looking for ways to promote excellence in course design at CDU.  
"I could see through the videos on the website that the CDI was so clearly impacting people positively at UNSW," she explained. "I could also see how deeply embedded in evidence it was." 
The Course Design Institute offers an intensive five-day program which goes beyond the mechanics of course design to look at what's important about a subject, why students are studying it and what will help them to succeed. Participants look at the big picture of their course, then create or revise meaningful learning outcomes, authentic assessment tasks and learning activities that will set students up for success. 
After meeting regularly with Dr Bannigan to modify the program to fit CDU's needs, Ms Fairbrother ran the first course with Dr Bannigan's help.  
"We used a train-the-trainer model. Now Laura has everything she needs to keep it going at CDU," said Dr Bannigan. 
Participants build skills to create better learning outcomes  
Dr Louise King, CDU's Director Educational Quality & Excellence, joined the program for the whole week as a peer facilitator.  
"The interactive and reflective sessions provided course and unit co-ordinators with the opportunity to focus on developing the understanding and skills for the constructive alignment of learning outcomes, assessment, content and creative learning activities," she said. "The final gallery session was a marvellous opportunity for the participants to present their course design plans and engage with their colleagues across the university." 
All participants said that they would recommend the program to a colleague. 
One commented, "I feel I had this big ah-ha moment around how to improve the unit learning outcomes so that I can teach to them, and students also know what we are trying to achieve!" 
Dr Bannigan said, "It's always a bit nerve-wracking introducing something you believe in to a new audience, especially when it's a university with such a different context from ours. But the feedback from the participants has been fantastic, and people were willing to share, support and genuinely listen to each other and the facilitators." 
Expressions of Interest are now open for the Course Design Institute's program at UNSW Kensington and UNSW Canberra in 2024.  
Find out more about participating in the Course Design Institute program. 
Comments