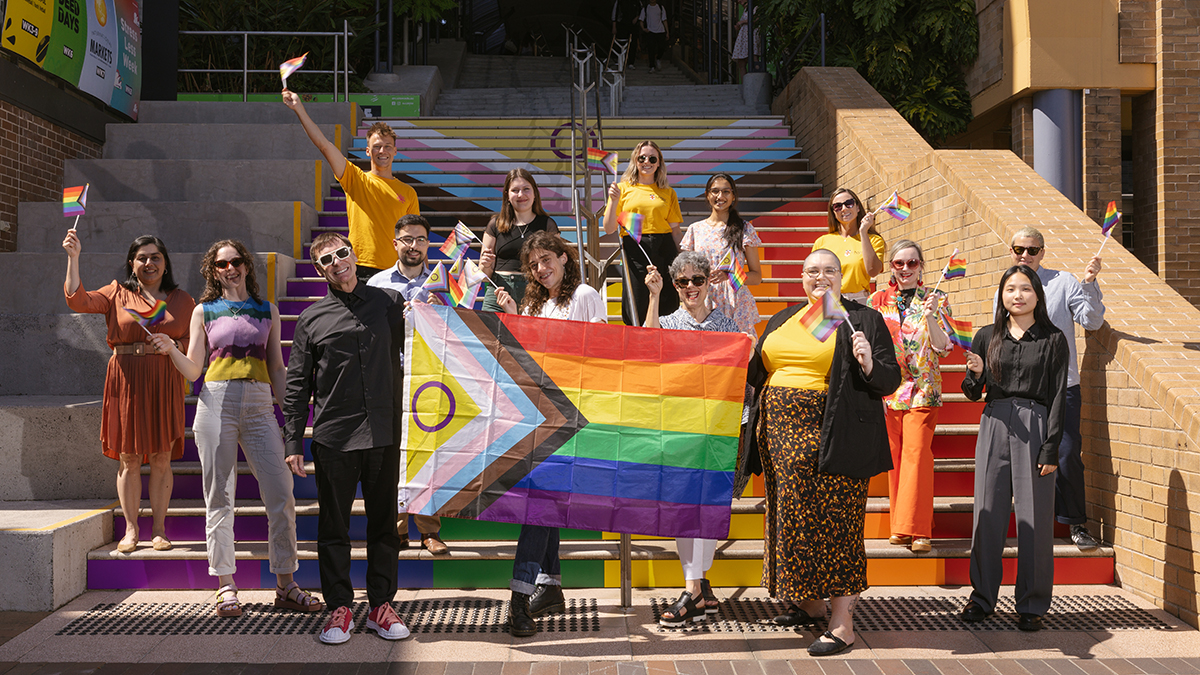 Diversity Festival is back this week, with over 40 free events and activities organised by the UNSW community.
The week started with a refresh of UNSW Sydney's iconic Basser Steps (pictured), which have been updated to display the Progress Pride Flag. Thank you to Estate Management for working so closely with the Division of Equity Diversity & Inclusion to make this happen.
This year's Diversity Festival program includes creative workshops, exhibitions, documentary screenings, keynotes, panel discussions and more. Events tackle a range of topics, including cultural diversity, neurodivergence, accessibility, LGBTIQ+ inclusion and sustainability.
Highlights include:
More than Diversity? How we can think differently about power and privilege
Keynote and panel discussion | Tuesday 19 September, 3pm–4.30pm | Online and at Leighton Hall
Hear about the experiences of trans man and Olympic gold medallist Ellia Green OAM, followed by a panel that will discuss how we can move beyond concepts of diversity and better achieve equity.
Meet the She-EO: Celebrating Blak Excellence
Panel discussion | Wednesday 21 September, 11am–12pm | Gallery 1, Scientia Building
Meet the CEOs of the Aboriginal Employment Strategy (AES), Aurora Education Foundation and GO Foundation. All are Blak women leading successful First Nations organisations in employment and education. Hear about the career choices, opportunities and challenges these women are navigating to support one another and collectively build a stronger, brighter future for generations to come.  
EDI x SDGs Pecha Kucha
Presentations showcase | Thursday 21 September, 1pm–2pm | Library Lawn (Foyer of Scientia if bad weather)
Come and witness Pecha Kucha presentations by 10 UNSW luminaries – including students, postgraduates, academics, professional staff and university leaders – who will demonstrate how their approaches to EDI intersect with the United Nations Sustainable Development Goals. Each speaker will have 10 slides and 20 seconds on each slide to make their case!
No registration needed.
The Bride Flights
Film screening and Q&A | Thursday 21 September, 5pm–6.30pm | Ritchie Theatre
Learn about the stories of Spanish women who arrived in Australia in the 1960s with the expectation that they were coming to work as domestic servants. The real intention of the plan was to balance the gender makeup of the mostly male Spanish community in Australia. Hear from the film's protagonists and director in a Q&A after the screening.
Thank you to everyone who has contributed to Diversity Festival 2023. While the festival is led by the Division of Equity Diversity & Inclusion (EDI), it relies on the UNSW community to bring their ideas and events to life. The Division of EDI is proud to be able to showcase events from both students and staff, with contributions from a range of faculties, divisions and student-led groups.
Take a look at the full program of events on the EDI website, and enjoy what the week has to offer.
Comments