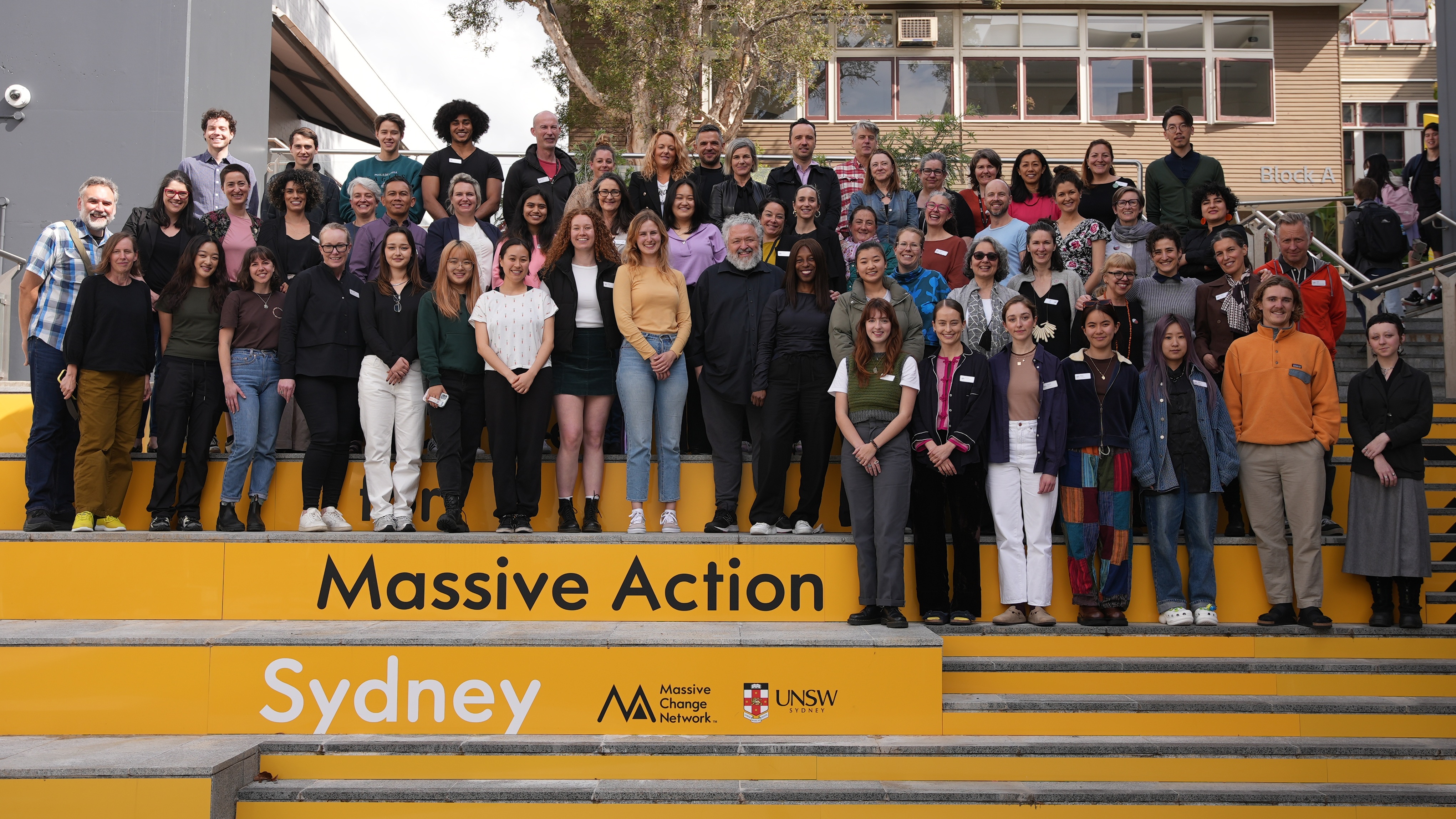 The UNSW ADA Innovation Hub celebrates one year of Massive Action Sydney (MAS).  
MAS is part of a multidisciplinary global movement that draws on our collective power to design a better future now. The ADA Innovation Hub founded and leads the Sydney chapter in partnership with designers Bruce Mau and Aiyemobisi (Bisi) Williams of international consultancy Massive Change Network (MCN).  
The MAS collaboration began in September 2022 with a month-long design sprint attended by 70 staff and students from ADA. Twelve project proposals were designed for creating massive action across the areas of climate, health, power and translation.  
The MAS collaboration is now supporting five strategic projects ongoing, selected from the initial twelve, that accelerate massive action to deliver massive change.  
Making Good Media envisions media culture in a positive, renewable energy climate future. Caring for Country Leave enables preventative climate action through culturally and environmentally appropriate activities. 
Being and Zombieing? shares interactive media tools to address trauma and anxiety designed with, by and for communities of lived experience. re-situ is a multimedia platform that embeds knowledge in place to expand how we learn and share information, fostering respect and a revaluing of diverse knowledge systems. 
Lastly, (Daily) Delight~Disrupt creates 'ecoculture jams' – in-person, playful, public unsettlings – to support people in collectively manifesting restorative ways of being.  
The projects will be showcased at the 2025 Massive Action Exposition, an immersive exhibition experience of global projects demonstrating the power of design to confront our most vexing challenges. 
Throughout their project development, the project teams receive ongoing mentorship with MCN along with support from the Innovation Hub on design strategy, collaboration, project management and resourcing. They will also receive marketing, communication and visibility through the global Massive Action network. 
MAS believes that by taking a life-centred design approach to solving complex challenges, we acknowledge we're part of a larger ecosystem and that everything we do has implications: economic, ecological, social and more. By practicing empathy, we can better understand our impact and help realise the greater good for humanity and the planet.  
To celebrate the one-year anniversary of the MAS collaboration, ADA is releasing a documentary created during September, 2022 which explores the faculty's commitment to making positive change through creativity, collaboration and inclusion to drive the futures we hope for, not those we fear. These are futures that are sustainable, connected, healthy and socially just.
Comments