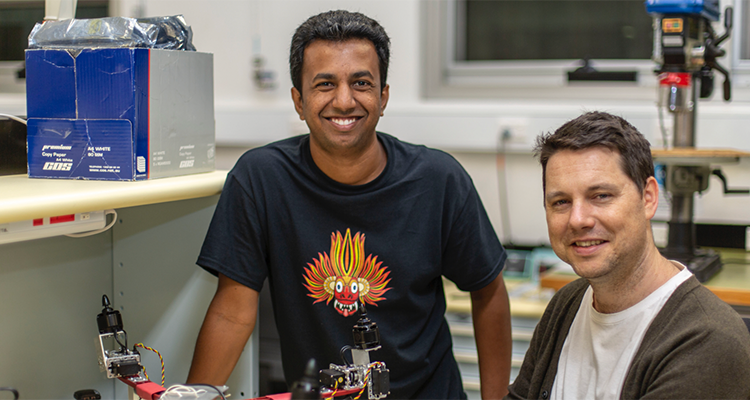 The Staff Startup Framework will strengthen the entrepreneurial ecosystem around UNSW.
UNSW is piloting a program designed to support staff with entrepreneurial aspirations to take their technologies to market. The Staff Start-up Framework is a joint initiative from Knowledge Exchange (KE) and UNSW Entrepreneurship, both part of the Division of Enterprise.
This is the first initiative of its kind from a university in Australia and will provide a point of difference for UNSW as an employer of choice for high quality, commercially-minded staff. The program is expected to strengthen the entrepreneurial ecosystem around UNSW. It aims to incentivise and reward entrepreneurial staff, promote UNSW as an entrepreneurial destination and provide more opportunities to increase UNSW's end-user engagement and knowledge exchange. 
"Universities provide a constant source of brilliant ideas and enabling our staff to lead and take their ideas forward commercially is a game changer," said UNSW Deputy Vice-Chancellor of Enterprise Professor Brian Boyle.
The Staff Startup Framework uses standardised agreements and commercial terms and is designed to quickly and simply facilitate the creation of staff start-ups in an efficient and transparent way.  It provides clarity for the founder and provides a predetermined commercial framework to minimise negotiation between UNSW and the staff member. 
Professor Vijay Sivaraman was an early test case of the Staff Startup Framework. In late 2018, based on IP he developed at UNSW, Professor Sivaraman secured seed investment from IP Group for his startup Canopus Networks, which is developing solutions to optimise the use of bandwidth in a network.
"Because of support I received from the Division of Enterprise, I was able to secure the necessary IP to launch my company and introductions to investors who provided the funding we needed to grow," Professor Sivaraman said. "The company now employs six people and is trialling its product with multiple customers in Australia and overseas".
For further information on the Staff Startup Framework, please visit the 2025 Strategy staff website.
Comments