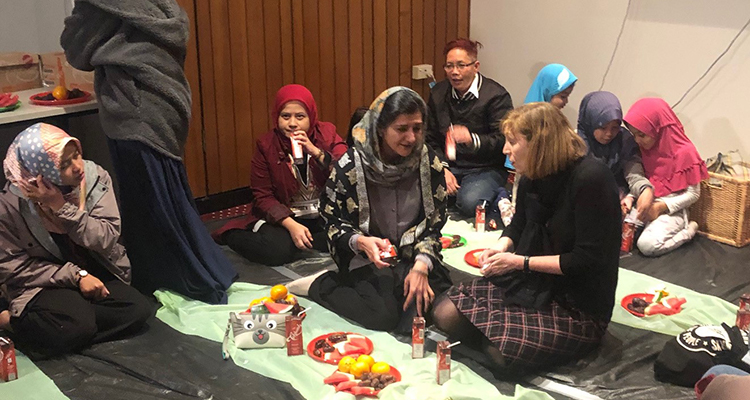 The Islamic Society of UNSW is celebrating its 50th anniversary this year.
Founded in 1969, the Islamic Society of UNSW (ISOC) has a long tradition of connecting and celebrating our Muslim student community and for its extensive charitable work, particularly over the past decade.
Since 2009, ISOC has raised over $28,000 for the National Breast Cancer Foundation through their 'Pink Scarf Day' events. Recently, ISOC raised over $9,000 for victims of the Christchurch attack, and regularly raises funds to sponsor Iftars, the evening meal with which Muslims end their daily Ramadan fast at sunset, in countries impacted by poverty. Among these are communities in Bangladesh, Cambodia, Sri Lanka, Nigeria, Pakistan, Somalia, Indonesia and the West Bank.
"Charity plays a huge part in everyday life for Muslims around the world", said UNSW Cultural Diversity Champion, Arifa Sarfraz. "Whether as Zakat (annual compulsory set amount of charity) or Sadaqa (voluntary charity), people with means are encouraged to spend on those in need, especially in the month of Ramadan."
ISOC organised Iftars here at UNSW during Ramadan, which ended with the celebration of Eid on 5 June. The first Iftar on Thursday, 9 May was hosted by an Indonesian student group and was attended by Arifa along with UNSW President and Vice-Chancellor Professor Ian Jacobs, and Chief Operating Officer Shahina Mohamed.
"At the Iftar dinner, it was wonderful to witness the generosity of the community and the role ISOC is playing in bringing people together for creating that community feel, especially for students away from home during the fasting month," Ms Sarfraz said.
Mahmoud Jaame, UNSW Muslim Chaplain, agrees that ISOC plays a positive role in the lives of Muslim students at UNSW.
"This year ISOC celebrates 50 years of the organisation. This is a milestone to celebrate, but the true value of ISOC is the achievements over these years which cannot just be measured by the thousands of students, staff and community members served, events held, money collected for charity, social services or any other statistic by itself," said Mr Jaame.
"ISOC provides an environment for young people to develop leadership qualities, teamwork, participation and the ability to communicate with people from a wide variety of backgrounds", he said.
Sonia Maddock, Head of Cultural Networks & Communities believes ISOC plays a unique role in connecting the UNSW community.
"ISOC plays a crucial role in connecting different parts of the UNSW community, involving international and local students in a tangible and community-focused way," said Ms Maddock.
"It provides a point of connection for students and their families beyond their academic studies, tying into their own cultural roots and generating positive and productive experiences for Muslim students on campus."
Find out more about the Islamic Society of UNSW.
Comments