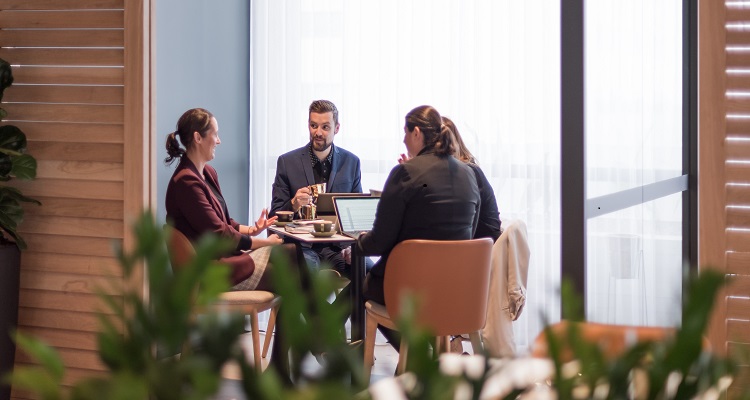 The Lounge has become a popular venue since opening its doors five weeks ago.
The Lounge opened its doors five weeks ago, fast becoming a popular venue for UNSW staff, alumni and guests. It has served over 4,645 meals during this period and has developed a reputation for outstanding service, with guests rating it 4.5 out of 5 stars for service and experience.  
"The team at The Lounge has spent these early weeks gathering feedback from guests and have been quick to act," said Stephen Wong, Director of Business & Campus Services (BACS).  
"We understand that UNSW staff are busy and sometimes a quick bite to eat is all the time we have for lunch. Some new introductions have been made recently, including a 30-minute lunch promise and new menus, including all day snacks", Mr Wong said. 
Have your next meeting at The Lounge 
The Lounge is the perfect place for your next informal meeting. If it's coffee, snacks or just some tea that you're after, you can enjoy them in the bar area of The Lounge. While bookings are preferable during lunch or dinner, walk-ins are welcome anytime for coffee and snacks from 7am. The snack or bar bites menu is available all day, while morning and afternoon tea can be ordered so you can enjoy a variety of offerings at The Lounge while you work.  
Express Lunch Specials 
The Lounge is offering a monthly express lunch special to suit the needs of busy UNSW staff. 
A new lunch offering will be available each month. While June featured $19 pasta meals, July's lunch special will offer $16 hearty soups and crusty garlic bread. Weekly variations on the month's special will also be made, so you can experience a different and delicious meal each week. 
Beginning July, The Lounge will also offer a series of curated experiences for staff, including 'Meet the Maker' events, wine and gin tasting, and special event menus.  
Check out the latest offerings at The Lounge. 
Comments