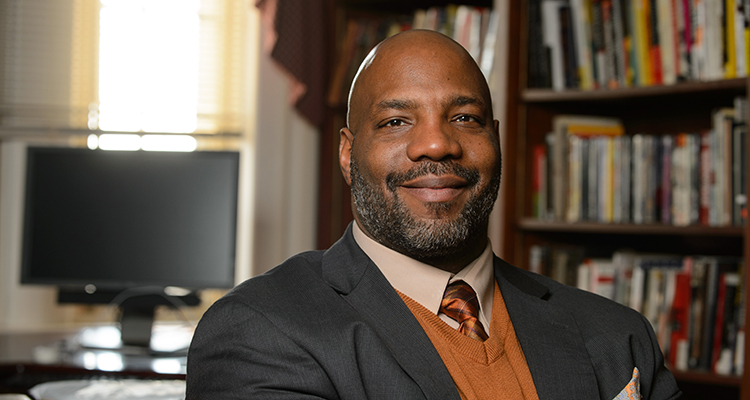 The award-winning New Yorker journalist and educator will deliver UNSW's Martin Luther King lecture, with a performance by the Boston Children's Chorus.
Fifty-five years after Dr Martin Luther King Jr was awarded the Nobel Peace Prize for his role in leading the US civil rights movement, award-winning American journalist and educator Jelani Cobb will visit UNSW Sydney to deliver a lecture on the ongoing struggle for equality.
Despite Martin Luther King's dream of equality, America today remains a divided country, haunted by a legacy of slavery. As a long-time staff writer at The New Yorker, Dr Cobb has been one of the foremost commentators on the complexities of race in America. In a time characterised by division and disunity, Dr Cobb's work is celebrated for welcoming conversation and dialogue.
His lecture at UNSW on Wednesday, 17 July will explore key struggles for civil rights in President Donald Trump's America.
In 2018, the first public sculpture in Australia honouring the life and legacy of American civil rights leader Dr Martin Luther King Jr was installed among fellow human rights champions on the Library Lawn at UNSW Sydney. 'Jelani Cobb: Civil Rights in the Age of Trump' is part of the UNSW Centre for Ideas 2019 program of thought-provoking events and digital content from the globe's leading thinkers and writers.
UNSW President and Vice-Chancellor Professor Ian Jacobs said universities played a vital role in achieving more just, inclusive and equal societies.
"We are proud to have a wonderful sculpture of Martin Luther King Jr on our Library Lawn and we are grateful to have Dr Cobb lead the Martin Luther King oration," said Professor Jacobs. "Thoughtful and rigorous debate on the issues which further King's vision, in a modern-day context, is essential if we are to honour his great legacy.
"We have the opportunity here to not only make a positive impact on Australia, but also the world."
Dr Cobb's lecture will be preceded by a special performance from the award-winning Boston Children's Chorus (BCC).
The chorus, which consists of 50 students aged 15 to 18 years old, harnesses the power and joy of music to unite Boston's diverse communities and inspire social change. Through intensive choral training and high-profile public performance experience, its members develop leadership skills to represent the city of Boston.
The chorus members will attend a workshop, hosted by the Australia Human Rights Institute and UNSW's ASPIRE program, with students from Sydney's Granville South Creative and Performing Arts High School where they will devise a manifesto on important human rights challenges. The BCC will also perform with the Australian Human Rights Institute choir as part of a Martin Luther King ceremony on the Library Lawn at 12.30pm on Wednesday 17 July.
Jelani Cobb: Civil Rights in the Age of Trump
Martin Luther King Ceremony and Boston Children's Chorus Performance
Wednesday 17 July 2019, 12.30pm – 1pm

UNSW Library Lawn, UNSW Sydney

Open to the public

Book via

Eventbrite
About Jelani Cobb
Journalist and educator Jelani Cobb writes about the complexity of race in America. A long-time staff writer at The New Yorker, he has written a series of articles about race, policing and injustice that include 'The Anger in Ferguson', 'Murders in Charleston' and 'What We Talk About When We Talk About Reparations'. As recipient of the Sidney Hillman Prize for Opinion and Analysis Journalism for his New Yorker columns, Dr Cobb was praised for combining "the strengths of an on-the-scene reporter, a public intellectual, a teacher, a vivid writer, a subtle moralist, and an accomplished professional historian".
Dr Cobb is the Ira A Lipman Professor of Journalism at Columbia University. He was formerly Associate Professor of History at the University of Connecticut, where he was director of the Africana Studies Institute. He has received Fellowships from the Fulbright and Ford Foundations. He is the author of Substance of Hope: Barack Obama and the Paradox of Progress; To the Break of Dawn: A Freestyle on the Hip Hop Aesthetic; and The Devil & Dave Chappelle and Other Essays. He has two forthcoming books including a scholarly monograph based on his doctoral thesis, entitled Antidote to Revolution: African American Anticommunism and the Struggle for Civil Rights, 1931–1957.
Comments