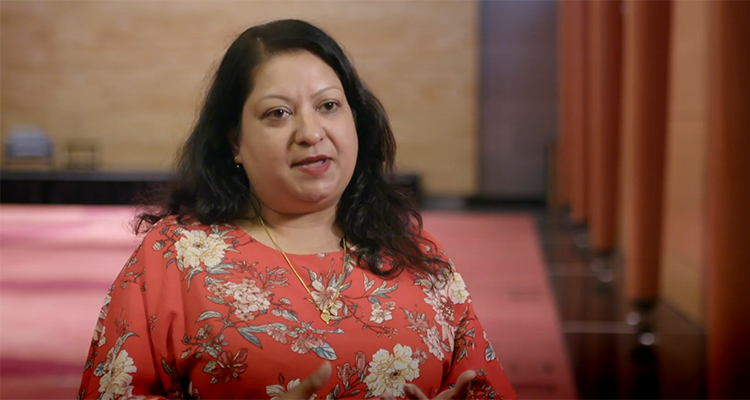 Introducing Vinita Chanan as our new Gender Champion.
A new Gender Champion has been appointed to replace Janelle Wheat, who is leaving UNSW to take up the role of Pro Vice-Chancellor (Learning & Teaching) at Charles Sturt University.  
"I am delighted for Janelle," said Professor Eileen Baldry, Deputy Vice-Chancellor, Equity, Diversity and Inclusion. "Janelle and Adrienne Torda did a great job sharing the role of Gender Champion, and I am pleased to announce that Vinita Chanan has agreed to fill the gap."
Vinita Chanan is Director, Alliances at UNSW. She is responsible for the development and management of strategic partnerships, including the PLuS Alliance, NUW Alliance, Sydney Partnership for Health, Education, Research and Enterprise (SPHERE) and Sydney Quantum Academy.  Vinita undertakes strategic planning and business development and evaluates programs and initiatives delivered through the Global Learning Network and Global Knowledge Network of the PLuS Alliance. 
Vinita's previous experience in the sector includes the role of Senior Manager, Research Partnerships at UNSW, Bid Director, and Project Manager of large international development projects.
"I am a woman, a mother and a migrant," said Vinita. "I believe in a gender-balanced workplace to foster excellence and innovation. As a professional staff member in higher education for over 20 years, I experienced the challenges of developing a fulfilling career path, benefitting from opportunities to grow personally and professionally. 
"It is refreshing to see the focus on diversity and inclusion in the 2025 Strategy, and its representation in the University's performance measures. 
"As part of my role as a gender diversity champion, I will listen to your gender issues, and be a lobbyist for gender equity in the UNSW community."
Vinita has an MBA, a Master of Environmental Management and is a member of the Project Management Institute.
Comments