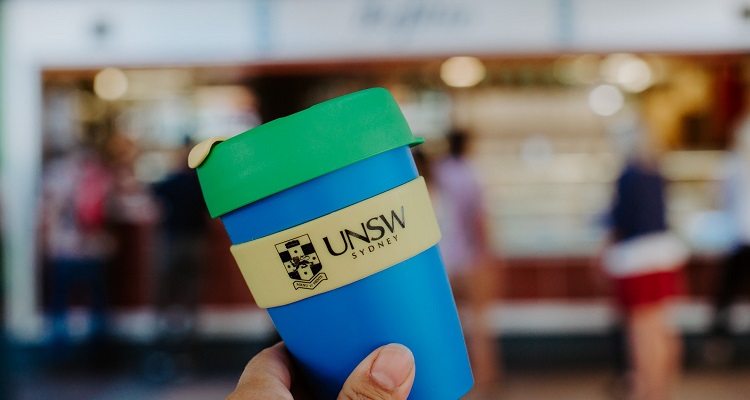 A new Instagram contest has been designed to encourage the UNSW community to reduce their use of disposable plastic on campus.
Sustainability has been a key focus at UNSW in recent years, with the University actively encouraging students, staff, retailers and visitors to eliminate single use plastics.
This July, Business and Campus Services' (BACS) will launch their very first Instagram contest on @unswfoodandretail. This contest hopes to increase awareness of the impact of single-use plastics and encourage the UNSW community to make environmentally conscious decisions.
To enter, simply share an image on Instagram that shows how you are sustainable on campus. This could include purchasing coffee with a reusable coffee cup or refusing plastic cutlery and bowls because you brought your own.
All students and staff are welcome to participate, with the contest commencing on 1 July and running throughout the entire month to coincide with Plastic Free July.
By sharing your act of environmental kindness, you could win 1 of 20 limited edition, UNSW branded merchandise packs produced exclusively by UNSW Merchandising. The packs include a reusable lunch bag, lunch box, cutlery set and water bottle. Now you can be sustainable in style!
Here's how to enter:
Show us how you avoid single use plastic at UNSW when purchasing food or drinks on campus, by taking a photo and posting it on Instagram

Tag and follow @unswfoodandretail

Add the hashtag - #DitchtheDisposableUNSW

Post your masterpiece – it's that easy!
The contest will run for four weeks from 1 – 28 July. Five winners will be announced via @unswfoodandretail every Wednesday throughout the month.
Stephen Wong, Director, Business & Campus Services, said: "Whether you bring a reusable water bottle to work or refuse plastic straws, every bit counts. In Australia, approximately 373 million plastic water bottles are disposed per year – so while bringing a reusable water bottle to work seems like a small change, these actions add up and result in long-term change for the good.
"Current estimates suggest that UNSW Sydney disposes roughly 13.5 million coffee cups per year – that's almost 37,000 per day. By bringing your own mug or bowl when purchasing coffee or food, you can help to reduce this number," Stephen said.
This is not the first sustainability initiative from BACS. In July 2018, the division launched the awareness campaign #KeepYourCup, encouraging the use of reusable coffee cups over disposable ones by offering discounts to customers. The campaign was a success, with two out of three of our coffee serving retailers now offering discounts to customers who bring a reusable cup.
Due to the continued efforts from BACS, various campus retailers are making more environmentally friendly choices. This includes introducing compostable packaging, paper straws, and offering discounts to those who bring their own reusable coffee cup. In May this year, the Quad Food Court offered a 50c discount for those who brought their own container or dined in using the plates provided.
UNSW also introduced a ban on the supply of single-use plastic bags and straws for all retail leases effective from 1 January 2019. A plastic bag is provided only if it is biodegradable or designed for multiple use, and the retailer charges a fee for the bag (like they do at many supermarkets).
For more information on BACS and the Ditch the Disposable campaign, visit the BACS website.  
Comments