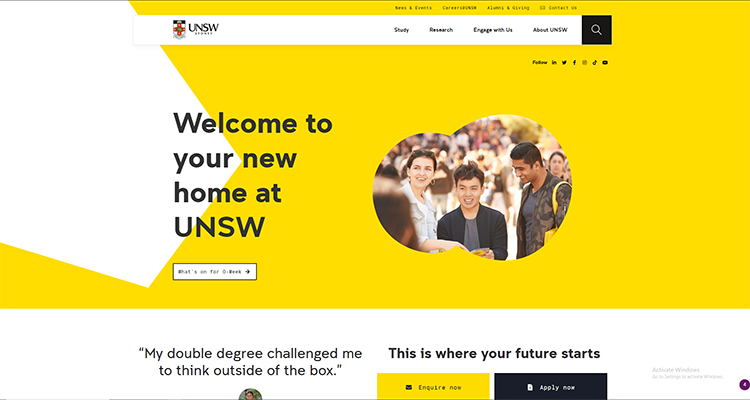 UNSW's new corporate homepage launches tomorrow, harnessing the powerful Adobe Experience Cloud to reflect our Heart, Hand, Mind foundational framework.
A new UNSW homepage is due to go live tomorrow utilising the powerful Adobe Experience Cloud (AEC) suite of products. The launch comes after an extensive Website Co-Design discovery process that has involved dozens of colleagues from all parts of the University - and builds on work underway since January.
The homepage re-design follows the successful recent launch of our new UNSW Future Students (FSR) landing page. Both the UNSW homepage and the Future Students landing page are part of a broader web and digital marketing transformation that seeks to energise and make easier the experiences of our community – including future students, current students, academics, researchers, staff, alumni, industry partners and others.
Designed to reflect our brand idea of Collective Difference, underpinned by our foundational framework of Heart, Hand, Mind and with the mission to guide and inspire decisions that shape lives, the website seeks to:
strengthen people's connections to UNSW

drive higher enrolment  

attract world-leading researchers and stronger research candidates 

encourage partnerships in learning, research and commercial activity 

showcase UNSW's success and ambition to attract funding. 
To better represent UNSW as one of the leading research and teaching-intensive universities in the world, known for innovative, pioneering research and high quality education with global impact, we needed a central front door to the University that represented the ideals, values and vision that we embody as a vast, diverse and inclusive community.
The homepage is built on the powerful Adobe Experience Manager content management system, and works in tandem with other Adobe Experience Cloud products that will be able to deliver dynamic content modules and tailor an experience personalised to the needs of each of our various audiences. Within the Adobe ecosystem we have access to advanced analytics and performance insights, will be able to test and optimise content for each of our audiences, and can deliver curated digital experiences that align to the needs of each person.
The recent launch of the FSR landing page highlights the positive impact of this digital transformation with some impressive initial results. With the FSR project, the site migration was very smooth, with organic search engine ranking stabilising quickly within a two week window. Pleasingly, a significant uplift in traffic (up to 50%) in the first week post-migration can also be attributed to the new page.
And as with the FSR landing page, the success of this homepage initiative has been a direct result of purposeful and creative collaboration by many people, including members of the Web Co-design Working Group and Steering Committees and Digital Marketing Platform (DMP) Steering Committee, DEx and IT Teams, the DMP teams and our partners, who all contributed to delivering this fantastic outcome.
The Media and Content team has developed Editorial Guidelines for the curation of the homepage, and content suggestions can be emailed to homepage@unsw.edu.au.
The current unsw.edu.au site will cut over to the new site tomorrow with no expected impact to our audiences.
Congratulations and thank you to all involved in helping launch a key customer-led initiative for UNSW that will ultimately deliver improved digital experiences, and will help contribute to the sustainability and ongoing success of UNSW.
Comments