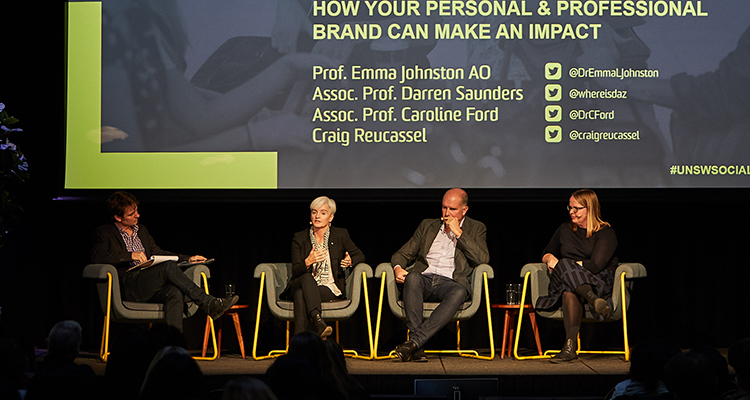 The Division of External Relations (DEx) hosted UNSW's first Social Media Day on Monday 29 July.
UNSW's first Social Media Day attracted over 650 staff. Throughout seven educational sessions, attendees gained knowledge on the most effective ways to use social media to build their academic and professional profile.  
"Social Media Day showed the incredible appetite of the UNSW community for how to leverage the power of social media to achieve goals, whether that be increased citations, starting conversations about our research with the community, or better communications with our students and alumni," said Jack Breen, Social Media Lead.
"The audience on the day was incredibly engaged, with over 150 questions asked via Slido and #UNSWSocialMediaDay trending at #2 in Australia on Twitter," Mr Breen said.
Special guest MC, ABC's Craig Reucassel, opened the event before introducing social media expert Simon Kemp.
Mr Kemp set the current social media landscape with Social Media for Academic Impact. He provided compelling evidence in favour of social media building an individual's professional career. He shared research which concluded that journals shared online received 16% more citations after one year than a similar article not available online, 51% more citations after three years, and 69% more after five years.
Professor Emma Johnston, Dean of Science at UNSW, who spoke on the panel Social media for WORK, not (just) play – how your personal and professional brand can make an impact, reflected on how an online presence builds reputation.
"It's really efficient and therefore has helped me build an academic profile to an enormous extent, engaging with conferences virtually just via the hashtags. You find your favourite conference, find the hashtag and literally you can see what talks are happening, who's tweeting and start promoting your own research," said Professor Johnson.  
"Twitter is incredibly powerful for amplifying the voice of minority groups, particularly women across STEM," said Professor Caroline Ford who spoke on the appeal of Twitter.
To find out more about the impact social media is having on higher education, watch all the session recordings and other useful resources visit the Social Media Day website. 
Comments