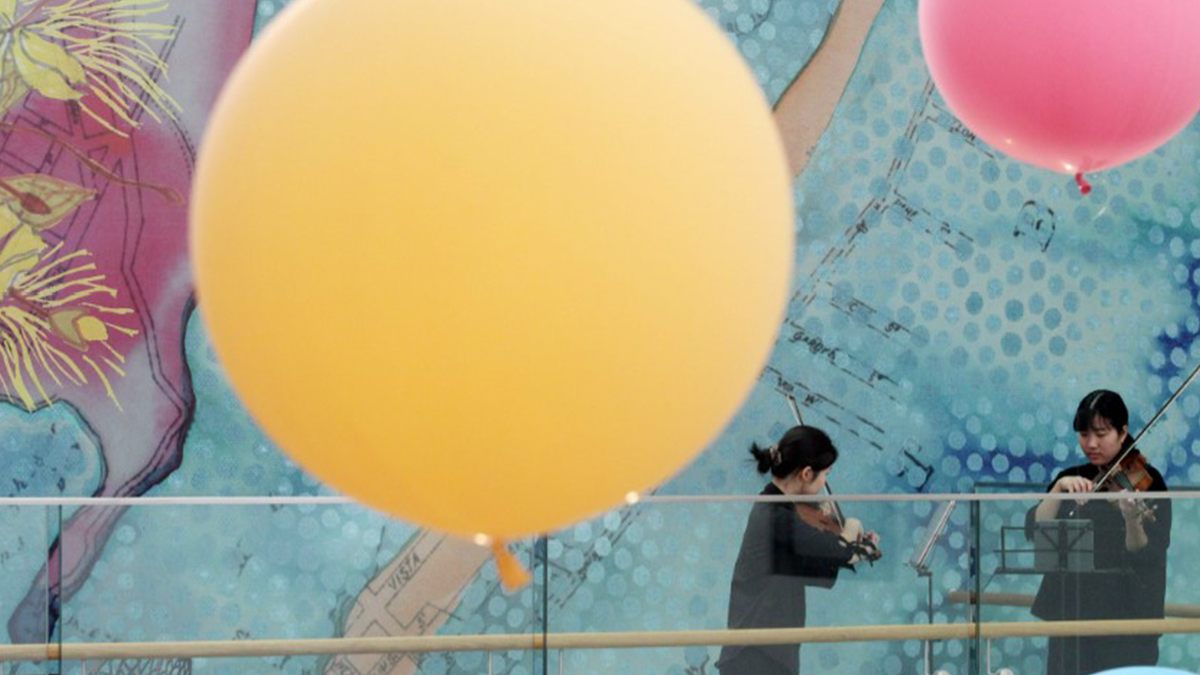 The Festival of Care explores ways to introduce arts-based wellbeing interventions within hospital settings.
The Festival of Care is co-designed by UNSW designers, researchers and creative practitioners. It brings creative arts-based interventions to help staff reduce stress and to recognise their contribution and dedication.
The festival, previously held at St George and Sutherland Hospitals, provides a 'taster' of experiential tools to help frontline health workers manage anxiety, trauma and burnout in the wake of COVID-19, said project co-lead Scientia Professor Jill Bennett, Director of the Big Anxiety Research Centre (BARC) at UNSW. 
"Arts-based recovery or wellbeing therapies are often used for patient care; the Festival of Care explores ways to introduce and embed arts-based care within hospitals to enhance the psychosocial wellbeing of staff," said the Australian Research Council Laureate Fellow.
The festival encourages staff to 'pause and engage' within their busy healthcare environments. The program includes welcome events, 'awkward conversations', artists in residence, ambient live music, virtual reality (VR) for wellbeing, interactive musical experiences and hands-on workshops.
"It looks at ways to start conversations as well as provide connections to further support through an experience that is stimulating and enjoyable and inherently relaxing," she said.
The Festival of Care is a UNSW ADA Innovation Hub project in partnership with BARC and the South Eastern Sydney Local Health District  (SESLHD). The Innovation Hub is a project-based collaborative problem-solving initiative led by UNSW design academic Dr Carly Vickers.
The festival is an example of how the Innovation Hub partners with government and industry to promote positive change, and provides ADA's researchers, centres and institutes with new opportunities to build on their research impact.
"The festival is evidence-driven, co-designed by UNSW designers, researchers and creative practitioners with SESLHD leaders and Wellbeing Ambassadors," said project co-lead Professor Michael Balfour, an expert in applied theatre and performance work within social contexts.
"Connecting with government and industry, through the Innovation Hub, has created fertile interdisciplinary exchanges that both ground the research and deliver real-world change."
The festival and the ADA Innovation Hub more broadly align with the UNSW ADA2051 strategy to leverage faculty knowledge and skills to create a future that is sustainable, connected, healthy and socially just for all. 
"The Festival of Care stands testament to the rich contribution that collaborations across education, research and healthcare organisations can make to the broader community," says Professor Claire Annesley, Acting Provost and Dean of UNSW Arts, Design & Architecture.
"Working in concert with NSW Health and NSW Government, we're promoting transformative, research-driven change to support positive health outcomes and more sustainable wellbeing."
Dates for the Festival of Care are:
11-14 September - Sydney Eye Hospital
15-22 September - Randwick campus (Prince of Wales Hospital, Mental Health Services and Royal Hospital for Women).
* Photo credit: Chris Lane
Comments