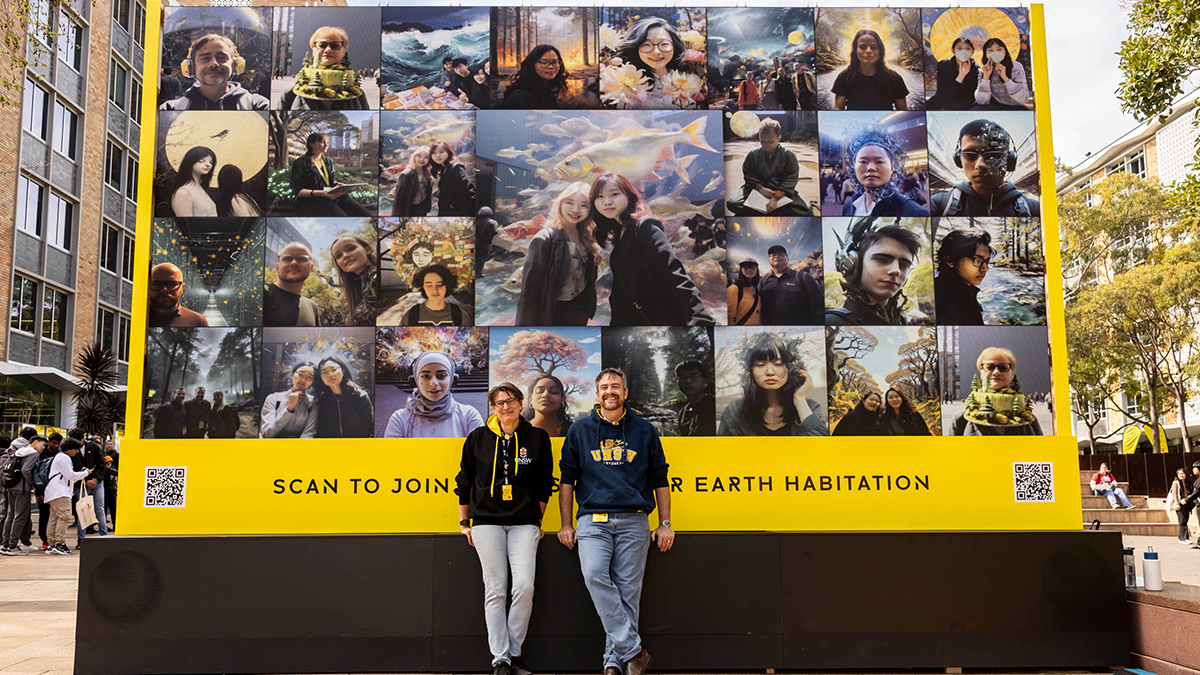 Dear colleagues
It certainly has been an exceptional fortnight with great success at the 2023 Australian Museum Eureka Prizes, UNSW Alumni Awards and AFR Higher Education Awards, a week of graduations, and of course, an outstanding Open Day on Saturday. What an incredible day! We had around 40,000 prospective students and their families, carers and friends visiting our Kensington and Paddington campuses to learn more about the world-class facilities and student experience on offer at UNSW.
I began Open Day at a breakfast to celebrate and welcome UNSW's Gateway Admission Pathway Early Offer recipients, where I had the pleasure of meeting some of UNSW's future students and their families. The day started on a high for me and kept getting better, be that talking to colleagues at stalls, engaging with our amazing student ambassadors or even being mistaken for an expert at times by prospective student families and providing advice where I could (generally though guiding them to the real experts nearby). The energy on campus was one of joy and wonder.
Open Day is a massive undertaking, which would not be possible without the generosity, energy and passion of students and staff. Thank you to the hundreds of colleagues involved in the lead up and the 1200 staff across all divisions and faculties who provided support on the day. A huge thanks also to the 300 plus student ambassadors for their boundless energy and enthusiasm, they really are a great selling point for this wonderful University.
The activities and excitement continue this week with Term 3 O-Week. It was my privilege yesterday to attend a Welcome to Country and Smoking Ceremony to mark the beginning of Term 3, and to address commencing students as they embark on this new chapter. As I mentioned, it's been a memorable fortnight, please read on for some of the other highlights.
AFR Higher Education Awards
Congratulations to Associate Professor Katharine Kemp of UNSW Law & Justice who was named the best 'emerging leader' in the nation's university sector at the 2023 Australian Financial Review Higher Education Awards. A/Prof. Kemp, Deputy Director of the Allens Hub for Technology, Law and Innovation, was recognised for her transformational leadership in data privacy and protection. The UNSW Tax & Business Advisory Clinic was named a finalist in the Community Engagement category for bringing together students and external communities for significant mutual benefit. UNSW's Championing Employability strategy was a finalist in the Employability category for its success in boosting student employment outcomes. Congratulations to everyone involved for this well-deserved recognition. You can read more about these successes on the UNSW Newsroom.
Eureka! Prizes for UNSW scientists
UNSW also had success in the 2023 Australian Museum Eureka Prizes, Australia's most high-profile science awards. The Waterbirds Aerial Survey Team at UNSW, led by Professor Richard Kingsford and the NSW Department of Planning and Environment, received the NSW Environment and Heritage Eureka Prize for Applied Environmental Research. The team has conducted one of the largest and longest-running wildlife surveys in the world. Scientia Professor Toby Walsh received the Celestino Eureka Prize for Promoting Understanding of Science, for his efforts to improve the public's understanding of Artificial Intelligence and what it means for our future. Conjoint Associate Professor Jodi Rowley, Curator of Amphibian and Reptile Conservation Biology at the Australian Museum and UNSW, was awarded the 2023 Australian Museum Research Institute Medal for her work to better understand and conserve Australia's unique frog species. Congratulations to all the winners. Read more about the work of these leading UNSW scientists on the Newsroom. 
Celebrating UNSW Alumni
It was a pleasure to attend the UNSW Alumni Awards last week. The awards celebrated some of the pre-eminent achievements of our extraordinarily accomplished alumni community. I never cease to be amazed by the calibre and achievements of our graduates, I know the Award committee has an almost impossible task each year of selecting the winners. They are leaders in their fields, and wonderful ambassadors of the UNSW mission to drive positive societal change and improve lives. By pushing the frontiers of knowledge, and using their skills to change the landscape, they are making a real impact in a multitude of fields including law, social impact, entrepreneurship, sustainability, defence and politics, the arts, human rights, medicine and research. If you want to learn more about how they are making an impact, there are some fascinating videos on the Newsroom where our Alumni Award winners share their stories and insights.
Good Weekend features Scientia Professor Martin Green
Scientia Professor Martin Green has been featured on the cover of Good Weekend for his decades of brilliance in solar development. If you have not already, I recommend you read the feature story which is a superb story and deserved tribute to Martin's ongoing work to harness the power of solar to transform energy for the world. His achievements, and those of his team, are immense in their scale and impact – the PERC (passivated emitter and rear solar cell) technology Martin and his colleagues developed greatly improved the efficiency of photovoltaic cells and is used in approximately 90% of solar cells worldwide. It shows how one individual, if they strive, can change the entire world. In the words of Minister for Climate Change and Energy Chris Bowen, Martin is an "international mega rock star" in the solar research world.
Universities Accord update
On Friday, UNSW submitted a response to the Interim Report of the Australian Universities Accord. The UNSW submission includes the following four focus areas:
Developing strong mechanisms to ensure equitable access, success and excellence.
Ensuring the sustainability of Australia's world class research system.
A quality and equitable framework to support Australia's future skills requirements.
Funding a sustainable university sector.
We expect the submissions to be made available through the Accord website in coming weeks.
B20 Summit in India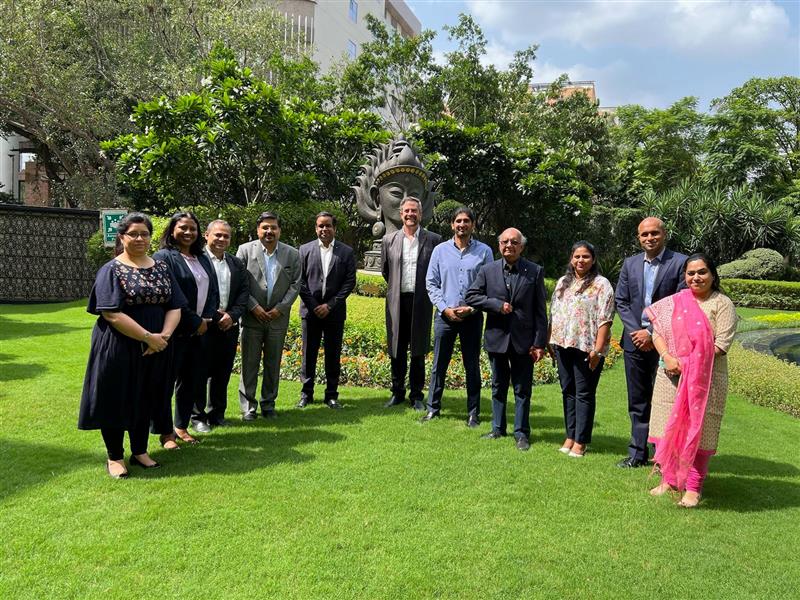 Pictured above with staff from the UNSW India Office.
Since my last message, I have been in Dehli, India, where I attended the B20 Summit as part of the Business Council Australia (BCA) delegation. I also had the opportunity to finally meet our wonderful UNSW colleagues based in India.
The summit had representation from 53 countries, with a program focused on responsible, accelerated, innovative, sustainable and equitable businesses. The BCA co-hosted a roundtable with the Confederation of Indian Industry and Assistant Trade Minister, Senator Tim Ayres, which was an excellent opportunity to hear more about the global priorities for India including education and training, and research and development.
Canberra Staff Long Service Awards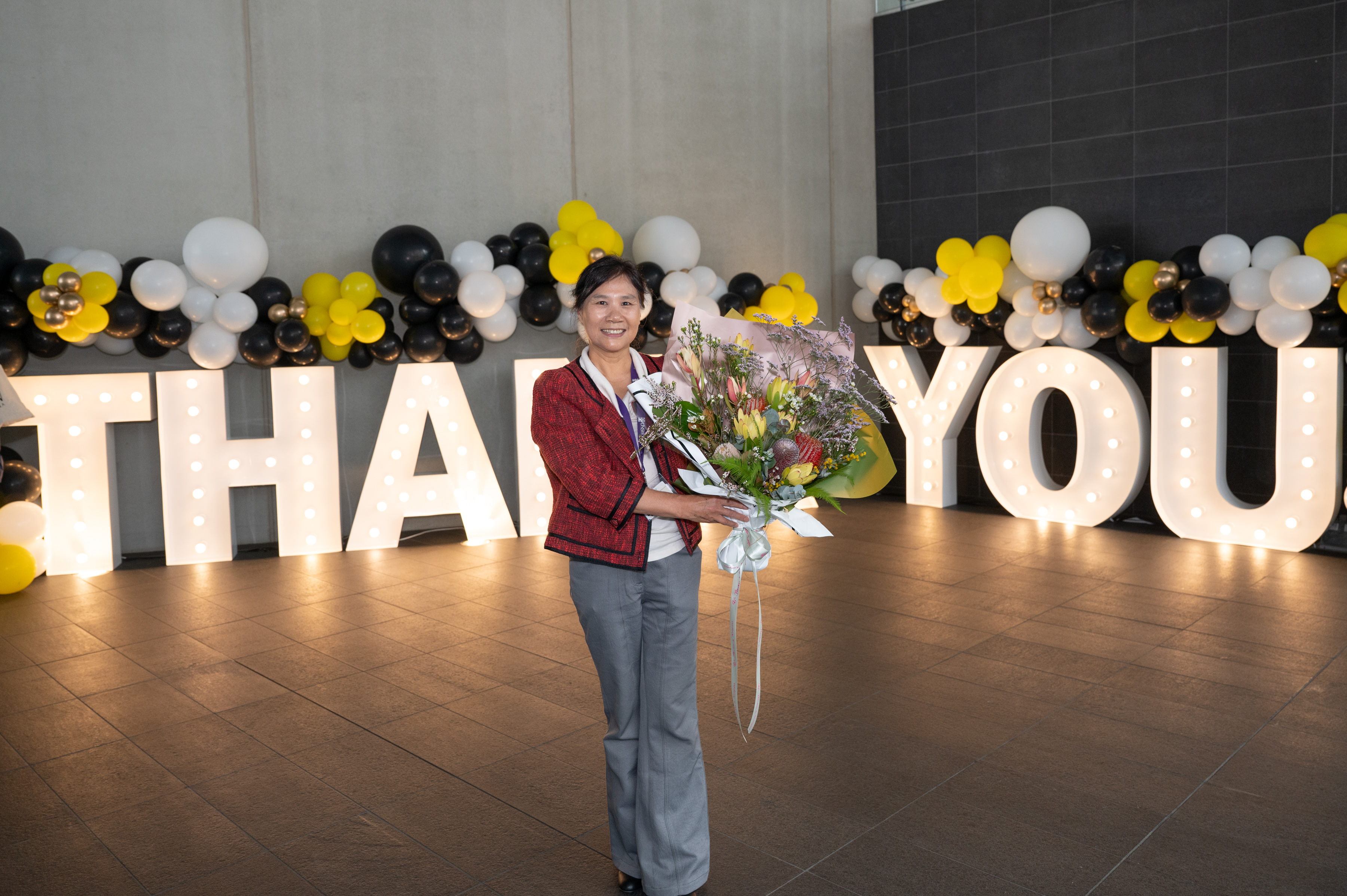 Associate Professor Xiuping Jia celebrating 35 years with UNSW Canberra
Another highlight of the past fortnight was attending the Staff Long Service Awards in Canberra. It was great to meet colleagues and celebrate their many years of service. It was an impressive cohort, with 130 staff recording more than 10 years with UNSW Canberra, and 14 who have worked at UNSW Canberra for more than 30 years! Thank you for your commitment to UNSW, and driving positive impact for so many years.
QILT Student Experience Survey now open
The national Student Experience Survey (SES) is now open for undergraduate and postgraduate coursework students. The survey captures a view of the student experience across teaching, learning resources, engagement with learning, student support services and the overall structure of their degree or program. It's the single best way for us to learn about students' experience at UNSW, so please encourage students to participate. Support from you during the SES makes a huge difference to the number of students who complete the survey. We aim for high response rates because we want robust data so we can see what's working well and what can be improved. Read the story in this edition of Inside UNSW to find out more.
Recognising safety at work
As you know, health and safety is one of my passions. Recognition of proactive safety behaviours is one of the most powerful ways to let colleagues know that they are valued and that their contribution to safety matters. Recognition helps to reinforce good safety behaviours and is a great way to support individual and team goals and improve teamwork and relationships. There are lots of resources available on the Safety website.
Before I sign off, I want to highlight a special event coming up on Thursday 14 September for RU OK Day?, which is about the importance of initiating conversations that can help others through difficult times in their lives. The event includes a keynote speech by journalist Jessica Rowe AM and a panel discussion with Professor Samuel Harvey, Chief Scientist at The Black Dog Institute, and Professor Kimberlie Dean from the School of Psychiatry. All the details including how to register can be found in Inside UNSW.
Best regards
Attila
Professor Attila Brungs
Vice-Chancellor and President
Comments