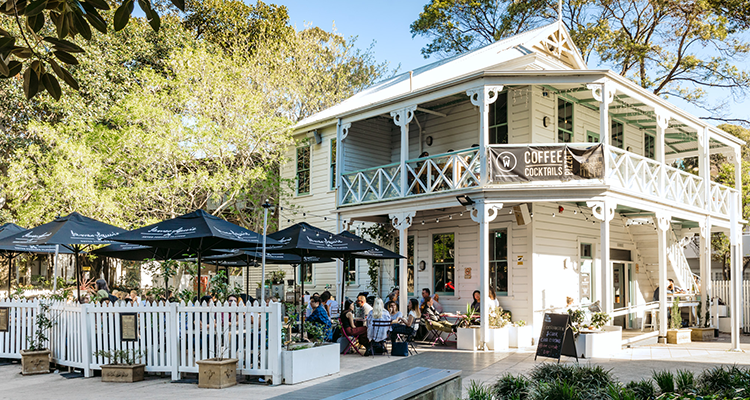 The iconic building with a rich 120-year history called last drinks on Friday 23 April.
After a 10-year run as the cosy pub beloved by the UNSW Sydney community, the conclusion of Arc's lease has meant that the Whitehouse will temporarily shut its doors before it reopens under new management.
Campus Living Villages, which also operates UNSW Village and the Whitehouse, recognises the importance of the Whitehouse to its community and has no plans to discontinue its presence on campus as a venue for food and beverages.
"We are currently working to secure a new tenant and look forward to the reopening of the Whitehouse in the coming months," said Michael Wappett, Regional General Manager, Campus Living Villages.
Today it is known as the leafy pub tucked away behind the quadrangle, but the Whitehouse has a fascinating history spanning war, theatre and law.
According to sources in the Archives, we have the following timeline for the Whitehouse: 
c. 1897 The Whitehouse was originally called the Jockey's House and was part of the Kensington Racecourse. The Kensington Racecourse was used for pony racing and is where the lower campus of UNSW is now located. 
1943 The Whitehouse was used by the Army during the Second World War.
1948 The Whitehouse was part of the Migrant Hostel complex
1950s The Whitehouse was used for university offices and a plumbers' workshop.
1962 The National Institute of Dramatic Arts (NIDA) used the building for a variety of purposes, including as the Old Tote Theatre Club, a studio and office accommodation.
1988 The Whitehouse was taken over by the Communications Law Centre, which was a Faculty of Law centre that dealt with legal issues in the media.
2006 The Whitehouse housed the Equity and Diversity Unit.
2011 The Whitehouse bar as we all know and love it officially launched after a year of extensive renovations.
2021 The Whitehouse's rich legacy does not end here! It will reopen under new management as a refreshed venue where anyone can procure a beer, a chat and a snack.
In the meantime, all the Whitehouse favourites can now be found on the Roundhouse menu, including the cocktails and chicken schnitzel specials. You can also find quality food and drinks nearby at Penny Lane.
For more information about the closure of services previously provided by the Whitehouse, please contact Jason Lyons, Head of Venues & Events, Arc at j.lyons@arc.unsw.edu.au.
For information regarding the future of the building, please contact Neil Morris, Director of Wellbeing UNSW at n.morris@unsw.edu.au or talk to the Campus Living Villages team at the UNSW Village offices.
Comments