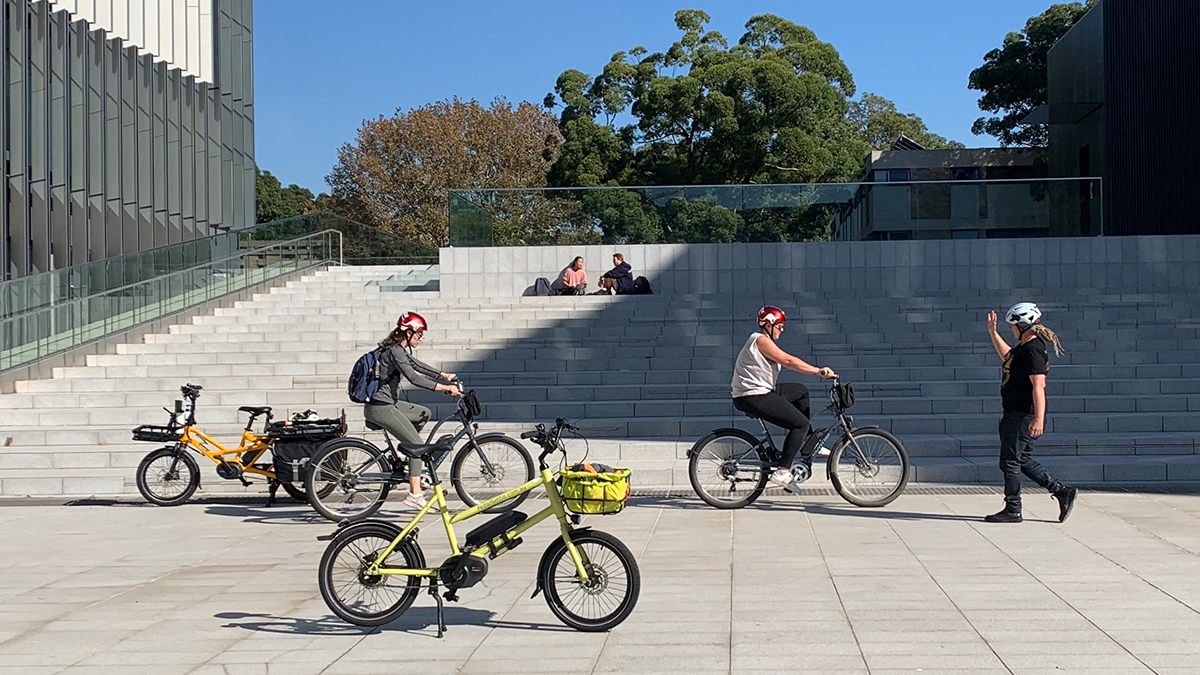 Held on the UNSW campus, Randwick City Council invites staff and students to take part and develop the skills and confidence to cycle safely around our neighbourhoods. 
The Randwick City Council, in partnership with UNSW Sydney and our Randwick Collaboration Area partners, is providing cycling skills courses to the communities that live and work in the local Randwick area.
Throughout April, May and June the courses will offer a range of bike riding tips to develop the skills and confidence to get around Randwick and beyond by bike. They will be held on the UNSW campus in Kensington, as well as in parks across Randwick.
Elizabeth Kookarkin, who works for the South Eastern Local Health District at Prince of Wales Hospital, enjoyed the course.
"We had a great time and learned a lot about how to navigate our roads," she said. "It's really a fantastic initiative that's helping our local area learn about more sustainable practices. I'd highly recommend it."
Courses available include:
Back on your bike sessions (bike and helmet provided)
Confident city rider (intermediate)
Local routes rides – get to know your local area by bike
Maintenance and repair skills sessions
Electric bike riding skills (bike and helmet provided).
These courses offer a great opportunity to upskill the Randwick community and promote cycling as a safe, healthy and accessible mode of transport.
UNSW Wellbeing Consultant, Liza Poppert, said the courses are another way to promote the health and wellbeing of our campus community.
"We support Randwick Council and their work to promote cycling safely in our community. Activities like cycling, encourage us to stay physically healthy. By keeping fit, eating well and keeping on the move, we improve brain function and can reduce stress and sickness," she said.   
The Randwick Collaboration Area is being delivered by the Greater Sydney Commission along with representatives from Randwick City Council, UNSW, Australian Turf Club, and state government agencies across health, education, planning, environment, transport and housing.
Strategically located between the Sydney Central Business District and Sydney Airport, the Randwick Collaboration Area includes the UNSW Kensington Campus and the Randwick Health and Innovation Precinct.
Comments