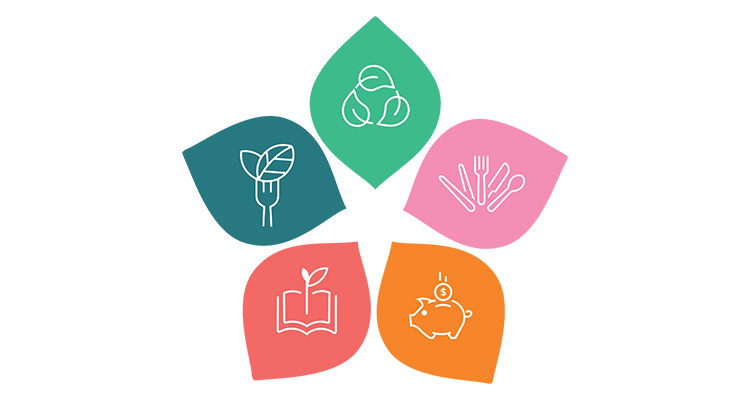 A recent study finds there's work to be done to improve the food offerings on campus.
A great first step in improving access to nutritious food on campuses at an affordable price.
UNSW Health Promotions, UNSW Wellbeing, UNSW Estate Management and The George Institute for Global Health have collaborated to develop a  UNSW Good Food Charter. This agreement provides a phased approach to improve access to nutritious food on UNSW campuses at an affordable price.
The charter was developed following extensive consultation with students and staff, which helped inform an in-depth study conducted by The George Institute: A Cross-Sectional Evaluation of the Food Environment at an Australian University Campus.
According to the study, conducted from March to July 2022, almost 95 per cent of food outlets across UNSW's Kensington campus failed to meet NSW nutrition guidelines. It notes the majority of retailers were still promoting and selling unhealthy food and drinks to students and staff.
Also, more than half of the foods and drinks available for sale were considered unhealthy, with 84 per cent of outlets selling sugary drinks and almost 80 per cent promoting unhealthy foods as part of 'meal deals'.
Lead author and dietitian, Dr Daisy Coyle emphasised the importance of promoting healthy food environments in universities and other settings where people spend significant amounts of time.
"Eating a nutritious diet is key to maintaining good health. The environment around us has a big impact on our food choices, and universities have a responsibility to prioritise the health and wellbeing of their students and staff by providing access to a range of healthy food choices at affordable prices," she said.
Dr Coyle said, "with 27 per cent of UNSW staff and students overweight or obese, 8 per cent at risk of diabetes and 7 per cent experiencing high blood pressure, action is needed to support and enable healthy food choices."
Senior author of the study Dr Jason Wu, Head of Nutrition Science at The George Institute and Professor at UNSW Medicine & Health's School of Population Health, said the study's findings support the decision by UNSW Management to endorse the Good Food Charter.
"It's a great first step and ensures UNSW is in line with best practices already in place at other leading global universities. Our findings reinforce the need for UNSW to now prioritise the implementation of the Good Food Charter by engaging with and supporting retailers to make the transition towards a healthier food environment," said Dr Wu.
Comments