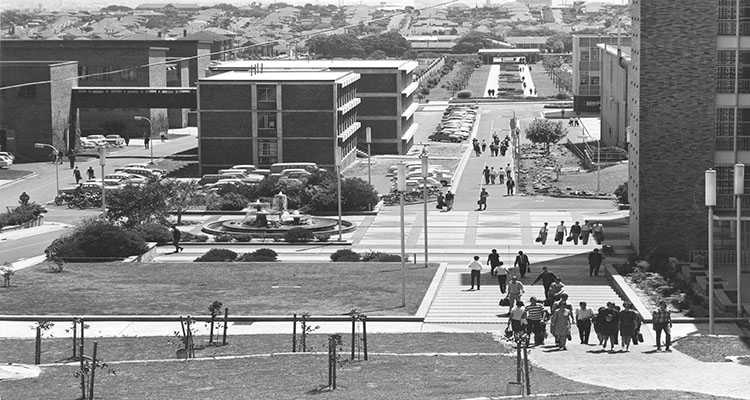 Help capture the unique identity of UNSW and be part of preserving our future history.
The University Archives holds permanent UNSW records that are retained for legal, administrative or historical reasons. Only material required to be permanently kept or that has long-term significance to UNSW is retained.
Items in the Archives date from before the University's establishment in 1949 up to the present day. The Archives span over 1500 metres of physical material and 25TB of digital assets.
The Archives holds material that relates to all parts of UNSW, from faculties, divisions and centres to student clubs and societies.
Who do the Archives help?
The Archives assist both professional and academic staff. This can be for information and fact checking on UNSW history, obtaining UNSW historical photos and video, or assisting with research projects.
Some of the recent projects the Archives' collections has helped include:
Biographical information on notable students and staff

Photos for social media and publications

Anniversary celebrations of schools, faculties and centres

Locating details of legacy agreements and awards

Understanding past UNSW decisions and policies

Landscape architecture of University campuses over time

Early radiocarbon dating research in Australia

History of the Sports Association.
How can you support the Archives?
Today's records are tomorrow's archives. If material is not transferred to the Archives or captured in a University system of record like RAMS (the University's corporate recordkeeping system), Archives' staff cannot retrieve it later. The investment you make now by capturing records will help you and the University in future years.
Archives are always looking for donations. Items of interest include:
Photos and video from a UNSW shoot

UNSW produced publications and assets, such as annual reports, newsletters, magazines or podcasts

Information from a major UNSW project

Personal records of a long career at UNSW before you retire or move on.
Material does not have to be old to qualify for transfer to the Archives. Current items are very welcome as they will be of great value in future years.
Material can be received in either print or digital form.
More information
Visit the University Archives website to access historical resources and to view the latest online exhibitions that cover various aspects of UNSW's history.
Email archives@unsw.edu.au to discuss how to transfer your records.
Comments