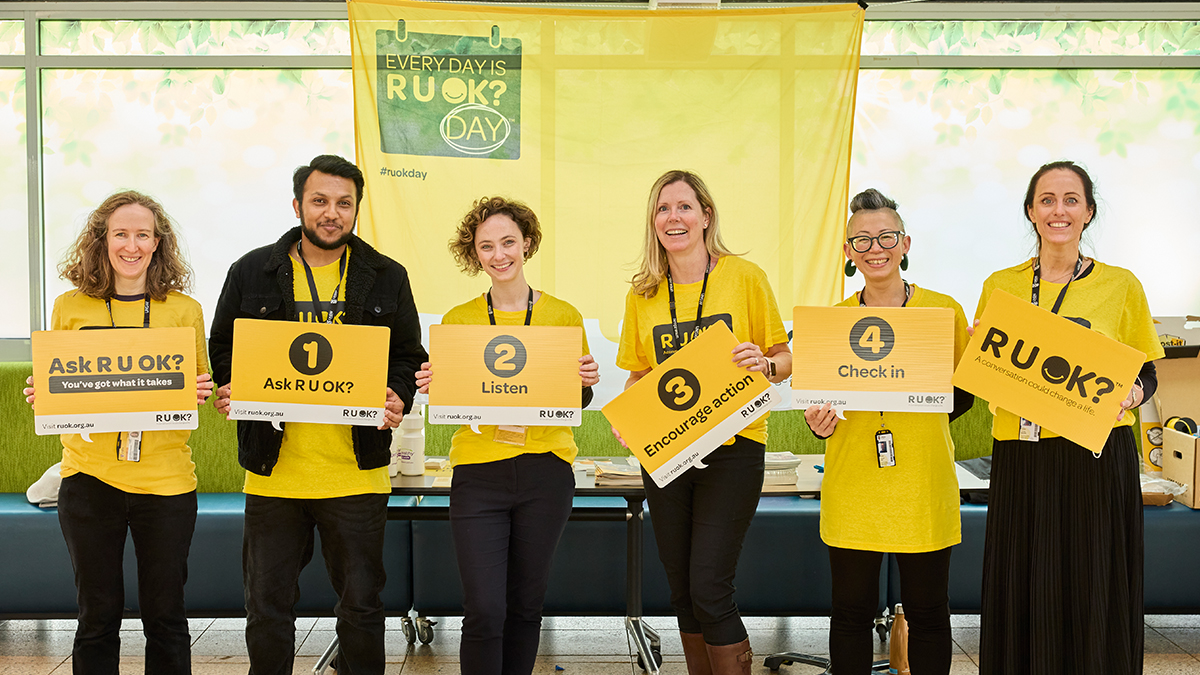 On Thursday 14 September, get involved in a range of events and initiatives to celebrate R U OK? Day at UNSW.
R U OK? Day is a national movement that encourages people to stay connected and have conversations that can help others through difficult times in their lives.
Special event with guest speaker Jessica Rowe
On Thursday 14 September, the Division of Operations will be hosting a special all-staff event in The Scientia's Leighton Hall, featuring guest speaker Jessica Rowe.
Jessica Rowe AM is an accomplished journalist, television presenter and three-time bestselling author. Jessica is a passionate advocate for mental health awareness and is an ambassador for Beyond Blue.
Jessica's keynote speech will be followed by a panel discussion hosted by our Chief HR Officer, Deena Amorelli. The panel will feature Jessica Rowe, Samuel Harvey (Chief Scientist, The Black Dog Institute) and Kimberlie Dean (Professor, School of Psychiatry).
Schedule:
9.30am: Morning tea will be served in the foyer of the Scientia Building
10.00am: Event commences – Introduction by Andrew Walters
10.05am: Keynote speech – Jessica Rowe
10.30am: Panel discussion and audience Q&A.
Questions
If you have a question you would like addressed by the panel, please submit it using this form by Monday 4 September. If you wish your question to be answered by a specific panellist, please indicate their name along with your question in the form. We will also endeavour to answer live questions on the day.
Staff are welcome to attend either in-person or virtually via the livestream.
Places are limited and registration is essential. Register for the special event. 
Mathews Pavilions Activation
Join us at the Mathews Pavilions between 10am and 2pm for free massages, light refreshments and various activities. These events are open to students and staff.
Free massages
Free ten minute massages will be available on R U OK? Day from professional massage therapists, in the following locations:
Kensington Campus: Mathews Pavilions
Paddington Campus: Elwyn Lyn Conference Centre ( ELCC)
To enjoy a free massage, visit either of the above locations between 10am and 2pm. 
Virtual Gratitude Tree 
Place a 'sticky note' on the Virtual Gratitude Tree to share with others what you're grateful for this R U OK? Day. 
Virtual backgrounds
Show your support in the lead-up to R U OK? Day by changing your virtual background in Teams and Zoom meetings. There are also other resources available about how to have an R U OK? conversation.
Suicide Prevention Training
UNSW currently provides suicide prevention training to staff and students. The Recognise and Respond: Suicide Prevention for Everyday Life course from the Black Dog Institute will help you feel confident in responding and providing support to a friend, family member or colleague who might be at risk of suicide. Recognise and Respond is a self-paced online course which takes approximately one hour to complete.
To access the course you will need the following access code: W7cXVGa6EjBS5WYHUmh
Comments