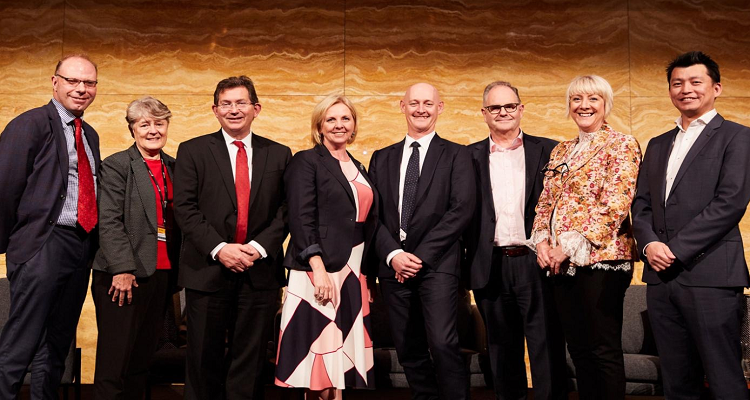 A highlight of last week was our inaugural Diversity Fest which connected thousands of students and staff across a variety of events and broad range of topics. Diverse voices ignited bold conversations on equity, diversity and inclusion at UNSW during a week which included such great student-focused events as a panel talk and audience discussion exploring the role sport has to influence greater inclusion in our society; live music by 'Step Aside', which celebrated gender diversity in the music industry; and the Cultural Cookout lunch organised by Arc students on the Village Green. The Diversity Showcase was also a hit with Alumni speakers alongside industry experts in open conversations about workplace diversity. Congratulations to Professor Eileen Baldry and all who made the week such a marvellous success. I've been assured it will be in UNSW's calendar in the future.
New Dean of Medicine
This month we welcome UNSW's new Dean of the Faculty of Medicine, Professor Vlado Perkovic. Vlado is one of Australia's top kidney disease experts and a leader in translating high impact research into outcomes for patients.  He brings with him an enormous depth and breadth of experience and we are very fortunate to have secured him to lead the ambitious plans we have for the Faculty. If you'd like to read more about our new Dean of Medicine, you will find our newsroom story here. I am enormously grateful to our outgoing Dean, Professor Rodney Phillips, who has led many successful developments for UNSW medicine over recent years. Rodney is moving on to the role of Pro Vice-Chancellor Health, with particular responsibility for our new Randwick Health and Education Precinct.
After more than 13 years with UNSW Medicine, and the Rural Clinical School, including the last 10 years as Head of School, Dr Lesley Forster retired from UNSW last Monday. Under Dr Forster's leadership, the Rural Clinical School has grown from one room and eight students to be acknowledged as the largest and most successful in Australia, teaching more than 250 UNSW medical students across all disciplines and, in 2017, launching the full six-year program from the Port Macquarie campus. Lesley will be sorely missed but we wish her all the best and thank her for her dedication to this important area of UNSW Medicine.
I write from Singapore where the Australian High Commissioner, His Excellency Bruce Gosper, is hosting a UNSW roundtable meeting with a group of senior regional university leaders on the topic 'The Future of University Research: Looking ahead to 2040'. I will also have the great pleasure of hosting a dinner for our Singaporean alumni on Friday night. There is a special connection between UNSW and our international students from Singapore, with the Roundhouse a particular focal point. The venue holds such a special place in many of their memories that our Singaporean alumni were very active in fundraising for refurbishments to The Roundhouse, which now has a 'Singapore Room'.  
Op-Ed in The Australian
Some of you may have seen the op-ed penned by Nick Fisk and myself that appeared in the research supplement in The Australian last week. We took the opportunity to note the success of Australian universities in the global rankings and highlight the recent rise of UNSW. We also made the point, once again, that there is a big opportunity to translate and commercialise the excellent basic research being carried out at our universities. We suggested ways in which the Government could incentivise industry to work more with publicly funded institutions.
Although Dr Ann Jardine retired from her role as Director of the AimHigh unit in March, her legacy lives on in the ASPIRE program, which recently won the Society for the Provision of Education in Rural Australia's 'Australian Rural Education Award'.  The award recognised the innovative educational holiday programs run by the team in ASPIRE rural towns, often in collaboration with the local community.  The awards are extremely competitive, and it is the second time ASPIRE has been recognised.  Congratulations to Ann and the ASPIRE team on a well-deserved accolade, and the wonderful welcome it provides for the new Director of AimHigh, Mary Teague, who started her role just last week.  Mary is a known leader in the area of Widening Participation and was previously Head of Widening Participation and Outreach at University of Sydney.  She has driven student equity-focused change at a whole-of-university level,  including targeted admissions pathways, and has advocated for more inclusive equity-related policies and practise in higher education.  AimHigh is in good hands and I hope Mary enjoys being part of the UNSW community.  
I recently helped celebrate the 10th anniversary of the Professional Development Program which, over the past decade, has helped almost 1500 of our international students prepare for their careers, either in Australia or overseas. This is a fantastic initiative which not only gives guidance on communication in the workplace and employer expectations, but also the opportunity to gain 50 hours of practical workplace experience on the UNSW campus. I want to congratulate Blair Slater, Manager Global Employability, and team for another successful program and thank Margo Baas for so ably filling the role of Head of Careers and Employment for the past 12 months. We wish Margo all the best in her next venture. I'm pleased to report that the initiative was named a finalist in the prestigious Study NSW award and I hope to update you all on a win for the PDP in the next newsletter!
Delegations from China
I was pleased to welcome two delegations from China last week with the first being from major corporate Chint Group and the second led by the Bridging Hope Foundation. Chint is a US$10.5 billion company specialising in new energy, electronics and electricity transmission, which already partners with Professor Cheemun Chong via the Torch program. The other Chinese delegation, led by Big Anxiety Festival sponsor, Bridging Hope Foundation, included senior researchers from the Central Academy of Fine Art and the Chinese Academy of Sciences. Next week we will turn our sights to India when UNSW welcomes the Manipal Academy of Higher Education. You might remember reading about our newly struck landmark partnership for education with Manipal, and next week is a good opportunity for us to talk about continuing to build our collaborations.
I recently attended the launch of the Bioengineering for a healthy future capability portfolio at an event which brought together dedicated UNSW researchers and staff with a range of representatives from our valued industry, community and government partners. This document highlights UNSW's expertise across connected healthcare; bionics; bioengineered materials and technologies; and biomolecular innovations and medical imaging analytics – all of which have enormous potential to transform health and the practice of healthcare and all of which are great resources for industry to tap into. Having a division dedicated to this important pursuit is evidence of UNSW's commitment to knowledge exchange. The fact that we have doubled the volume of our partner engagement in the last four years, tells us we were right to do so. Congratulations to Knowledge Exchange Director, Warwick Dawson, and his team for a great event, and to Professor Brian Boyle and the UNSW Division of Enterprise.
New Division of Philanthropy Newsletter
I encourage you to subscribe to the Philanthropy Newsletter, the first edition of which is now available. Vice-President of Philanthropy, Jon Paparsenos, and his team work hard behind the scenes to mobilise our global community of over 315,000 alumni, manage relationships with UNSW's donors and volunteers, and raise philanthropic funds to support the University's 2025 Strategy. You can find more information here.
We live with the increasing threats of cyber-attacks, social engineering and phishing which can compromise personal and professional privacy as well as intellectual property. UNSW's IT cybersecurity team is ever-vigilant when it comes to the tactics used by cybercriminals, but each staff member also has a responsibility to be cybersecurity 'savvy'.  I ask that you all read this important piece on cybersecurity to ensure you are playing your part in protecting yourself and the university from potential attacks. If you are ever uncertain about emails or documents you receive, please always seek advice rather taking a chance.
As a last reminder please take the time to complete the Insight survey which closes on 11 October and also vote for your favourite nominee in the People's Choice award which closes this Sunday. 
Best wishes,
Ian 
Comments