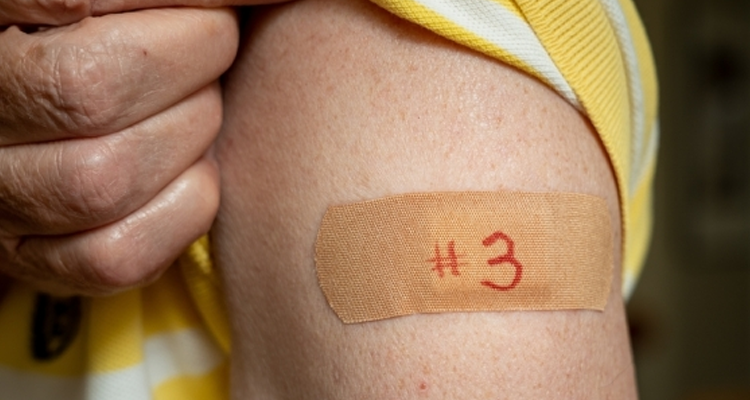 We've had the third COVID-19 booster rollout. Is a fourth booster on the cards?
At the beginning of November 2021, the Australian Government launched the COVID-19 booster vaccination program, prioritising healthcare workers, residential aged care, and disability facilities. At the time of writing, 50 per cent of the Australian population aged 12 years and over have received a booster dose.  
But for those who received their third dose back in November, the question is, what next? Is waning immunity going to be an issue for those who received the booster more than three months ago? Will there be a fourth booster on the horizon for Australians? Where are we at with variant-specific vaccinations and 'universal' vaccinations?  
Why do we need boosters, and will we need a fourth booster? 
Dr Deborah Burnett, Conjoint Senior Lecturer at UNSW's St Vincent's Clinical School, said data from multiple sources is now emerging that there are two factors at play necessitating the need for booster vaccinations against COVID-19.  
"The first is, there is a large body of emerging evidence that although vaccination induces a robust protective antibody response against COVID-19, antibody response wanes over time, decreasing 20-fold from its peak within nine months.  
"The second factor at play is because the strains we are now facing are so different from the strain used to formulate the original vaccine, the vaccines themselves are less effective at preventing infection from new variants. While six to 12 months post-second vaccine most people still have antibodies that would protect them against infection with the original strain of SARS-CoV-2 – the virus that causes COVID-19 – only a minority of people have antibodies that would protect them against the infection with the Omicron variant," explained Dr Burnett.
Dr Burnett said a third booster increases the protective levels of antibodies so that most people are then protected against infection with the Omicron variant, however, it is unclear how long this protection lasts. She said early evidence from the UK suggests that even following a third vaccine booster, protection against Omicron infection falls 30% from its peak levels within three months.  
For this reason, many countries around the world are considering or even implementing a fourth vaccine booster program.  
"It is currently unknown how much a fourth booster will actually further increase protection against infection and disease but given that some countries such as Israel have already started the rollout of the fourth booster program, we expect this data to be available shortly. This data will help influence whether Australia adopts a similar strategy."  
Dr Burnett said the good news is, although breakthrough infections may occur in the vaccinated, there appears to be a greater ability of current vaccines to protect against serious disease caused by variants.  
"However, protection against hospitalisation appears to fall over time, with the UK data showing a third booster provides 92% protection against hospitalisation against the Omicron strain, but this falls to 83% within three months. 
"As such, there is a strong logic to initially prioritising those individuals who have a higher chance of severe disease following infection with the virus."
Variant specific vaccinations 
Pharmaceutical companies such as Pfizer and Moderna are currently working to develop and manufacture Omicron specific vaccines, with both companies promising production capacity to be ready by March 2022.  
Dr Burnett said although the data from early trials have not yet been released for scientific scrutiny, there is little doubt that vaccination with an Omicron-specific vaccine will provide an enhanced Omicron-specific immunity.  
"Additional safety testing will be required before this can be rolled out to the public but given the similarity of these designs to their previous vaccine, this should be comparatively rapid. However, limitations in production capacity, and the fact that Australia cannot currently manufacture these vaccines onshore, means it will most likely be at least several more months until Australians will be able to access Omicron specific vaccines." 
She said experience from NSW's Omicron wave showed how rapidly a new variant can spread through a population, with the peak in infections occurring within four to six weeks following the introduction of the variant.  
"The logistical capacity of designing, manufacturing, safety testing and rolling out a vaccine means this strategy of reactively developing a variant-specific vaccine, following the emergence and characterisation of a new variant, will always leave Australia vulnerable to ongoing disruptive waves of infections and hospitalisations every time a new variant emerges." 
Are 'universal' COVID-19 vaccines the way forward? 
Dr Burnett said looking at the genetic code of the original SARS-CoV-2 virus and related viruses, such as the SARS-CoV-1 virus – which caused the 2003 epidemic – it's clear there is still a lot of scope for the virus to mutate further. 
"What this means in a practical sense, is that Omicron is unlikely to be the last variant. It also means that the next variant could be quite different to Omicron and that antibodies induced by either vaccination or infection, even with the Omicron variant, may not provide much protection against this new variant.  
"As such, the only way to ensure long term population control against COVID-19 would be the rollout of a vaccine which generated protective antibodies which targeted regions of the virus that the virus cannot easily mutate. Because these antibodies would target parts of the virus that the virus couldn't shift, these kinds of vaccines would still likely provide good protection against emerging variants that don't even exist yet," explained Dr Burnett.  
Several groups, including Dr Burnett's team, in collaboration with Prof. Chris Goodnow and Prof. Daniel Christ at the Garvan Institute and several other teams across UNSW and Australia, are working on strategies to generate a 'universal' COVID-19 vaccine that would be resistant to future strains of COVID-19.  
Dr Burnett said instead of rolling out a vaccine after a variant emerges to lessen the effects of that variant, 'universal' vaccines have the potential to provide for a much better population-level control of COVID-19, as they could potentially prevent future outbreaks from occurring. 
Will 'universal' vaccines mean fewer boosters?  
Dr Burnett explains there are currently two factors that necessitate the need for re-current boosters with COVID-19 vaccines. The first factor is the antibody protection induced by all COVID-19 vaccines appears to wane over time.  
"The reasons underlying why this occurs are not currently fully apparent, and appears to be more extreme than the antibody waning that has been seen in other previous coronaviruses that affect the human population," said Dr Burnett.  
"The other factor that determines the frequency of boosters is the fact that because new variants contain many mutations at the site targeted by current vaccines, vaccines derived against the original strain of the SARS-CoV-2 virus do not cover later variants, such as Omicron, very well." 
While most people still have enough antibodies to protect them against the original strain of the virus six to 12 months following the second dose, very few have enough to protect against newer strains. Dr Burnett stresses this effect could become even more dramatic as newer variants emerge.  
Dr Burnett is hopeful 'universal' vaccines will be able to solve the latter problem. She said by inducing antibodies that target regions that the virus cannot easily mutate, they would aim to provide protection that equally covered all strains of the virus, even those that haven't emerged yet.  
"However, over time it is likely that the antibodies induced by even these boosters would wane, and future boosters could still be necessary, just at a lower frequency than what is currently required." 
Local mRNA facility critical to Australia's future  
Dr Burnett said an important lesson we have learned from the COVID-19 pandemic so far is mRNA vaccines are safe, effective, fast to manufacture and will play a critical role in future infectious disease management strategies in Australia and around the world.  
"As long as Australia doesn't have its own sovereign vaccine production capacities it will continue to suffer from instabilities in vaccine supply and is unlikely to be at the front of the queue when a new vaccine is rolled out. 
"As such, onshore production of mRNA vaccines is critical for Australia's future. Australia is already initiating arrangements with Moderna for the industrial production of mRNA vaccines in Australia from 2024. In addition, hopefully, the NSW RNA Bioscience Alliance will continue to grow to establish a pathway allowing for the development of Australian designed vaccines to be translated into real-world products." 
Comments