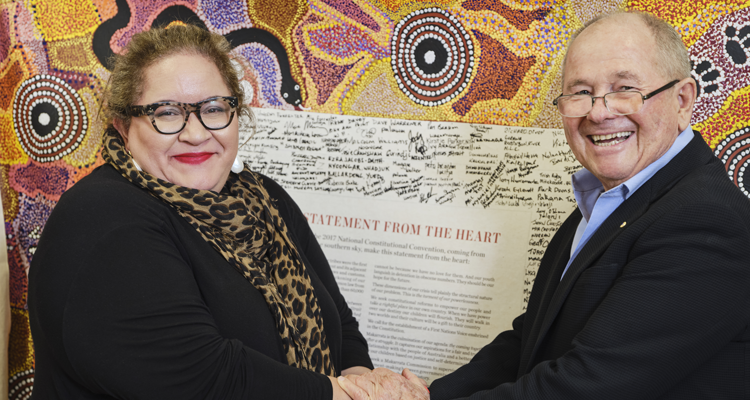 UNSW Sydney pays tribute to the highly respected philanthropist who aimed to create a better Australia through education, medicine and the arts.
UNSW Sydney has paid tribute to Neil Balnaves AO, entrepreneur, innovator and philanthropist, who had a deep and longstanding relationship with the University.
Vice-Chancellor and President of UNSW Professor Attila Brungs said Mr Balnaves had a positive impact on the lives of many in the UNSW community and beyond.
"Neil gave back in countless ways, working tirelessly to create a better society through support of education, medicine and the arts, with a special focus on social justice for Australia's disadvantaged and Indigenous communities. 
"His leadership has touched the lives of so many and we will be forever grateful for his extraordinary generosity, not only as a visionary philanthropist, but as a business leader, a mentor, a vocal and persistent advocate for the disadvantaged and an outspoken friend of the University. He will be greatly missed."
A former film and TV executive, Mr Balnaves was appointed an Officer of the Order of Australia (AO) for his services to business and philanthropy in 2010. He was a former member of the Advisory Council and Dean's Circle at UNSW Medicine & Health and in 2010 received an Honorary Doctorate of the University.
After a boating accident in 2002 and a long rehabilitation, Mr Balnaves focused on a wide portfolio of philanthropic programs through the family-run Balnaves Foundation. The Foundation's generous endowments to UNSW include Indigenous medical scholarships, establishment of a term Chair in Constitutional Law at the University's Indigenous Law Centre and funding for new premises for UNSW's Nura Gili Centre for Indigenous Programs, as well as for work on progressing the Uluru Statement from the Heart.
"Neil played an extraordinary role in the cultural life of Australia and his impact has been felt across the artistic community both locally and globally. He inspired the highest esteem, respect and admiration of a great number of people," UNSW Chancellor David Gonski AC said.
"To the UNSW community, Neil Balnaves was a visionary who aimed to create a better Australia. He had a deep understanding of the complex issues surrounding the inequality that Indigenous communities face and the role that higher education can play in addressing this.
"There is no doubt that Neil has left an incredible legacy and has raised the bar with Australia's philanthropic sector with his passionate and educated support. His influence will long endure, and I consider our institution extremely fortunate to have benefited from his generosity and guidance over many years."
In 2020, Pro Vice-Chancellor Indigenous and Professor at UNSW Law & Justice Megan Davis was named Balnaves Chair in Constitutional Law on the third anniversary of the Uluru Statement from the Heart. The Foundation funded the chair to enable Professor Davis to ensure the advancement of this critical national agenda.
"I came to know Neil when I was a young early career scholar in around 2010. I also knew his daughter Alexandra and we used to yarn constitutional recognition and Indigenous affairs," Professor Davis said.
"Neil was one of the few in the philanthropic world who understood the relationship between the Constitution and health and wellbeing of a peoples. He was supportive of my work and, following the Referendum Council and the Uluru Dialogues, he invested in my work by funding the Balnaves Chair in Constitutional Law.
"Neil and The Balnaves Foundation understood that the work of law reform was hard, hard work. I am extremely proud of the Balnaves Chair and my relationship with Neil, his family and the Foundation."
The Balnaves Foundation grants in focus
Since 2009, The Balnaves Foundation has supported UNSW Medicine & Health to provide Indigenous Medical Scholarships to outstanding students who are financially challenged to study medicine. Nine Balnaves scholars have graduated since 2012 and another six are expected to complete their degrees in the coming six years. Ben Jones, the program's 2021 graduate, was awarded the NSW Rhodes Scholarship, enabling him to undertake a Master of Science in International Health and Tropical Medicine and a Master of Science in Global Health and Epidemiology at Oxford.
In 2012, a gift from the Foundation gave UNSW's Nura Gili Centre for Indigenous Programs a new home – Balnaves Place, located at the heart of the Kensington campus. The Nura Gili team works to enhance the student experience with tutoring, workshops and events and includes study spaces and meeting places for Aboriginal and Torres Strait Islander students and researchers. It also provides pathways for prospective Indigenous students to study in all UNSW faculties.
In May 2020, Pro Vice-Chancellor Indigenous Professor Megan Davis was named UNSW's Balnaves Chair in Constitutional Law. The Foundation's multi-year agreement to support the University's Indigenous Law Centre to establish the chair is in honour of the late Alexandra Balnaves, daughter of Diane and Neil, and her dedication to supporting First Nations people.
The Balnaves Foundation has also supported medical research in UNSW affiliated institutes. The Foundation provided multi-year funding for the Black Dog Institute's BEAM: Building Educator's Skills in Adolescent Mental Health project, supporting the mental health of young people. The project's online training program, developed in partnership with teachers, aims to upskill Australian Year Advisors in identifying, responding to, and managing students' mental health problems.
The Garvan Institute of Medical Research, with the support of The Balnaves Foundation, is working on a comprehensive approach to identifying and evaluating new therapies for patients with treatment resistant breast cancer. The project aims to partner with patients to identify biological mechanisms underlying resistance to endocrine therapies in breast cancer and establish a clinical trial platform to evaluate potential new treatments.
Comments