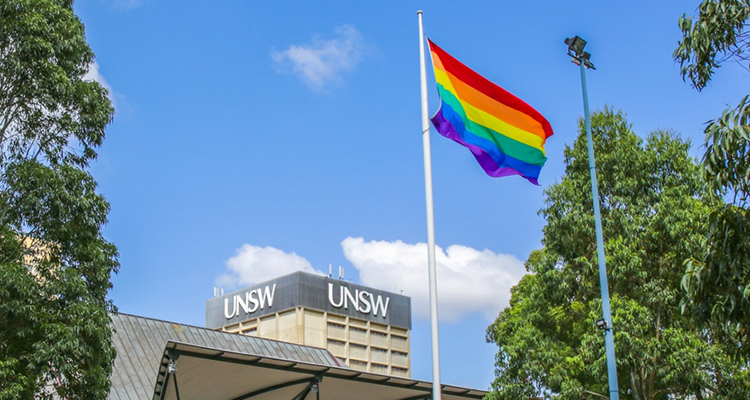 To mark International Transgender Day of Visibility, Workplace Diversity spoke with UNSW academic Andy Kaladelfos about raising the visibility of the trans community. 
On 31 March, UNSW acknowledged International Transgender Day of Visibility, which is celebrated annually to recognise trans and gender diverse people, their stories and achievements. To celebrate the day, Workplace Diversity learned about Andy Kaladelfos' experience of being trans, both personally and professionally.
Andy is a Lecturer in Criminology in the Faculty of Arts and Social Sciences and a proud trans man. Andy's research specialties are sexual and gender-based violence, queer criminology, immigration regulation, and homophobic and transphobic violence.
Why do you think International Transgender Day of Visibility is important for UNSW to acknowledge and what does it symbolise to you?
Last week I celebrated the first anniversary of my medical transition. It raised a lot of different feelings for me – mostly I felt angry that I waited so long (12 years) to medically transition, due to fear and shame. People often say, "You must be happier now," and though I am happier, it was a difficult journey, physically, emotionally, financially, legally and socially.
I think visibility itself is important for the transgender and gender diverse community. We're talking about a very small community with very high needs. It's important for me to be visible to people who can't be. A couple of the hashtags that are important to the concepts of visibility, though political, are #WontBeErased and #HereOnPurpose. For me they highlight that I am here, and this is me. I'm part of the University's community.
It's also important that trans students know there are trans people in leadership roles at the University. I have a trans flag on my door and people have emailed me to say how welcome it makes them feel.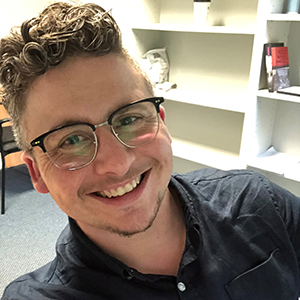 What's your experience been like working at UNSW as an open trans person?
Coming to UNSW was a fresh start for me and I've had a really great experience here. I started at UNSW after my transition and my supervisor immediately asked me about my pronouns. I raised my anxieties about being open with my trans identity at work and was assured I'd have 100% support.
Being trans is something I deal with every day in my professional life. Your name is important when you're an academic. I was afraid of losing my history of work and my body of previous research, since I don't publish anymore under my 'dead name' (the name I was given at birth). But it's not been a major issue for me because the first letter of my name is the same as the first letter of my dead name, and my last name has remained the same – this makes my work easily searchable. For others, it may not be as easy.
What is a simple way that staff and students can make UNSW a more inclusive place for the transgender community?
Trans and gender diverse students are very worried about being called their birth name and the sex they were assigned at birth – so being conscious of using someone's chosen name and pronouns is a great way to develop inclusivity. From a teaching perspective, I'm planning on doing a pronoun exercise with students at the beginning of each new course – it's a very easy addition and would continue building a culture of awareness. In Ally Network training, there is a big focus on recognising gender diversity, and this tells me there is institutional awareness at UNSW. The culture here is certainly not the culture in a lot of workplaces, which don't have policies in place. The fact that we have a gender affirmation policy and an LGBTIQ Champion is great. Both the practical and symbolic things do matter.
Many people do not understand what transgender means. What would you like to tell people about being transgender?
There is no one trans experience. By its very nature, the transgender community is a diverse community. One of the problems is that trans metanarratives don't always fit with an individual's experience. Particularly important is the concept of the gender spectrum. I identify as trans masculine, and non-binary. Trans masculine is my gender expression (what I look like) whereas non-binary is my gender identity, how I see myself in the world (neither exclusively male or female). There are lots of different trans and gender-diverse identities. Some transgender people may choose to identify as transgender, including the identities trans women or trans men. Other transgender people identify as just women or men. While others too may identify as gender-diverse people including non-binary, gender queer, or gender-fluid identities. These identities differ culturally, for example these can include sistergirls and brotherboys in Indigenous communities as well as two-spirit identities. Some transgender people have undertaken medical and social gender transition while others have not.
Most cisgender people probably don't realise how embedded gender is into everything we do. The enormity of taking on a medical transition as well as the bureaucratic and legal work that goes along with changing your name and gender identity, plus the emotional, financial and social challenges that you need to tackle every day, are vast. Going through life being perceived as one gender and then transitioning to another gives you greater insight into how gender is structured. I feel I've never understood gender as much as I do now and that's after nearly 20 years of studying gender.
If you want to learn more about the transgender community and how you can support your transgender colleagues and peers, and the larger LGBTIQ community, register for Ally@UNSW Network training and LGBTIQ Awareness training here and/or visit the HR website for more information.
Comments