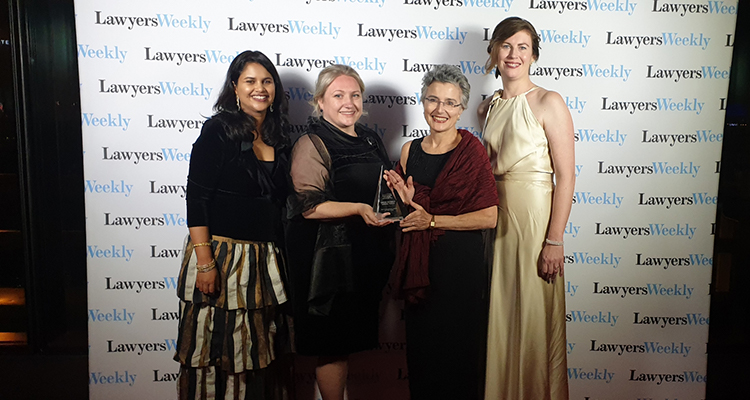 The UNSW Legal Office received accolades in individual and team categories at the Lawyers Weekly Corporate Counsel Awards 2019.
On 29 March, the Lawyers Weekly 2019 National Corporate Counsel Awards ceremony was held in Sydney. These prestigious Awards – Australia's largest awards program for in-house lawyers – acknowledge and celebrate Australia's leading corporate lawyers and legal teams across all industries. The Awards aim to recognise the achievements of in-house lawyers who have made a valuable contribution both to their company and to consumers, external stakeholders and the wider community. This year's program featured more than 500 nominees and 128 finalists in 25 hotly-contested categories.  
UNSW's General Counsel, Elizabeth Grinston (pictured second from right) won the Australian Academia, Training and Education Lawyer of the Year. The UNSW legal team also received top honours as Australia's Legal Team of the Year in the not-for-profit sector. In accepting the awards, Elizabeth paid tribute to the dedication and professionalism of her team and spoke of their role in supporting the exceptional work of UNSW's teaching and research staff. 
Congratulations Elizabeth and team on being formally recognised as Australia's leaders in their field.
Image: UNSW Legal team at the Lawyers Weekly 2019 National Corporate Counsel Awards (L-R: Sarita Walpola, Marina Yastreboff, Elizabeth Grinston and Alix Cameron).
Comments