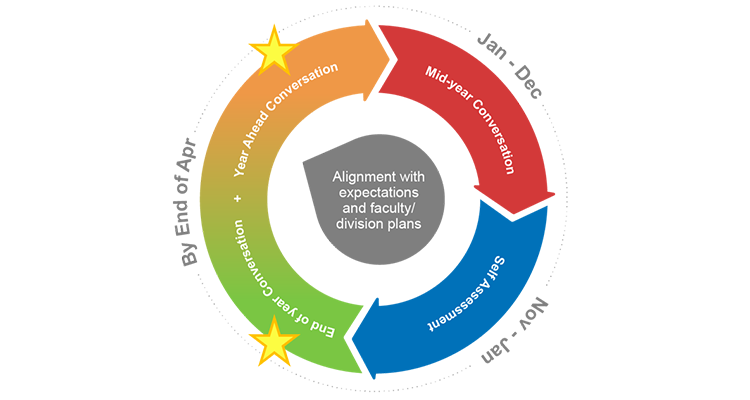 Your myCareer conversations are to be held by the end of April. Our new video will help you look back at achievements and forward to set goals. 
A conversation recognising both achievements and challenges from the past year is a motivating experience.  
At UNSW, myCareer conversations are to look back at achievements and challenges, and forward to set goals and plans. For a quick recap of the process and what to do with the forms, there is a short video explaining the process. 
Looking back: Year-End 
The Year-End conversation is an opportunity for the leader and individual to discuss the year they have had, what they are proud of and where they may be having challenges. It's a time to share feedback, discuss what goals will be closed off and what goals will be taken into 2019.  
Looking forward: Year-Ahead 
The Year-Ahead conversation is future focused. It looks at career aspirations, what you want to achieve in 2019 and beyond, and how you demonstrate the Values in Action. 
If you have not had your Year-End 2018 and/or Year Ahead 2019 conversations, please talk to your conversation leader to arrange one by the end of April.  
For more information, please watch our new video, visit the myCareer website or speak with your HR Team.  
myCareer staff survey 
HR would like to hear about your experience this year with myCareer. Staff will receive a two-minute survey. Conversation leaders can expect a survey link in April and individuals in May. 
Elisse O'Leary, UNSW Talent and Performance Manager, indicates that feedback from the survey will help HR understand how staff are experiencing the myCareer process and where more support is required. 
"We are keen to know whether you have held a myCareer conversation – or not – in the last year, what has worked well and what hasn't. So please keep an eye out and share your experiences through the survey," Elisse said. 
Comments