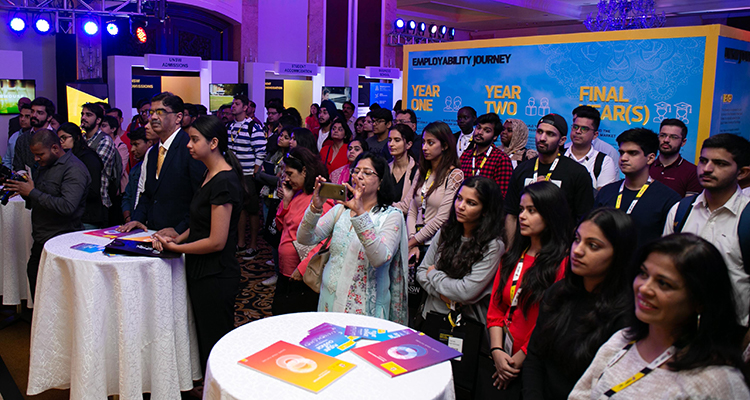 UNSW's India Roadshow, which visited four cities throughout the country last November, has won silver at the 2019 Asia-Pacific Campaign Event Marketing Awards.
UNSW's 2018 "What Makes You Employable?" India Recruitment Roadshow won the Silver Award in the Best Trade Show/Exhibition category at the prestigious 2019 Asia-Pacific Campaign Event Marketing Awards held in Hong Kong on 19 March.
In November 2018, a delegation of 40 academic and professional staff, led by Laurie Pearcey, Pro Vice-Chancellor, International, embarked on UNSW's first India Recruitment Roadshow. The Roadshow delivered an unprecedented and innovative event, unlike anything India has experienced within the education sector.
With the overarching theme of "employability", the series of highly experiential events across the cities of Delhi, Chennai, Pune and Mumbai provided 1,000 future students and their families a taste of UNSW life and how their employability would be enhanced by studying at UNSW.
UNSW was in esteemed company at the Awards night, being among other winners including Porsche, Tencent, Mercedes-Benz, Shiseido, Adidas and Coca-Cola.
UNSW missed out on the Gold Award to Comic-con, which won for its inaugural China convention that attracted two million visitors.
You can read more about the India Roadshow in Edition 22 of Inside UNSW.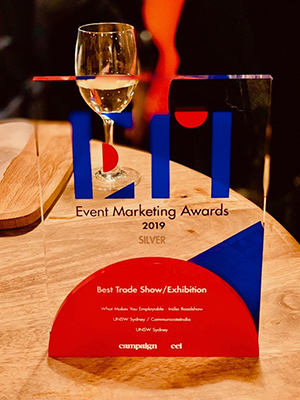 Comments