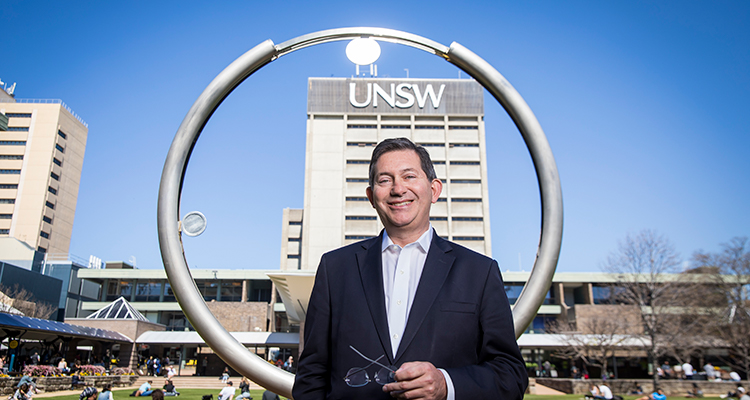 Colleagues
Last week the ARC released the outcomes of the 2018 ERA assessment. As summarised in my all staff email on this topic, our outcomes were stellar. The proportion of UNSW research classified as 4 or 5 increased from 72% in 2015 to 91%, and UNSW received more '5' ratings in broad fields of research than any other Australian university. The ARC also released for the first time an engagement and impact assessment in which UNSW had more impact cases rated 'high' than any other Go8 university. My congratulations to all staff on these superb outcomes, which provide independent validation of the quality and impact of our collective research effort.
Analysis of Tuesday night's federal Budget by Universities Australia, the Go8, Research Australia and other higher education and research bodies, point to a lost opportunity for our sector. The Budget papers do contain some important positives, such as a new 10-year plan for $5 billion in MRFF funding, and new funding for regional education, gender equity in universities and Indigenous education, but other areas were of concern. NHMRC funding continues to decline in real terms, ARC funding programs are essentially static, with just modest increases in line with CPI, there is a substantial cut to Research Support Program Funding for indirect research costs, and the freeze on funding for student places remains. It is disappointing to hear the Government highlight a projected $7 billion surplus when a series of deep cuts to our sector over the last 18 months – including $2.1 billion in student places and $328 million in research – have helped to pay for it.
The end of Budget week heralds what we suspect will be the beginning of a busy election campaign period for Australia. Throughout the coming months, our sector will continue to work cooperatively with political representatives to ensure our voices are heard on issues such as funding for research and education and on other important national priorities. I am cautiously optimistic that the science agenda is becoming more prominent in political debate. We can await with interest Bill Shorten's Budget Reply this evening.
Well done to the many experts across UNSW who contributed expert analysis and advice across a range of areas covered in the Budget. This is a critical way in which our University can contribute to informed, reasoned, evidence-based public debate. In this vein it was good to see UNSW-founded fact-checking site Metafact profiled in Times Higher Education recently. Resources like these are vital as more and more people seek expert input and fact-based answers to important policy questions.
Congratulations to UNSW General Counsel Elizabeth Grinston, and the entire UNSW Legal Team for receiving top honours at the 2019 Lawyers Weekly Australian Corporate Counsel Awards last Friday. Elizabeth received the individual award in the Academic, Training and Education category, and her team received the group award in the Not-for-Profit category. More than 500 nominations were considered by an independent judging panel comprised of solicitors, barristers, CEOs and other senior executives, legal academics and representatives of industry bodies, with UNSW taking out the top award in both of the categories in which we were nominated. You can read more about their achievements in this edition of Inside UNSW.
I was delighted to hear the Social Science Research Network (SSRN) has ranked UNSW Law as 1st in Australia and 12th overall among the top 750 law schools worldwide. Special congratulations to Scientia Professor Ross Buckley, who ranked among the most highly-read law professors in the list, coming in second place with 26,493 new downloads of his research in the past 12 months. It is clear Professor Buckley's expertise in FinTech, RegTech and blockchain, and the expertise of our academics right across the Faculty, is deeply respected and sought-after globally. Well done, all.
Minister for Industry, Science and Technology, Karen Andrews, was on campus last week to announce $35 million in new funding for the Future Food Systems CRC, which is based here at UNSW. The CRC brings together more than 60 partners from research, food industry groups, primary producers, and government to solve challenges in Australia's food supply chain. All involved are to be congratulated in securing funding for this important project.
Congratulations also to our International team, headed by Pro Vice-Chancellor International Laurie Pearcey. They were recently recognised at the 2019 International Events Marketing Awards in Hong Kong with a Silver Award, accepted by Rhys Palmer, for their superb work on the India Open Day Roadshow. Thank you and well done to everyone who was involved in this campaign and who continue to work so hard to boost UNSW's profile in this growing and important market.
On Tuesday, the senior leadership team and I were pleased to join members of staff at the Philanthropy Staff Giving Heroes event in the Roundhouse. Many of you may not know that UNSW has a growing staff giving program, which enables members of staff to contribute regularly to an area of the University which matters to them. Our generous staff donors support a wide variety of programs and initiatives through the UNSW Foundation, from research, and scholarships and programs such as Nura Gili and ASPIRE. It was terrific to have this opportunity to thank our staff contributors.
A reminder that you have until 5 May to contribute ideas for future Grand Challenges to commence late this year or next. Our existing Grand Challenges have driven debate on climate change, refugees and migration, inequality, and living with 21st century technology. Our two new Grand Challenges addressing rapid urbanisation and energy transitions are developing well. If you have another pressing issue in mind that you would like to see UNSW address, you can read the guidelines and make a submission here.
It has been just over a year since the passing of Professor David Cooper AC. To mark this anniversary, we will later today launch the Professor David Cooper AC Memorial Fund, which will enable UNSW to continue to carry out David's vision of pushing the boundaries of what is possible through life-changing research. The establishment of the Fund is a most fitting way to remember an extraordinary member of our community, and ensure his light continues to burn bright well into the future.
And lastly, for those who forgot to check the date on their calendars on Monday and were excited at the prospect of a massive waterslide from upper to lower campus – you were not alone. It was another lesson in fact-checking, with UNSW experts like the Deputy Vice Chancellor, Enjoyment, and Professor Gill from UNSW's Fast Aquatic Kinetic Engineering (FAKE) Lab lending their gravitas to the Twitter post. 
Best wishes,
Ian
Comments