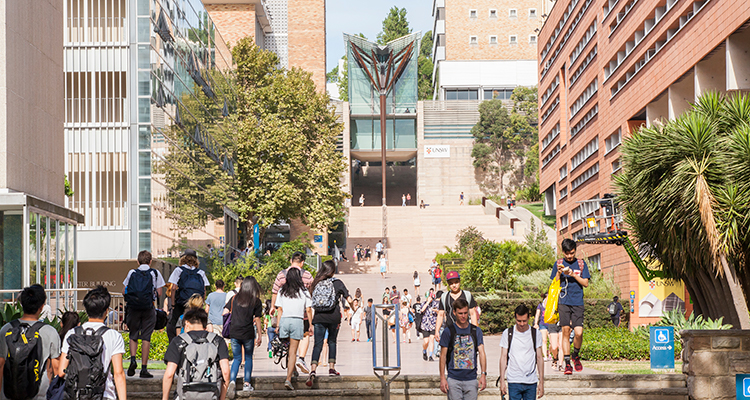 UNSW has gained outstanding results for world-class research in ARC reports for research excellence and impact assessment.
Research from UNSW Sydney is among the best in the world, with the University receiving more top ratings in broad fields of research than any other Australian university in the 2018 Excellence in Research in Australia (ERA) analysis.
The ERA results, published last week by the Australian Research Council, benchmark the country's university research against international standards. The 'State of Australian University Research 2018-19' report assessed performance across broad fields and specific subject areas.
"This is an exceptional result for UNSW that showcases the world-class research environment at UNSW," said Professor Nicholas Fisk, UNSW Deputy Vice-Chancellor, Research. "I want to congratulate our researchers for continuing the University's steep growth in research performance that is outpacing goals set out in our ambitious 2025 Strategy. The ERA results support the University's strategic approach to raising its research profile so that in the future, even more research is recognised as world-leading."
In the 2018 report, ERA assessed 21 broad fields of research and 89 specialised areas of research at UNSW. In the 21 broad fields assessed, UNSW was one of only four institutions to receive a rating of four or five, indicating performance above or well above world standard. UNSW's average score of 4.8 was the highest in the country. 
Across broad fields, UNSW had the best result of any university in Australia, obtaining more top ratings of five for "outstanding performance well above world standard" than any other university with 17. Next was ANU with 15 and University of Melbourne with 14. 
"UNSW's outstanding results in the 2018 ERA analysis exemplify the University's commitment to producing world-class research across all fields of academia," said UNSW President and Vice-Chancellor Professor Ian Jacobs. "Our researchers have excelled in all areas – from medicine and STEM subjects to the humanities and arts – propelling UNSW to be among the best research universities in the world."   
Following on from the outstanding ERA results, UNSW has topped all Australian universities for research that makes a highly positive impact on everyday lives in the ARC's first national engagement and impact (EI) assessment. UNSW also rates highly when it comes to engaging with end-users outside of academia to translate research into benefits for society.
The national assessment is incorporated into the ERA and shows how universities are translating their research into economic, social and environmental impacts, as well as industry and end-user engagement. 
UNSW outperformed all other Australian universities for research impact with 16 cases rated as having a high impact. These 16 cases represent 70% of UNSW submissions ranging across engineering, medicine, humanities and social sciences. The national average for high impact was 40%.
Comments