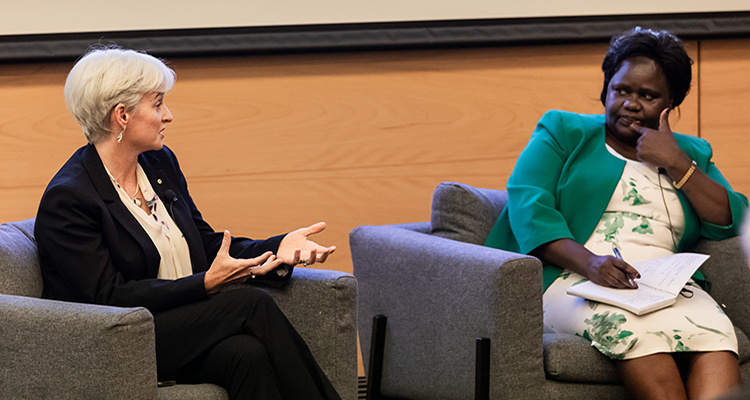 University of Eldoret's visiting Vice-Chancellor and UNSW's Dean of Science shared their perspectives about how we can improve gender inequality in education and science at an event hosted by the Institute for Global Development.
Vice-Chancellor of the University of Eldoret Professor Teresa Akenga and Dean of Science Professor Emma Johnston AO discussed the changing experiences of women in leadership, education and science with Institute for Global Development Director Dr Sarah Cook at a women in leadership event on campus this week.
Reflections on becoming a female leader in Kenya 
Professor Akenga grew up in a small village and credits her success to her family.
"The only encouragement I had growing up was from my father – to work hard," she said. "If my father hadn't insisted that I focus on maths, chemistry and physics, I doubt I would have made it to where I am today."
In Kenya, only six out of the 31 public universities are led by women. Across Africa there are about 40 female vice-chancellors for approximately 1,500 universities. 
Professor Akenga argues that women's presence is gradually being felt in education, STEM and innovation circles but there is a long way to go to realise gender parity at all levels.
What role can universities play in addressing gender inequality?
Professor Akenga and Professor Johnston spoke about ways their respective institutions can help with this balance.
In Australian STEM areas, women often make up 50% of science degree students but only 17% of science leaders. Professor Johnston is confident the initiatives started at UNSW will help address this disparity.
"UNSW has boldly and bravely put forward targets we need to meet by 2025," she said. "It's brought equity, diversity and inclusion to the forefront of our priorities. We are including targets in our KPIs, publishing quotas and we are committed to the Athena SWAN program. These initiatives work, and everyone is shouldering the responsibility. We are seeing results. In the Faculty of Science, we've gone from 17% to 27% women at senior academic levels over the last two years." 
The University of Eldoret is also committed to action. Professor Akenga explained that they are trying to apply the 1/3 rule. This target ensures each gender is represented by at least a third in every area. In April, the university is scheduled to receive the National Diversity and Inclusion award for improving diversity and inclusion within its various ranks.
Both leaders want to increase opportunities for mentoring and networking. Professor Akenga belongs to a forum for African Women Vice-Chancellors. The group is committed to promote gender equity in planning, implementation, mentoring and the evaluation of university program training.   
Professor Johnston also recognised the issue of role models. "It's hard to be what you can't see," she said. "Promoting and giving a voice to those women who have achieved is very important."
UNSW Science has started a Women in Maths and Science Champions program for both students and early career researchers. The program gives women opportunities to learn about science engagement, social media, mentoring and a network to build their practice.
What can women do to develop as leaders?
Professor Johnston and Professor Akenga had concrete tips about how to develop as a leader. Professor Johnston recommended doing a leadership course to discover strengths and what you need to practice to build confidence. She also recommended listening to positive people who can advise and judge you fairly. "The nagging self-doubt is not real, but it is very hard to quiet," she said.
Professor Akenga agreed. "You have to look at what is in it for yourself. We need to support each other and work together. Sometimes we feel sorry for ourselves, but men don't. We are not confident enough with the knowledge we have as women. We need training to enhance our leadership skills through development courses and mentoring to build confidence for our younger staff and students."
The delegation caps off the visit with a memorandum of understanding
UNSW Sydney and the University of Eldoret formally established their first memorandum of understanding. From September 2019, the Institute for Global Development (IGD) and the Global Water Institute (GWI) will collaborate with the University of Eldoret to deliver a new Australia Awards Short Course in Kenya supported by the Australian Government. The course, 'Integrated Regional and Transnational Water Resource Management', provides an opportunity to share UNSW expertise with professionals from across Africa.
UNSW's IGD and the GWI co-hosted the University of Eldoret's visit to UNSW Sydney to celebrate our relationship.
Professor Akenga holds a PhD in Organic Chemistry from UNSW Sydney. Following extensive undergraduate and postgraduate studies in education and science, Professor Akenga held roles at universities in Kenya and Rwanda, including lecturing in Chemistry and serving as a Deputy Vice-Chancellor. She joined the University of Eldoret as Vice-Chancellor in 2013.
Comments