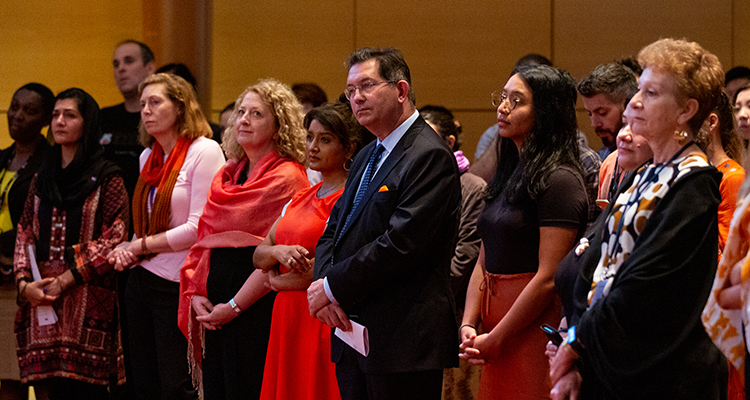 Colleagues
Harmony Week has been a welcome opportunity to emphasise the peaceful and harmonious environment we strive to create at UNSW. Members of the management board and I were privileged to gather with so many staff and students on a few occasions this week, including yesterday morning, to make a public and united commitment to a society in which everyone – people of all religions, gender identities, races, nationalities and beliefs – can live together with care and respect for one another. This past week has been a harrowing time for the Muslim community and for those in the UNSW community from New Zealand, as it has been for all whose lives have been touched by racial and religious violence. It was horrifying to see hatred and bigotry, so out of step with the values of the overwhelming majority of Australians, on our doorstep. Over the past week, the UNSW community has demonstrated great solidarity, in making it clear that our community utterly rejects the politics of division and is committed to fostering a safe, caring and respectful campus. I would once again like to remind staff that should you ever need it, free and confidential support is available to you and your immediate family members through our Employee Assistance Program (EAP) which you can access here. Support for students is also available through UNSW's Counselling and Psychological Services.
Last Friday's events in Christchurch overshadowed the much more positive story of the predicted 1.5 million students worldwide who marched in support of greater action on climate change. It was heartening to see young citizens, including thousands in Australia and many from UNSW, committed to action on this issue. I was also pleased to see a number of UNSW academics making meaningful contributions to the public conversation – see here, here and here.
A note about developments involving UNSW International and UNSW Global intended to create an integrated international operation, sharing resources to enhance the experience for students who study with UNSW on campus, online and overseas. This new strategic push will be led by Laurie Pearcey Pro-Vice Chancellor, International at UNSW Sydney, reporting to Vice President, Fiona Docherty within the Division of External Relations. Dr Rob Forage will continue to lead UNSW Global as CEO until 1 July 2019, when he will leave to pursue new opportunities. Rob has contributed strongly to UNSW Global's success over the last decade, deploying his considerable skill set and talent to growing the organisation into one of the most successful, university-owned pathway providers in Australia. Over the next three months Rob will work closely with Laurie on the integration, setting up the new leadership team for success in the next phase of development.
It was an honour to host a ceremony last week to celebrate the life of former UNSW Vice-Chancellor, Sir Rupert Myers. Sir Rupert was the second UNSW Vice-Chancellor and holds a special place in the history of UNSW. He was remembered at the memorial by family, friends, colleagues and alumni as a man of generosity, warmth and skilled leadership. Speakers included my predecessor as Vice-Chancellor, Emeritus Professor Fred Hilmer AO, and Sir Rupert's daughter, son and granddaughter. All paid tribute to his outstanding achievements and contributions to UNSW and the wider community. As I said at the memorial, Sir Rupert's legacy is deeply etched into our university's DNA and we all owe a great deal to the foundation he created. My thanks to everyone involved from Philanthropy and across DEx for your care and professionalism in bringing together such a fitting memorial. Thank you also to all those who have contributed to the UNSW Founders Program to honour Sir Rupert's legacy. If you would still like to leave a gift you can do so here.
It was good to hear that the NSW government has announced $15.4 million in funding support for the establishment of a new Sydney Quantum Academy, bringing together UNSW, Macquarie University, the University of Sydney and UTS. The Academy will encourage students to collaborate and learn across the four institutions, link up students with industry, support quantum businesses and help promote Sydney as a global leader in quantum computing. Well done to all who have contributed to securing support for this important venture.
In another example of collaboration, featured in this edition of Inside UNSW, Professor Richard Kingsford has received support in the latest round of ARC funding for a project to develop a new global standard for assessing and reporting on the status of the world's most important wetlands, which are disappearing at an alarming rate. Professor Kingsford will lead a team of researchers from Australia Brazil, France, South Africa and the US.
Congratulations to Rosemary Kayess from the UNSW Disability Innovation Institute on her election as vice chair of the UN Committee on the Rights of Persons with Disabilities. This is a prestigious and important appointment, and reflects Rosemary's deep expertise in law, advocacy, research, and rights of people with a disability.
Congratulations also to Professor Sally Dunwoodie, Professor Helen Christensen, Dr Louise Causer and Conjoint Professor Jane Butler on being awarded prestigious NHMRC Research Excellence Awards for their outstanding contributions to health and medical research. Their grant applications were ranked the highest by their peers in the NHMRC's competitive peer review process. You can read more about their achievements here.
Credit to cancer researchers Dr Thomas Cox, Associate Professor Maija Kohonen-Corish, Professor Christopher Ormandy and Associate Professor Tao Liu who were recently profiled in the Newsroom for receiving support in the latest funding round of the Cancer Council NSW. Their projects will advance research in dual treatments for pancreatic cancer, overcoming endocrine resistance in breast cancer, creating new treatment targets and biomarkers for bowel cancer, and new targeted treatment for neuroblastoma.
Well done also to Scientia Professor Kaarin Anstey, Co-Deputy Director of the ARC Centre of Excellence in Population Ageing Research (CEPAR) here at UNSW, who has been recognised by the Australian Psychological Society with an APS Distinguished Contribution to Psychological Science Award. Scientia Professor Anstey is among Australia's leading cognitive ageing and dementia researchers and continues to make a significant contribution to understanding the challenges of an ageing population.
On a final note, yesterday afternoon I attended the 2019 Meet the Professors series launch, where we heard from two of our recently promoted professors: Professor Lisa Ford from the Faculty of Arts & Social Sciences, and Professor Linda Corkery from the Faculty of Built Environment. These lectures are a fantastic opportunity to hear from our newly promoted or recruited professors about their research, what inspires them, and how their careers have evolved. All staff are welcome to attend these lectures so please do come along when you can.
Best wishes,
Ian
Comments