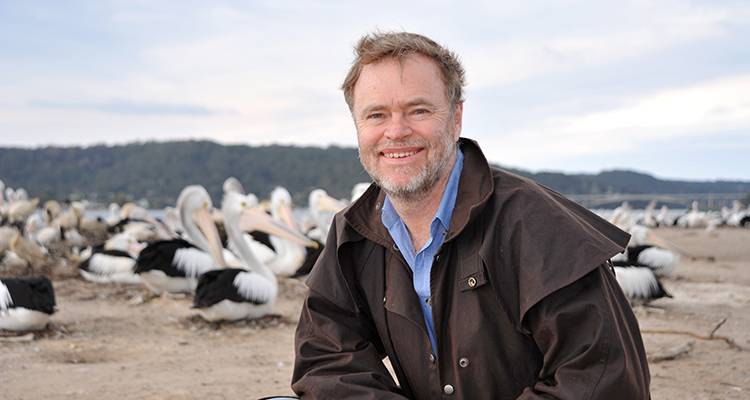 Professor Richard Kingsford and an international team will develop a global standard for assessing and reporting the status of wetlands of international importance.
A UNSW Sydney project to tackle one of the world's most difficult environmental problems has received a $779,000 grant in the latest round of Australian Research Council (ARC) funding.
Professor Richard Kingsford, Director of the Centre for Ecosystem Science at UNSW and chief investigator on the project, will lead a team of researchers from Australia, Brazil, France, South Africa and the United States to develop a new global standard for assessing and reporting on the status of the world's most important wetlands.
Wetlands include lakes, rivers, marshes and peatlands, as well coastal and marine areas such as estuaries, lagoons, mangroves and coral reefs. Directly or indirectly, wetlands provide almost all of the world's consumption of freshwater. More than 1 billion people depend on them for a living and 40% of the world's species live and breed in wetlands.
Research shows that wetlands are disappearing three times faster than forests. Despite most government conservation agencies around the world focusing on wetlands through the Ramsar Convention – one of the first international conservation treaties established in 1971 – there is a lack of global standards for assessment and reporting of risks, trends in status and effective management of wetlands.
Professor Kingsford said the project will close the critical gap between the assessment of ecological conditions and threats to the world's wetlands. They will focus on the Macquarie Marshes, Hattah-Kulkyne Lakes, Currawinya Lakes and Malkumba-Coongie Lakes. They will test their methodology with overseas Ramsar wetlands, including the Wilderness Lakes in South Africa, the Pantanal in Brazil, the Florida Everglades in the United States, the Camargue in France and the Yellow Sea in China.
"There are 170 countries managing 2303 Ramsar sites (225 million hectares) across the Earth's surface. This project is globally significant, establishing and operationalising a standard for assessing, monitoring and reporting wetland condition of not only Ramsar wetlands but all wetlands," said Professor Kingsford.
"It will allow tracking and comparison of wetland condition among and across regions, countries and continents, supporting consistent global investment in conserving some of the world's more threatened ecosystems. It is also nationally significant because it is applicable not only to Australia's 66 Ramsar-listed wetlands but all our nation's wetlands."
Globally, wetland coverage is estimated to have declined between 64% and 71% in the 20th century, and wetland losses and degradation continue worldwide. Wetlands are critical to the natural environment – protecting shores from wave action, absorbing pollutants, improving water quality and reducing the impact of floods. They are home to a wide diversity of plants and animals that are found nowhere else.
But widespread loss of global biodiversity, including species extinction and ecosystem collapse, is happening at unprecedented rates and scales. This biodiversity loss is most significant across the world's freshwater realm, predominantly the wetlands. Losses have been driven by climate change, population increase, urbanisation – particularly of coastal zones and river deltas – and changing consumption patterns that have all fuelled changes to land and water use and to agriculture.
The project was part of the federal government's announcement today of $5.7m in ARC Linkage Projects funding for research partnerships. The ARC Linkage Project scheme brings together higher education and industry to conduct research into pressing issues affecting Australians.
Comments