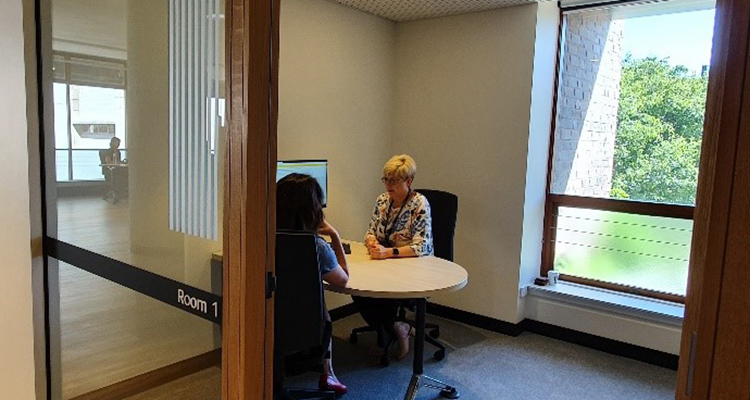 Staff from the Faculty of Arts & Social Sciences are the first to offer faculty services at The Nucleus: Student Hub.
In January 2019, the Faculty of Arts & Social Sciences (FASS) student centre staff and academic advisors joined The Nucleus: Student Hub. The aim is to trial how the space can be used from a faculty perspective. The newly renovated space includes private consult rooms that are ideal for academic advising.
The feedback from students has been positive, with many commenting "it feels professional and welcoming" and "looks so much nicer." FASS Academic Advisor Alessandra Mecozzi Saha was pleased to hear that students felt the new space "normalised the academic advising process… it wasn't a service tucked away in a corner, instead it was promoted as an everyday service just like getting your Student ID Card."
Academic advising is a unique service that looks at a student's program structure. It considers how various factors can impact, or have impacted, their academic performance and ability to progress. The service provides students with advice on any factor that affects their academic performance, an updated progression check, guidance with enrolment and advice navigating their course structure as a result of mitigating circumstances.
FASS Academic Advisor Tracy Costa added that the positive reception isn't limited to students, and that she enjoys advising students from The Nucleus: Student Hub's private and confidential consult rooms. "Students know they can talk naturally without concerns of being overheard," she said. "This enables students to relax into the confidential 30-minute session."
This critical service can also make students aware of specialised support services within UNSW for additional help to stay on track.
The FASS staff continue to deliver student services from The Nucleus: Student Hub and look forward to the positive impact the space has on enhancing the student experience.
Comments