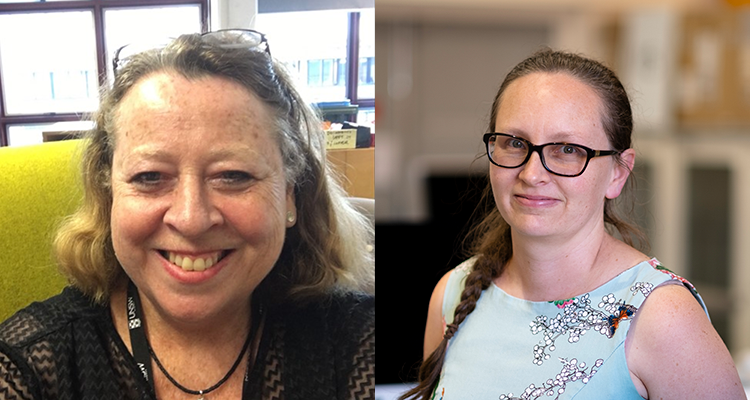 UNSW staff members from Science and Art & Design have been awarded citations in the 2018 Australian Awards for University Teaching.  
Associate Professors Elizabeth (Liz) Angstmann (pictured right) and Kim Snepvangers (pictured left) were awarded citations in the 2018 Australian Awards for University Teaching. The awards were established in 1997 by the Australian Government to recognise and reward university educators who have made significant contributions to the quality of student learning. Nationally, 60 citations were awarded across universities last year. 
Associate Professor Angstmann was awarded her citation for developing online and face-to-face materials and experiences for students that encourage active learning and problem solving in large first-year physics courses. 
"I believe students gain a deeper understanding of the subject material by grappling with ideas and working at solving problems on their own," Liz says. "As teachers we need to motivate students to want to learn and provide appropriate resources to help them actively learn. I take an evidence-based approach to teaching and, where possible, implement changes based on the education literature with positive results." 
Liz has been the School of Physics' First Year Director since 2011 and is responsible for the education of thousands of students each year. 
Associate Professor Snepvangers was awarded her citation for the design, development and implementation of research-led, accessible and innovative teaching and learning resources in the field of creative professional experience in art, design and media. 
"Transferring student creative skills to diverse mentors, who may not be art and design practitioners, was essential in prioritising students' under-utilised creative networks and connectedness capabilities," Kim says. "I foster placements in one-on-one, small-to-medium startups, collectives and galleries through to larger companies, digital producers and managers of design thinking in banking, property and health care. Projects in local government precincts and with marginalised groups are prioritised addressing accessibility of all in core programs." 
Liz and Kim, who are both Scientia Education Academy Fellows and Education Focussed academics, will receive their citations at a State ceremony in April, recognising their place among Australia's most exceptional university teachers.
Read more about Australian Awards for University Teaching recipients from UNSW.
Comments