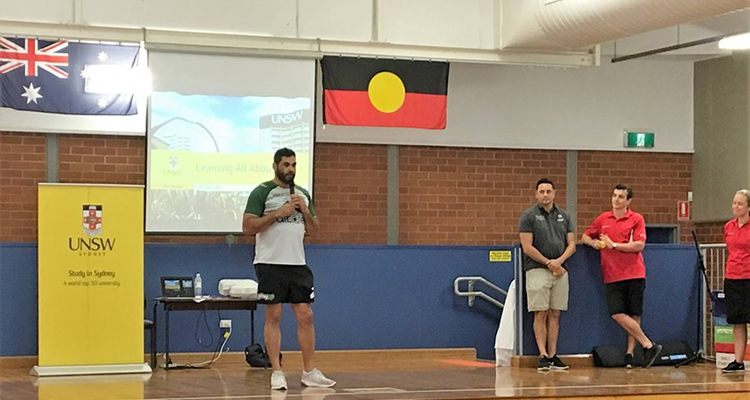 UNSW has joined with Souths Cares to visit high schools in regional and rural NSW and speak with high school students about their goals for the future.
With visits to Albury, Mudgee and Wellington so far in 2019, UNSW is forging strong connections with regional and rural NSW through a partnership with Souths Cares, the charitable arm of the South Sydney Rabbitohs NRL club.
Current and former Rabbitohs players have been speaking at high schools on the subject of gratitude and what it means to them as athletes and community members.
"We spoke about a bit of life experience, of where we come from, and things we are grateful of each day, which leads back to the idea of gratitude," said Rabbitohs all-time leading try scorer Nathan Merritt.
"The kids were pretty good, they were interactive. It took a little bit to get them going but once they did, they really got involved."
UNSW representatives spoke to the students about pathways to study at UNSW and encouraged them to aspire to tertiary education.
"We're looking to build a community around UNSW and building a relationship with South Sydney," said UNSW Engagement Officer Cameron Faricy. 
"Sport is a great way to build relationships and that's why we're looking to build a partnership with Souths Cares. We're hoping to build a long relationship with the club.
"We were giving the kids a summary of UNSW and entry pathways particularly relevant for the kids in regional and rural areas, including the scholarships. The message was that going to UNSW in Sydney was an achievable goal despite pre-conceived ideas of it not being possible."
Cameron was also joined by Nura Gili Student Services Officer Nigel Craig, who spoke about Indigenous Access Pathways and the Elite Athletes, Performers and Leaders program, which provides flexible study options for elite athletes to allow them to balance study and sport.
The trip to Wellington was a new step for Souths Cares, who wanted to expand the program beyond larger regional centres into rural areas and connect further with Indigenous youth.
"Out here at Wellington we wanted to help create a positive environment, and it was a good chance to present to Indigenous students as well," said Souths Cares General Manager Alisha Parker-Elrez.
"UNSW were also there to help promote scholarship opportunities and pathways, which was a real positive. It gave the kids a bit more of a reality in terms of being able to trial and attend university through attending winter programs and then promoting those opportunities as being in arm's reach."
UNSW and Souths Cares will continue to work together to engage students in regional and rural NSW throughout 2019, creating a community of care and compassion.
Comments