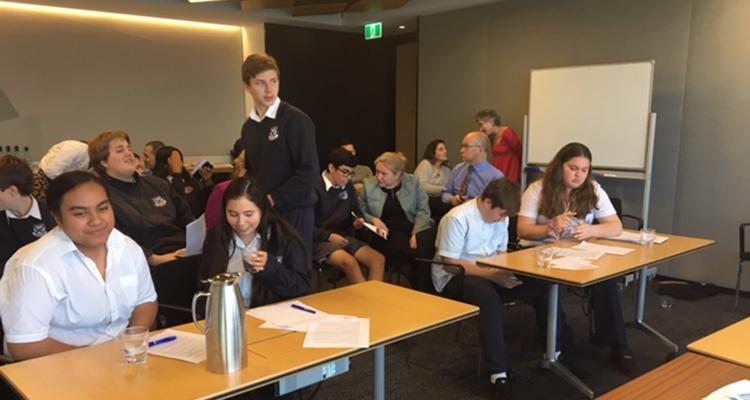 Volunteers from the UNSW Legal Office took part in TalkLaw, an Australian community legal education initiative targeting low SES students.
Members of UNSW's Legal Office, Carla Corradi, Kate Bradfield, Alix Cameron, Alan Melrose, Paul Sheehy, Elektra Woodrow and Marina Yastreboff, took part in the inaugural TalkLaw session at Matraville Sports High School on Tuesday 29 August.
TalkLaw is an Australian community legal education initiative run by King and Wood Mallesons (KWM) Pro Bono Legal Services. It targets Year 10 students in schools with significant cohorts of low socioeconomic status (SES) students and provides practical workshops on legal issues relevant to young people.
Legal Office volunteers and students gathered in a classroom at Matraville High School to discuss issues such as social media, police powers and casual work, and the students' experience of them. The second part of the program takes place this week and students will participate in a mock trial on employment law at KWM's offices in Governor Phillip Tower. Once again, volunteers from the UNSW Legal Office will take part.
"Last week's session was a really successful event for the students – most importantly – and for everyone involved," said Elizabeth Grinston, UNSW's General Counsel.
"I am very grateful for the time and dedicated effort which Carla Corradi (leader of the Legal Office pro bono and social responsibility initiatives) has put into making this happen, and for the efforts of everyone in the Legal Office who participated.
"The Legal Office is delighted to have opportunities to demonstrate the UNSW Values in Action. We are looking forward to next week's TalkLaw event and to our planned legal pro bono initiatives for 2019-2020," Ms Grinston added.
Comments