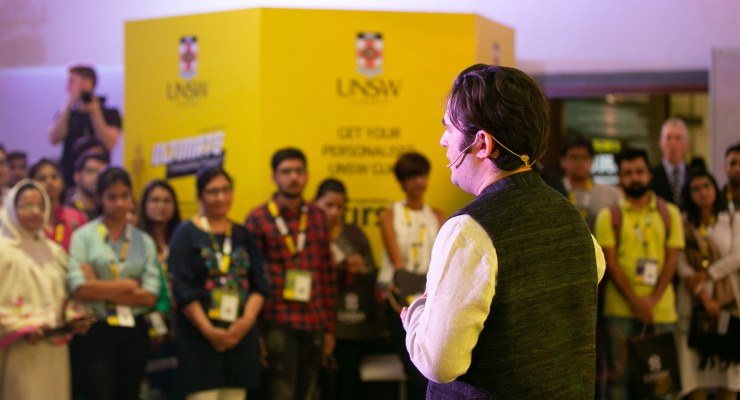 UNSW held its first ever series of Open Days in India.
From 18 to 24 November, 40 UNSW academic and professional staff travelled to India to run the inaugural India Open Day events across the cities of Delhi, Chennai, Pune and Mumbai.
With the overarching theme of 'Employability', the Open Days focused on presenting to the Indian audience how UNSW not only provides students with an outstanding academic experience, but how the university also prepares students for life beyond their studies.
"The 2018 India Roadshows definitely set a new high for our offshore events," said Matt Henderson, Head of Partnerships: Asia. "The quality of the production ensured the quality of our courses and programs, and the richness of the experience students can expect to enjoy was clearly communicated."
In addition to the 40 UNSW representatives offering information and insights into their faculties, scholarships and support services, the prospective students enjoyed interactive set-ups and a series of presentations and masterclasses. These gave them a taste of life at UNSW on topics including quantum science and technology, cyber security, software engineering and future cities.
The roadshow was the first time the Future Student Recruitment Offshore team was able to deploy the Customer Relationship Management (CRM) capture system. This enabled students to register their interest to attend online, and provide their contact details and areas of interest. With those details, the student recruitment team are able to tailor an individual journey to guide students through the choices they face, answer any questions and complete their application to study at UNSW.
And it may not be long before the benchmark set in the first India Open Day is exceeded, as the team looks ahead to next year.
"Our team is already planning for 2019 and workshopping ideas on how we can continue to build the UNSW brand and presence in India," said Matt. "We're aiming to set new standards of excellence for our events and continue building on their effectiveness in encouraging students to enrol."
Comments