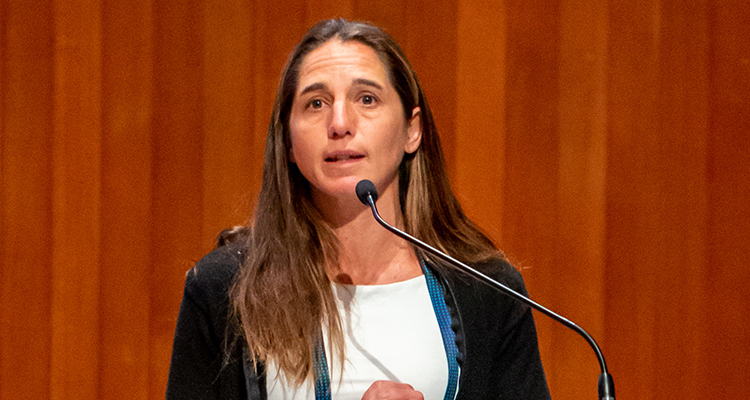 With the help of Business Events Sydney, UNSW academics are attracting large international conferences to the University and surrounding area – enhancing their own global profile while showcasing the University and our city. 
Business Events Sydney (BESydney) is a business events bidding specialist which has secured more than $1 billion worth of global meetings for Australia. Financially supported and backed by the NSW State Government, the not-for-profit company provides a free and unbiased service. 
UNSW Science's Dr Laurie Menviel, who works in the Climate Change Research Centre, teamed up with BESydney to help attract the recent International Conference on Paleoceanography in September.  Held at UNSW, the conference brought 400 international delegates to campus over five days. This conference had never been held in the Southern Hemisphere. Dr Menviel thought it would provide a good opportunity to showcase not only the research happening at UNSW, but also across Australia and New Zealand.  
"Organising such a conference is very important as it puts the spotlight on the organising university as being a major player in the field," explained Dr Menviel, "This not only benefitted our research team but also helped our local students and early career researchers who were able to participate in the conversation. 
"Other workshops were organised before the conference and some of the delegates took the opportunity to visit UNSW for the days and weeks surrounding the conference. This was a terrific opportunity that increased visibility and allowed for more collaboration. It benefitted everyone at UNSW who was involved," Dr Menviel added. 
Dean of UNSW Science, Professor Emma Johnston AO, opened the International Conference on Paleoceanography and agreed that the experience was a success for UNSW Science.   
"The benefits of leading an international conference are exceptional for our academics. It enables them to take a leadership role, foster international partnerships, explore what's happening in their field while showcasing their team, facilities and our culture for excellence," said Professor Johnston. "It's a chance to become a thought leader and generate a global conversation. 
"As researchers, however, it's crucial to get support from an organisation like BESydney," she added. "These large-scale events are complex, and this type of support is essential for success."   
Dr Menviel discovered BESydney when she looked into hiring the Sydney International Convention Centre during the initial planning stages of the conference. She had to put out a bid to hold the conference in Sydney. BESydney helped her prepare it by getting quotes for venues, catering, preparing the budget, drafting the bid application and preparing the presentation. 
"It was my first experience putting a bid together and organising a major conference, so having this support was very helpful," she said. "They gave great advice and guidance. The whole experience really improved my management and leadership skills." 
Dr Menviel is one of several UNSW academics who has successfully attracted a large conference to UNSW and Sydney working with BESydney on an individual bid or regularly as a BESydney Global Ambassador. In early 2020, Inside UNSW will share other stories of UNSW academics from Medicine and Engineering who had similar successful bids. 
Read more about what BESydney has to offer. 
Comments