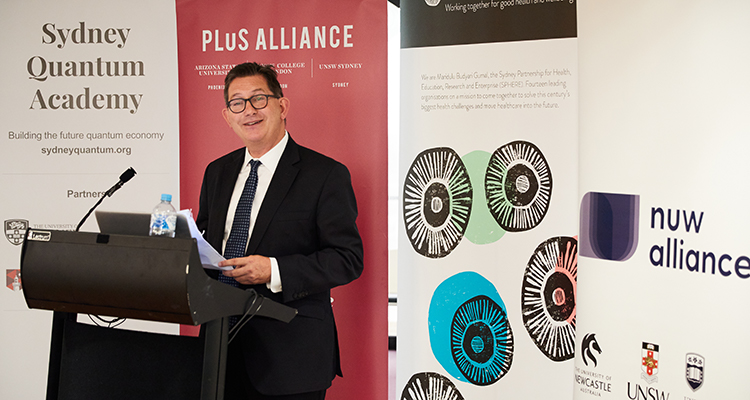 This is the last newsletter of 2019. I wish everyone in our UNSW community a safe, joyful and rejuvenating holiday break. Thank you for your hard work and dedication over a hugely successful year for UNSW.
On Monday in The Australian, I wrote that now is the time for Australia to discuss, plan for and respond to the challenges of climate change – because of, not despite, the unprecedented bushfire season raging across vast parts of the country. In the article you'll see my thoughts on the critical role of the university – rich as we are in world-leading expertise in climate, oceanography, renewable energy and sustainability. UNSW has recently asked a select group of global universities with equally strong credentials in these fields to join us in creating an international university climate change consortium. We've received strong interest in forming this strategic coalition and I look forward to telling you more about it in the new year.
With the campus cloaked in bushfire smoke, our thoughts are with those who are fighting the fires, and with those who have lost their homes and more during these dreadful fire events.
At UNSW we celebrate diversity and we seek to create collaborative, respectful environments in which to do so. Our Division of Equity Diversity and Inclusion and the SRC Disability Collective exemplified these values in organising UNSW's official celebration of International Day of People with Disability (IDPWD) on Tuesday, 3 December. The guest speaker was Carly Findlay, an award-winning journalist, TV presenter, keynote speaker and author, who is dedicated to dismantling the perception that disability is a weakness. You can watch the recording of Carly's presentation if you weren't able to make the event. Thank you to all who contributed to our IDPWD celebration, and to all who contribute each day to our ambition for UNSW to be recognised as an international exemplar in equity, diversity and inclusion.
This Saturday, at about 11am, the Sydney Light Rail will begin taking passengers between Circular Quay and Randwick on the new L2 Randwick Line, marking a new era of travel to our Kensington campus. Several UNSW staff will be on board the very first trip. The Light Rail will play a vital role in improving the accessibility of our campus and alleviating current transport issues. Not only that, it will be a more efficient, environmentally sustainable transport option for staff, students and visitors to our campus. The L2 Randwick Line has 14 stops, including Central and UNSW High Street, near Gate 9. So, listen out for the ding of the Light Rail bell in coming days – and please, be aware of your personal safety as you make tracks to UNSW!
On Tuesday I celebrated a successful year with our Alliances Business Unit, at what was a veritable festival of the alliances featuring guests from PLuS, TEDI-London, NUW, SPHERE and the Sydney Quantum Academy. We're fortunate to have some of the world's greatest research minds working at UNSW and, through our alliances, we collaborate with other brilliant minds to find solutions to society's grand challenges. Director of Alliances, Vinita Chanan, and her team have done a tremendous job stewarding our five existing alliances – which will soon grow to six as the international universities climate change consortium I mentioned earlier gets up and running. It has been a tremendous year for the Alliances team, and I thank you all for your superb work.
Another event which focused on collaboration, this time between UNSW disciplines, was the Women's Wellbeing Academy meet-up on Tuesday. Twenty-two groups pitched exciting ideas about what might be addressed – and achieved – if we were to establish the Academy. I was impressed by the diversity of the groups pitching and the seemingly bottomless well of innovative ideas and critical thinking we are fortunate to have at UNSW. I look forward to further discussion about how we might progress the concept of the Academy from here. Congratulations to all who have shared my enthusiasm for the project and have worked so hard to bring it to life, especially Scientia Professor Rob Brooks, Academic Lead of Thought Leadership and Grand Challenges; DVC Equity, Diversity and Inclusion, Professor Eileen Baldry; Head of Discipline of Obstetrics and Gynaecology, Professor Bill Ledger; Acting Head of School of Social Sciences, Associate Professor Jan Breckenridge; and Manager of Grand Challenges, Vanessa Cali.
On Tuesday I had the pleasure of launching a magnificent book: Human Brainstem: Cytoarchitecture, Chemoarchitecture, Myeloarchitecture, the first detailed atlas of the human brainstem in 20 years. My heartfelt congratulations to authors George Paxinos, Teri M. Furlong and Charles Watson, who have produced a work of great scientific and aesthetic value. The brainstem has a critical role in regulating such vital functions as breathing, movement and emotion and the mapping described in the book provides fascinating insights into the way it is organised and functions. I am certain Human Brainstem will become a priceless companion to students, researchers and pathologists alike. Well done to the authors.
Professor Kate Crawford, Distinguished Research Professor at New York University, delivered the 2019 Wallace Wurth Lecture on Monday evening. Professor Crawford has advised a number of governments on artificial intelligence policy and is also co-founder of the AI Now Institute, the world's first university institute dedicated to the broader social impacts of AI. Her expert insights were welcomed by those in the audience from UNSW who are seeking to address the challenge 21st century technology poses to society. The Wallace Wurth Lecture continues to be a stimulating event in our calendar and one to which I look forward each year. It reminds us of the great vision and energy of our first Chancellor, who used the original Technical College as the 'scaffolding' for a newly created UNSW.
Today I am on my way to India to attend the Green Rating for Integrated Habitat Assessment (GRIHA) summit in New Delhi. This is the second year UNSW has been invited by The Energy and Resources Institute in India to co-host the event, which brings together experts and consumers to discuss and deliberate on furthering the sustainable habitat agenda in India. We have the special honour this year of organising five Plenary Sessions, each highlighting a grand challenge – Rapid Urbanization, Energy, Water, Waste and Governance, with preeminent UNSW Faculty moderating the discussion, or leading from a speaker perspective.
I'm pleased to be able to share the vision for the Village Green. Work will begin this month, to transform the Village Green into a vibrant, connected space for students, staff and the community to play, exercise, socialise and relax – helping UNSW deliver exceptional sports programs and social amenities. One requirement for this project is the upgrade of the stormwater infiltration tank, which sits below the Village Green. A new tank will be installed underground to capture all the campus stormwater in our catchment area and contribute to recharging the Botany Aquifer. We expect the project will take until early 2021 to complete.
I'm pleased to direct you to two new websites to keep you up to date with developments in our Division of Enterprise and UNSW Precincts programs. The enterprise.unsw.edu.au site provides valuable insight into opportunities for innovation and collaboration between UNSW and industry, government and community partners; the precincts.unsw.edu.au site gives you an overview and updates on the transformative healthcare, education and research innovation precincts UNSW is involved in. Both sites allow you to keep your finger on UNSW's collaborative pulse.
Some of you will have already seen my message announcing the appointment of Professor Mark Hoffman as Deputy Vice-Chancellor Academic at the University of Newcastle. Mark has made an enormous contribution to UNSW over many years so it is sad to see him move on, but he has secured an exciting role in Newcastle and will stay closely linked to UNSW through the NUW Alliance. I thank him for his hard work in elevating UNSW Engineering to its place as a global leader and I wish him all the very best in his new role, which he will commence in March 2020. I am sure Mark will make as much of an impact at the University of Newcastle as he has at UNSW. The search for Mark's successor as Dean of Engineering is underway.
I would like to recognise the exceptional work of Dr Elizabeth Eastland, UNSW's first Director of Entrepreneurship, who is retiring and will step down from her role in early 2020. Under Elizabeth's leadership, the UNSW Entrepreneurship's Founders Program has become the most comprehensive on-campus start-up and entrepreneurship support initiative in Australia. In only two years, Elizabeth and her team have supported more than 1,000 start-ups; introduced over 20,000 students, staff and alumni to entrepreneurship; and forged key partnerships with industry and investors. Thank you, Elizabeth, and all the very best for your future.
UNSW staff have an early-bird opportunity to nominate members of our alumni community for the 2020 UNSW Alumni Awards before nominations open to the public in January. There are six exciting new award categories for 2020, and with more than 300,000 UNSW alumni in over 150 countries, there is a host of inspiring leaders, entrepreneurs, innovators and creators who are worthy of nomination. I encourage you to help us celebrate our trailblazers and transformers by submitting a nomination by 15 February 2020.
Congratulations to all who were involved in bringing us The Lounge, our dedicated space for staff to socialise, engage, network — and be. The NSW Master Builders Association recently awarded an Excellence in Construction Award to Growthbuilt, who delivered the project in conjunction with Bates Smart Architects. The Lounge has been a huge success since it opened, giving staff a chance to 'get away from it all' right here on campus. It can now claim to offer an award-winning hospitality experience.
This past week has seen the announcement of the members of staff who, after a rigorous review process, have been promoted to Professor and Lecturer. My congratulations to you all. You can see the full list of names here and here.
Thank you to everyone who generously donated to the It's in the Bag campaign, which I spoke about in my last message. The UNSW community donated 170 bags, which the Share the Dignity organisation will distribute to improve the life of a woman or girl experiencing homelessness, poverty or domestic violence this Christmas.
Thank you, too, to everyone who joined us for Family Day. It was a great event and wonderful to see so many UNSW staff bring their families along to enjoy a festive atmosphere on campus – a wonderful way to end a busy and successful year. Many thanks to the UNSW Hospitality and Estate Management teams who brought it all together.
I wish you all a relaxing, happy holiday break and new year and look forward to sharing the challenges and opportunities of 2020.
Best wishes,
Ian
Comments