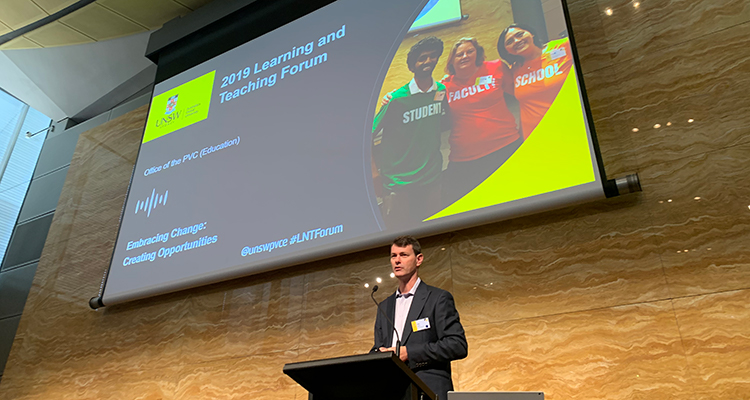 The annual event focused on learning and teaching practices in the shifting landscape of higher education.  
With the theme of 'Embracing Change: Creating Opportunities', the 2019 Learning and Teaching Forum attracted almost 300 people, including more than 100 presenting educators and their students from across the University.  
The day consisted of 37 presentations and 10 poster presentations focused on three streams: 
Assessment and Feedback 
Collaboration and Partnerships 
Course Design 
"In this Forum, the UNSW education community had the courage, audacity and, most importantly, freedom to debate, discuss and provide solutions to the difficult problems in modern high education," said Dr May Lim, Senior Lecturer at UNSW Engineering and Scientia Education Academy Fellow.  
Associate Professor Kathryn Sutherland from Victoria University of Wellington kicked off the day with her keynote presentation Changing Contexts and People in Higher Education: Holism and Akoranga. Her keynote shared how Maori values such as akoranga (reciprocity), manaakitanga (hospitality/respect) and whanaungatanga (connectedness) have been embedded into the learning and teaching strategy at her university.   
"Associate Professor Sutherland's keynote was like a breath of fresh air - such a simple, inspiring and generous-spirited approach," said Karin Watson, Senior Lecturer at UNSW Art & Design, Scientia Education Academy Fellow and Education Focussed Champion. "I will be endeavouring to integrate akoranga, manaakitanga and whanaungatanga, including the 'Relentless Welcome', into all I do."  
Reflecting on learning and teaching at UNSW 
Participants had the chance to stop, reflect and network with their peers throughout the day by considering their own learning and teaching practice. The event also included a separate reflection session where participants were encouraged to contemplate what they had listened to, observed and learnt, using reflective prompts centred around the three streams.  
Participant feedback on the Forum has been very positive and encouraging. "The Forum was inclusive, stimulating and collegial. It reminded me that there are reflective practices that I should be using," a participant noted in the feedback survey. 
"It was extremely well organised, the presentations were of a high standard and scholarly, and the networking vibe of the day was buzzing! I enjoyed the opportunity the forum provides to reflect on and improve my teaching practice," another attendee said in the survey. 
Recognising UNSW's best and emerging educators 
The day ended with the announcement and recognition of the awardees for the UNSW Awards for Teaching Excellence. You can read more about the awardees here. 
The winner of this year's poster presentation was Dr Yenni Tim from the School of Information Systems and Technology Management, UNSW Business School. Her poster on the Sandbox for Education: Co-creating a career-focused learning experience through solving real industry challenges looked at how collaboration and partnerships were used to co-create a learning experience for students, educators and industry partners.  
You can access all poster presentations from the Forum by accessing the 2019 Learning and Teaching Forum Poster eBooklet.  
Missed out on a session or want to find out more? 
All presentation slides and recordings from the 2019 UNSW Learning and Teaching Forum will be available from Friday 20 December on the UNSW Learning and Teaching Forum Moodle Course site (self-enrolment key: lntforum). You can also revisit resources from the 2018 Forum on this course site. 
View photos from the day on this page. And subscribe to the PVC(E) eBulletin to keep on top of learning and teaching-related news and events at UNSW. 
Comments