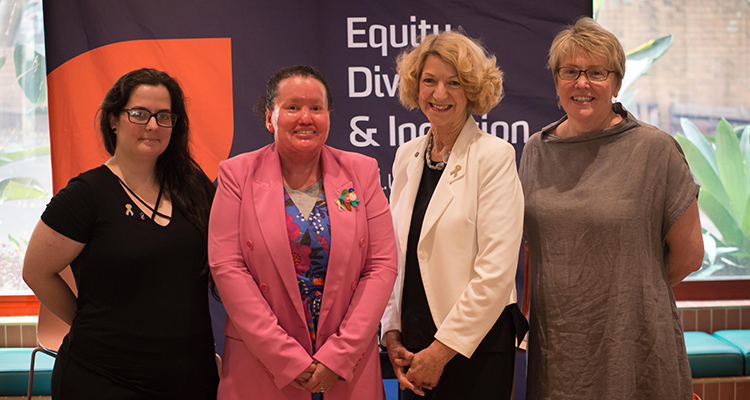 On International Day of People with Disability, Carly Findlay shared her unique journey towards becoming an advocate for disability awareness. 
UNSW celebrated International Day of People with Disability on 3 December with guest speaker Carly Findlay, students and staff at the UNSW Bookshop. Co-organised by the Division of Equity Diversity & Inclusion in partnership with the SRC Disabilities Collective, the event was hosted by Donna Hogan, the Students with Disabilities Officer at UNSW Student Representative Council.  
An award-winning journalist, TV presenter, keynote speaker and published author (with her own memoir, Say Hello), Carly Findlay lives with ichthyosis, a rare and severe skin condition. Ms Findlay didn't always identify as chronically ill or disabled, and it was only in her mid-20s that she began to embrace the label after she started mentoring young people with chronic illnesses. Despite the differences in conditions, she found many striking similarities and felt a genuine sense of belonging.  
Ms Findlay is now dedicated to challenging conventional beauty norms and dismantling the perception that disability is a weakness. "Non-disabled people say it is offensive to call us 'disabled', but being disabled doesn't mean a lack of ability," she said. Being disabled is part of her identity and she proudly claims the word, telling UNSW students and staff that they shouldn't be afraid of using the term. She pointed out that the prefix 'dis' can mean a 'different direction' – not incapable. "If you look at the words 'distilled' and 'discern', dis isn't negative," she said. 
Carly Findlay challenges the limited expectations society has of people with a disability. Speaking about the social model of disability, where society's treatment of people with disability is more limiting than the disability itself, Ms Findlay said "it is attitude towards my appearance that is disabling".   
Disability affects one in five people in the Australian population. Forty-five per cent of the population with disability lives on or below the poverty line with lower employment rates compared with others in the community. Ms Findlay attributes this to a lack of opportunity and fear that people with disability won't be productive employees.   
Having witnessed first-hand how people with disability aren't expected to lead, Ms Findlay touched on the lack of infrastructure considerations for keynote speakers with disability at conferences and events. "Microphones are mostly at standing heights. It is rare for rooms to have hearing loops, captions and audio. Mingling spaces almost never have chairs. It is important that universal access is there from the get-go – this shows that we're committed to giving everyone a fair go," Ms Findlay noted. 
Ms Findlay also spoke about the dearth of senior leadership positions for people with disability. "We need to be given space to lead so strategies and solutions are genuinely inclusive of people of all abilities. But if there are significant barriers to entry, disabled people may be discouraged to apply in the first place. I want to see more quotas, affirmative action and boards that commit to have more disabled people," she said.  
You can watch the captioned YouTube recording of the event below. 
While she spoke about the importance of finding resilience and pride in disability, Ms Findlay emphasised that advocacy and awareness should not be incumbent on those with a disability. She read a chapter on awareness and advocacy from her new memoir, Say Hello, and observed that people with disability do not owe an explanation to the world. "You don't need to tell people why you look the way you do," she said. "Will these awareness months ever be about looking inwards and finding self-acceptance, rather than looking outwards to make others accept us?" Ms Findlay believes that policy, education, the media and public spaces should be inclusive of all, as awareness without real and tangible change is fruitless.   
"I'm proud to belong to an amazing, talented, diverse, passionate community that is committed to improving the lives of others. A community that won't apologise for who they are," Ms Findlay said.  
Comments