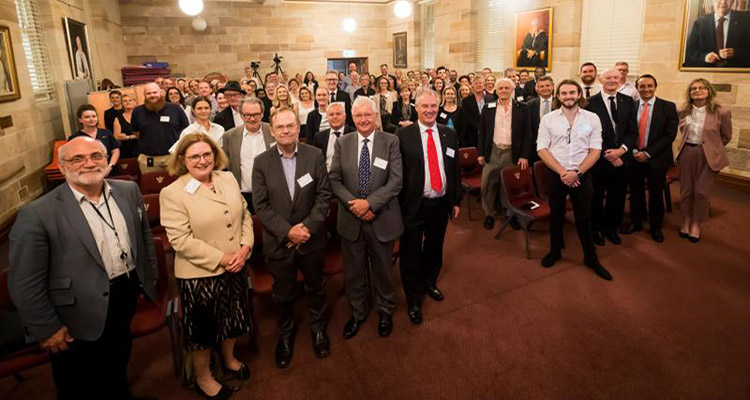 $7 million in Commonwealth Government funding will underpin the launch of a unique service providing expert support for people with mental health, neurological and alcohol and drug disorders.
The Mindgardens Neuroscience Network, which integrates treatments and research for mental health, neurological and alcohol and drug disorders, was officially launched on Tuesday by Member for Wentworth, Mr Dave Sharma MP.
Mindgardens, the first initiative of its kind in Australia, is a collaboration between UNSW Sydney, Neuroscience Research Australia (NeuRA), the Black Dog Institute and South Eastern Sydney Local Health District Health. It offers clinical services to patients, supported by research programs, and training and educational initiatives, drawing on the expertise of the four partners.
"Mindgardens will develop and provide treatments for patients that are tailored to take account of the newest research discoveries and apply insights from the four collaborating partners. Patient responses will be monitored to guide treatment choices for others who come after them. This feedback loop between real-world medicine and scientific studies is the hallmark of the Mindgardens approach," John Grill AO, Chairman of the Mindgardens Neuroscience Network said.
"This integrated approach will create innovative, new models of care and transform the way we deliver care to people with mental health, drug and alcohol and neurological disorders in Australia," Mr Sharma said.
The Mindgardens offering will include:
Community hubs and primary health services, which match the intensity of support to clients' current needs
A Safe Haven for people experiencing a mental health or suicidal crisis, open for extended hours. The Safe Haven will begin operating when a suitable location in the Local Health District is confirmed.

Scaled up physical health support for people with mental health issues, addressing cardiac and metabolic health and medication side-effects.
Highly-specialised clinics that respond to the most complex and acute issues
Mindgardens Tertiary Referral Service for Psychosis: individualised therapeutic approaches for people who live with complex psychotic disorders.

Mindgardens Clinic for Depression: support for people whose depression is too complex for a GP to manage alone, but not so severe they need in-patient care.

Mindgardens clinics will be available predominantly to patients within the catchment of the South Eastern Sydney Local Health District. There is potential for some clinics to become state-wide specialist services, serving people all over NSW.
Prevention and outreach services
Adaptation of Black Dog Institute's popular online depression and anxiety support modules for patients with chronic physical health problems.

Shared care plans between patients, GPs and specialist services, with a focus on integrated responses to mental health and alcohol and drug issues.
"There is increasing concern within the community about the delivery and quality of health services for mental health, suicide prevention, drug and alcohol and brain disorders. UNSW is proud be part of the Mindgardens network to pioneer and test new approaches that can then be applied more broadly," said UNSW Dean of Medicine Professor Vlado Perkovic.
UNSW Sydney is one of Australia's Group of Eight leading universities, with a strong reputation in life sciences and medicine.
"Black Dog Institute is proud to be working alongside other world-leading organisations to improve the quality of mental healthcare offered to those with mental health, neurological and alcohol and drug disorders. We hope that Mindgardens provides a template for similar partnerships across the country, with the ultimate goal of helping to reduce national rates of mental ill-health through world-class care," said Black Dog Institute's Director and Chief Scientist, Scientia Professor Helen Christensen AO, who is also Interim Joint CEO of Mindgardens.
The Black Dog Institute undertakes research into depression, conducts clinical research in its clinics, and develops and implements suicide prevention strategies.
The majority of Mindgardens services in the initial phase will be available primarily by referral either from a GP or through hospital in-patient wards or out-patient clinics. The Safe Haven will be a drop-in centre available to the general public.
Comments