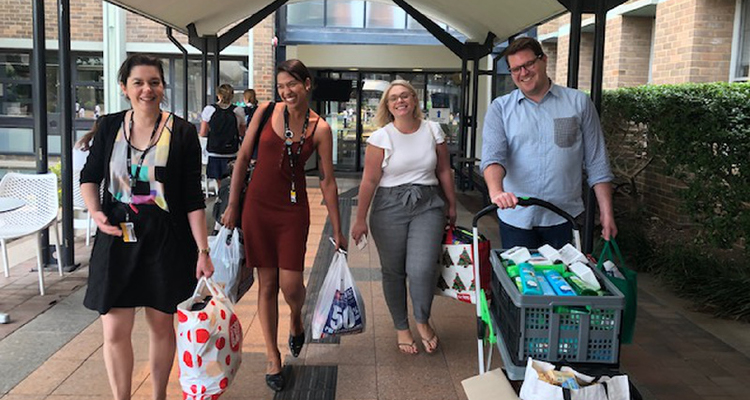 UNSW students and staff donated a new or pre-loved handbag filled with essential women's items with a message of love and support.
The Share the Dignity: It's in the Bag charity drive is an annual initiative that collects thousands of essential items for women in need.  This year, The Division of Equity Diversity & Inclusion (EDI) distributed charity collection boxes on campus. UNSW students and staff donated a new or pre-loved hand-bag filled with essential women's items including shampoo, conditioner, soap, tampons, pads, deodorant, toothbrush and toothpaste along with a message of support.
Celine Heu, Mark Wainwright Analytical Centre and ShareTheDignity volunteer, and Corrie Playford-Browne, EDI, led the initiative on campus. When Ms Heu first immigrated to Australia, she was keen to find something to be a part of and immerse herself with her fellow like-minded Australians wanting to make a difference. Share the Dignity drives connected with her. "This charity helps women in crisis who experience homelessness and/or are fleeing domestic violence, it gives them the key essential items so they don't have choose between buying food or buying hygiene products."
Students and staff proudly donated 170 bags to this worthy cause and shared a collective feeling of giving back.
"It is amazing to see the various areas of the university coming together to support this wonderful initiative. It truly embodies our Values in Action - Displays Respect, Builds Collaboration and Embraces Diversity," said Ms Playford-Browne. "Every year I'm blown away by the support."
Staff from faculties and divisions volunteered their time to check the donated items and were moved by the generous donations made. Some people donated multiple handbags, or new handbags filled with the essentials as well as a few luxury items such as high-end perfumes, hair clips, notebooks, brushes, face masks and lip balms.
"When you open the handbag to check that the essential items are there, you can see the attention and thought that has been given to each hand-bag," Ms Heu said. "So many people go above and beyond and are extremely thoughtful. It can be quite an emotional moment, when you come across one of these beautifully packed handbags because you know the women who receives it will feel very special."
The Division of Equity Diversity & Inclusion contributed hundreds of additional items to ensure every bag had the essentials. With many charities calling for donations over the festive season, every single donation was appreciated.
"We are thankful for every single bag that's been donated, for this year's charity drive," Ms Playford-Browne continued. "Our volunteers, Faculties and Divisions have gone above and beyond and we look forward to donating more bags in 2020."
To learn more about other Share The Dignity initiatives: sharethedignity.com.au.
Comments