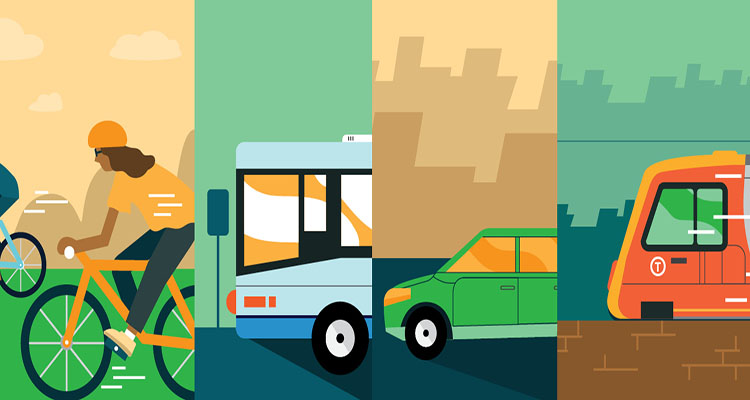 Get ready for Term 3 and plan your trip to the UNSW Kensington campus for an efficient and safe commute.
As we start to welcome our UNSW community back to campus for Term 3 (T3), we encourage students and staff to keep abreast of information regarding changes to public transport. Consider how you travel to campus and how you may adapt your commuting mode and routine to help keep you and the UNSW community safe.
Here's a reminder of the various ways you can choose to travel to campus, including options that are good for your health and the environment.
Light rail
You can catch the light rail from Circular Quay to Randwick or Kingsford. The L2 Randwick line has a stop at UNSW Gate 9 on High Street for the upper campus. The L3 Kingsford line has a stop near University Mall on Anzac Parade for lower campus. High frequency services mean you can just turn up and go.
Bus
Express bus services operate between UNSW and Central station. 
The 891 express departs from Eddy Avenue, Stand D at Central and has two stops at UNSW on High Street, opposite Gate 2 and Gate 8. 
The 893 express departs from Gate 3 on High Street and the 898 express departs from Gate 8 on High Street. Both services have one stop at Eddy Avenue at Central station. At this time the UNSW express bus services (891, 893 and 898) will continue to operate on the holiday timetable. 
Recently, some bus routes that service the UNSW Kensington campus reverted to the route as previously operated prior to the light rail. This includes the following services: 891, 400, 370 and 348. These services now stop at different locations. For full details, visit Bus service changes around the UNSW Kensington campus.  
You can view the UNSW public transport map for buses that service the UNSW Kensington campus.
Planning your journey
A reminder that off-peak Opal travel fares for bus, train, metro and light rail services have been temporarily reduced by 50% to encourage people to travel outside peak times and help manage physical distancing measures. Capacity on buses and trains has also increased with the easing of COVID-19 restrictions in NSW.
NSW Health strongly recommends wearing a face mask on public transport where physical distancing is hard to maintain.
A range of useful information and tools is available on Transport for NSW's 'COVIDSafe Travel Choices' website, including a new Travel Insights tool to help you plan your travel on Sydney's public transport.
For more information on public transport options available, including light rail, please visit Transport for NSW Info.
Cycling
If you can, cycling to UNSW is a healthy and sustainable way to travel to the campus. The Kensington campus has around 1,000 bicycle spaces and one secure bike hub which offers 39 secure parking spaces and 46 lockers 
Only park your bike in the racks provided, using a quality "D Shackle" or U-shaped hardened steel security lock. Avoid leaving your bike in the racks overnight or over the weekend.
Find the nearest bike rack, shower or repair station on our interactive map.
Be careful around the light rail when riding your bike. Ride straight over the tracks to avoid getting your wheels caught. If you can't, it's always safer to dismount before crossing. Do not ride along the tracks.
Last month, Transport for NSW announced plans for new COVID-19 pop-up cycleways across Randwick and Kensington. The cycleways are designed to give you more options to travel safely and provide an alternative to catching public transport or driving. Planning is being finalised for new pop-up cycleway connections along Todman Avenue at Kensington and High Street at Randwick. 
Walking
Physical activity is fundamentally important for mental and physical health, particularly during the COVID-19 pandemic. Walking to UNSW is a great way to build fitness into your daily routine. If you live within a few kilometres of the campus, it can be faster than driving or taking public transport. You can find showers to freshen up after a walk on our interactive map. 
To make sure you stay safe, check out these tips for pedestrians from Transport for NSW.
Driving
If you choose to drive to campus, UNSW is not currently collecting parking fees from students or staff for parking within marked UNSW permit holder bays. 
Remember, your vehicle must display a valid UNSW parking permit (including pre-paid daily permit) or must be registered with the Parking Office at parking@unsw.edu.au before or upon arrival to avoid incurring a penalty fine.
These changes apply 24 hours, seven days per week and will be reviewed again at the end of September.
View our interactive map for parking locations on campus. 
UNSW shuttle bus 
From Monday 14 September, the UNSW shuttle bus will resume its day and night services.
During the day, the shuttle bus runs between the Kensington and Paddington Art & Design campuses. The bus stops are located at Gate 8 on High Street, Kensington and Greens Road, Paddington near the Art & Design campus entrance. The service operates Monday to Friday between 7.30am and 7.00pm.
You can catch the night shuttle bus to get around the campus after dark. The night shuttle bus stops at car parks, colleges, libraries on the Kensington and Randwick campuses and nearby bus and light rail stops. The service operates Monday to Friday between 7.00pm and 11.30pm. You can track the night shuttle bus via the StaySafe@UNSW app.
Both services will have reduced seating capacity to accommodate physical distancing requirements. The bus will operate on a continuous loop rather than a timetable schedule to enable more trips to be completed and to reduce wait times.
More information
Visit Getting here on the Estate Management website for further transport information and to plan your trip.
 
Comments