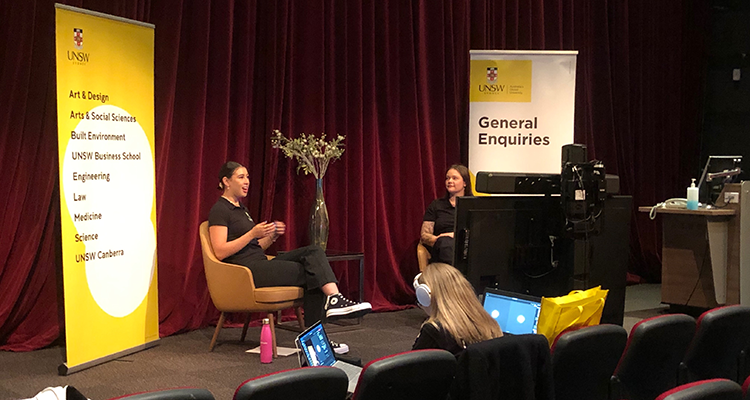 More than 4500 prospective students and their families logged on to UNSW's maiden digital Open Day.
The interrupted nature of the Higher School Certificate (HSC) and regular recruitment activity in 2020 has led to significant changes both for graduating high school students and UNSW's Future Student Recruitment team. Critical lead capturing activities, often done face-to-face in the halls and auditoriums of high schools around Sydney and NSW, have had to transition to online-only events, ensuring students are still aware of the possibilities offered at UNSW and how we can help them transition to a post-COVID world in tertiary education. Those efforts culminated over the past weekend in UNSW's first ever digital Open Day. More than 4,500 students and families attended over the course of the day, giving Open Day an exciting, if different, buzz to the event.
"We set out to design a digital Open Day experience that was responsive to the needs of 2020 high school students, keeping in mind that there is a clear level of digital event fatigue — sitting in a webinar isn't enough for them at this point in the year," said Chris Lewis, Head of Partnerships (Onshore) and one of the leads behind the 2020 Open Day event.
Headlining the digital offerings for prospective 2021 students was the first ever digital advisory centre. More than 700 UNSW staff members were on-hand throughout Saturday's event to conduct live chats one-on-one with prospective students and their families.
"We encapsulated our Hand, Heart and Mind philosophy and came up with a digital concept that represented our innovative brand and point of difference at UNSW," said Mr Lewis.
"Where we landed was a digital experiential event that curated the best of everything for a student on the day in a personalised way. Our live lecture program really drove momentum throughout the day with over 11,500 viewings. Importantly, that content can now be made available on-demand for students."
In addition to the digital advisory centre, prospective students were given the option to self-serve an expansive collection of articles and videos on interesting topics and fields, while the live lecture program delivered more than 35 unique lectures on the day with live Q&A sessions to provide an authentic event experience. This format encouraged students to engage with the program and put more thought into what they are interested in learning about, rather than taking a passive approach.
The flexibility and digital agility of UNSW staff was on display both on screen and behind the scenes, as expertise from all over the Division of External Relations and the broader UNSW community was brought together to make the event a success. Recruitment managers looked after digital product implementation; event coordinators acted as film production crew; and marketing staff moderated live-chat booths, to name just a few examples.
"I think it exemplifies our flexibility and the desire to make sure we can still show off the best UNSW has to offer under interesting circumstances," Mr Lewis added.
"Year 12 students, and others considering undergraduate study, have had access to us in a really unique way this year. We've had a big presence in high schools via digital channels and have been doing everything we can to make sure a stressed-out graduating class can still look forward to an exciting transition to UNSW in 2021."
Comments