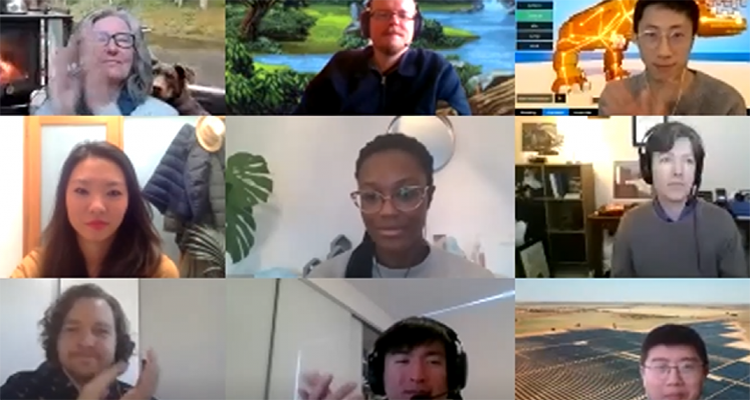 UNSW Founders and The George Institute for Global Health (TGI) announce the five teams to participate in this year's Health10x Accelerator program.
Health10x is a program delivered by UNSW in partnership with The George Institute for Global Health. It designed to support health innovators to build successful social enterprises. The entrepreneurship education program includes tailored health solution commercialisation tuition, regulatory compliance modules and other key topics ranging from health economics to clinical trials.
"The impact of the coronavirus pandemic this year – particularly in countries with under-resourced health systems and for people at higher risk, like those living with chronic diseases – has amplified the need for rapid and effective innovations in healthcare," said Professor Stephen MacMahon, co-founder and Principal Director TGI.
"Health10x is enabling researchers and founders to develop affordable and effective solutions for the biggest health challenges we face today, and for the communities who need them most.
"We had almost double the number of applications this year from last, with 37 teams participating in the prerequisite health stream of the UNSW Founders Pre-accelerator program," said Director of Entrepreneurship David Burt.
"After securing a competitive grant from the Federal Government, in 2020 we extended eligibility for Health10x beyond UNSW. This enabled more startups to access the benefits of the program. We're excited to have founders based in Melbourne and another in Bangladesh," Professor MacMahon said.
The five startups selected were chosen for their potential to improve healthcare in emerging markets. They are:
Docterio

: A platform to digitise healthcare in Bangladesh by providing seamless appointment booking and video consultation services, co-founded by Waqif Alam (student, UNSW Engineering) and Rizwan Chowdhury (student, UNSW Business School).

Walking Tall Health: A technology and vision to help the 10 million people with Parkinson's disease and motor impairment walk, co-founder includes Dr Matthew Brodie (UNSW Engineering).

MUVi

: A mobile device to detect and disinfect germs and improve responses to infectious diseases management.

23Strands

: Using AI to link complete patient DNA record with their other medical records for more personalised and effective healthcare.

4eyes: A kit that enables an untrained person to test for and dispense prescription spectacles to correct refractive error, the leading cause of blindness in the developing world. The start-up's Clinical Advisor is Professor Phil Crow (UNSW Medicine).
Accessible vision system 4eyes took out the top prize of $10,000 at the inaugural UNSW Founders Pre-accelerator Showcase held recently.
This year, due to physical distancing requirements, Health10x will be delivered 100% online. This includes providing founders with the important opportunity to validate their assumptions and offerings in India, an emerging market with vast healthcare needs. Accessing TGI's strong presence in India and established networks within the healthcare, government and health innovation sectors, the digital India Market Deep Dive will include expert speakers, virtual tours, an Indian pitch night and even a cooking class. 
Health10x is supported by the Australian Government Department of Industry, Science, Energy and Resources (DISER) and the Medical Research Future Fund (MRFF) REDI initiative.
The UNSW Founders program holds regular information sessions about their entrepreneurship programs. Find out more and register here.
Comments