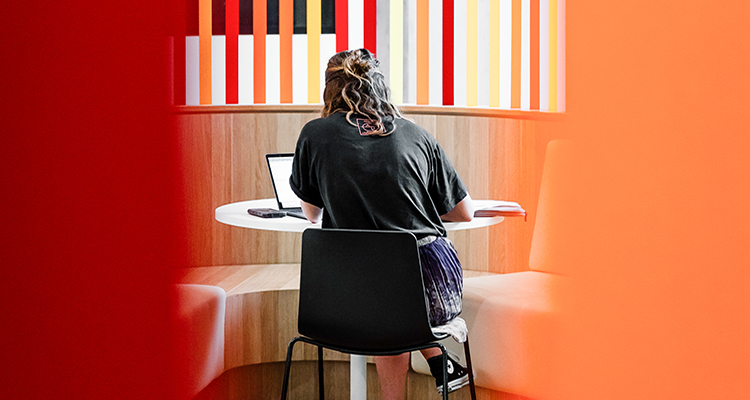 Seventy-one UNSW PhD candidates have been awarded a Dean's Award for Outstanding PhD Theses, Round 1 2020.
The Dean's Award for Outstanding PhD Theses was introduced in 2019 to recognise high-quality PhD theses produced at UNSW. To receive this award, candidates must produce a thesis that requires only minimal corrections, receives outstanding and/or excellent levels of achievement for all examination criteria, and in the opinion of both examiners is in the top 10% of PhD theses they have examined. Examiners are external to the University and are leaders in their fields.
"UNSW's PhD candidates are a vital part of our research efforts and these awards recognise the outstanding theses examined in the last year," said Professor Jonathan Morris, Dean of Graduate Research at UNSW Sydney.
"I commend each of these graduates for their achievement."
The awards are listed below by faculty. Further details about this award have been published on the GRS website.
UNSW Arts and Social Sciences
| | |
| --- | --- |
| Name | Thesis title |
| Leon Ankersmit | Partnership between birth parents and foster carers: a complex systems framework |
| Caitlin Buckle | Mapping mobile lives: Explorations of migrants' lived experiences through narrative, visual imagery and virtual visitation |
| Anthea Compton | The function of "traditional culture" in Australian political discourse, 1963-2007 |
| Kenny Kor | A multi-informant study on practice development and implementation of therapeutic residential care for young people in Out of Home Care |
| Vicki Likourezos | The Variability Effect: An Instructional Approach to Enhance Mathematics Learning |
UNSW Built Environment
| | |
| --- | --- |
| Name | Thesis title |
| Malay Dave | High performance prefab housing: towards an evaluation framework for design, sustainability and affordability |
| Jin Zhu | Pro-growth planning regime and housing outcomes in urbanising China: A case study of Shanghai |
UNSW Business School
| | |
| --- | --- |
| Name | Thesis title |
| David Bell | Three Essays Exploring intertemporal asset allocation |
| Jonas Heller | Reality re-imagined: How augmented reality redefines decision processes and consumer behaviour in retailing |
UNSW Engineering
| | |
| --- | --- |
| Name | Thesis title |
| Yara Alzahid | Multi-Dimensional Visualisation Methods for Multiphase Flow Characterisation of Alkaline-Surfactant-Polymer (ASP) Flooding: Impact of Phase Behaviour |
| Serwan Asaad | Electrical control and quantum chaos with a high-spin nucleus in silicon |
| Kaixuan Chen | Multi-modal Human Behaviour Understanding |
| Yongyoon Cho | The development of interface engineering for improving stability and efficiency of perovskite solar cells and understanding meta-stability of perovskite solar cells |
| Chen Deng | Non-Precious Metal-based Electrocatalysts from Prussian Blue Analogues for Energy-Related Reaction |
| Ali Dorri | A Scalable Lightweight Blockchain-based Framework for IoT Security and Anonymity |
| Scott Dorrington | The Trajectory Optimisation and Space Logistics of Asteroid Mining Missions |
| Song Gao | Interfacial engineering by meso/microporous materials towards efficient biocatalysis |
| Maryam Haghighat | Rate-Distortion Driven Overcomplete Decomposition of Imagery for Compression |
| Tuan Le | Buckling of high-strength steel beams |
| Da Seul Lee | Solution Process Engineering for Improving Stability and Efficiency of Perovskite Solar Cells |
| Aziz Mahmood | Development of a High-density geopolymer concrete for coastal protection applications |
| Alison McQuillan | A Risk-Based Slope Stability Assessment Methodology (SSAM) for Excavated Coal Mine Slopes |
| Laura Montano Luna | An experimental study of free-surface dynamics and internal motions in fully aerated hydraulic jumps |
| Sayidul Morsalin | Diagnostic Measurement and Modelling of Electrical Insulation Based on Very Low Frequency High Voltage Excitation |
| Lingzhe Rao | In-Cylinder Soot Oxidation in an Optically Accessible Automotive Diesel Engine |
| Adel Rezaeimotlagh | Non-thermal processing of liquid food products by using Radio Frequency Electric Fields (RFEF) technology |
| Michael Roberts | The value of co-operation: Opportunities for deployment of rooftop photovoltaics on Australian apartment buildings |
| Zahra Sadrearhami | Nitric Oxide-Releasing Polymer-Based Systems for Antibiofilm Applications   |
| Chenyu Wu | Computer-guided design of photocatalyst for PET-RAFT polymerisation |
| Weiwei Xing | A Scaled Boundary Finite Element Based Node-to-node Scheme for Contact Problems |
| Yitao Yan | Distributed control of interconnected systems in the behavioural framework |
| Fan Zhang | Rational design of wearable strain sensors by employing dual-scale fillers and structural engineering |
| Yan Zhu | Advanced Characterization of Defects in Silicon Wafers and Solar Cells |
| Yuting Zhuo | Numerical modelling of the pyrolysis of ellipsoidal low-rank coal briquettes and pyrolysis product char combustion in a blast furnace |
UNSW Law
| | |
| --- | --- |
|  Name | Thesis title |
| Bradley Gooding | Plurality in Legal Reasoning - the Place of Value Pluralism in Theories of Law and Adjudication |
UNSW Medicine
| | |
| --- | --- |
| Name | Thesis title |
| Ilina Bareja | Unravelling the molecular interactions of tropomyosin on actin at the single molecule and single filament level |
| Yolanda Colino Sanguino | Dissecting the role of histone variant H2A.Z acetylation in transcription regulation |
| Sophie Hertel | Templated Assembly of the Bacterial Flagella Motor Protein FliG using DNA Nanostructures |
| Shann Hulme | The diversion and supply of pharmaceutical drugs for non-medical use |
| Elan Lazuardi | Navigating the social dynamics of HIV care: a qualitative study in urban Indonesia in the era of scaled-up testing and treatment |
| Robert Lloyd | The Effect of Chiari Malformation Type I on Cerebrospinal Fluid Dynamics |
| Alastair Loutit | Suitability of the dorsal column nuclei for a neural prosthesis: functional considerations |
| Richard Mellor | Advancing understandings of remission and approaches to treatment through an examination of untreated remission from alcohol problems |
| Liza Tilia | Is there a Link Between Oocyte Meiotic Spindle Normality and Embryo Euploidy? |
| Collin Tran | Investigating the role of sphingosine 1-phosphate in neuroprotective signalling |
| Anne Wand | Understanding self-harm in the very old: A qualitative study with implications for clinical care and wider society |
UNSW Science
| | |
| --- | --- |
| Name | Thesis title |
| Erica Barlow | Diversification of early life: Microfossils of the c. 2.45-2.21 Ga Turee Creek Group, Western Australia |
| Claire Brandenburger | Rapid evolution of an introduced plant |
| Ngee Kiat Chua | Degron features of the regulatory domain of squalene monooxygenase - a rate limiting enzyme in cholesterol synthesis |
| Phillip Green | Determinants of Choice in Animal Models of Gambling |
| Thomas Macdonald | Controlling Molecular Motion |
| Edward McDonald | Double Operator Integration with applications to Quantised Calculus |
| James Peak | Investigating the roles of dorsomedial striatal projection neurons in goal-directed action |
| Angela Soeriyadi | Expression, Characterisation, and Engineering of Cyanobacterial Natural Product Biosynthetic Pathways |
| Thomas Stindl | Statistical inference for renewal Hawkes self-exciting point processes |
| Song Tang | Correlation between microstructure and properties of magnesium-lithium-aluminium alloys |
| Shyam Tummanapalli | Evaluation of corneal nerves and tear neuromediators in diabetic peripheral neuropathy |
| Gaurav Vats | Investigation of electrical, optical and mechanical control of ferroelectric domains using scanning probe microscopy |
| Adrian Walker | Learning and earning under uncertainty: The impact of uncertainty on human choice and attention in the exploration/exploitation trade-off |
| Daniel Wenholz | Development of Bacterial RNA Polymerase Holoenzyme Inhibitors and Total Synthesis of an Archaea Signalling Molecule |
UNSW Canberra
| | |
| --- | --- |
| Name | Thesis title |
| Ali Abbas Hussein Ameri | Microstructural Evolution of Lean Duplex Stainless Steels under Different Loading Conditions |
| Binod Aryal | Mechanical Behaviour of Carbon Fibre Reinforced Laminates and Honeycomb Sandwich Panels Subjected to Low-Velocity and High-Velocity Ballistic Impacts |
| Sumana Biswas | Real-Time Path Planning for a Swarm of Autonomous Systems |
| Florian Gottwalt | ACNADA: A Contextual Network Anomaly Detection Approach for False Alarms Reduction and Semantic Reasoning Enhancement |
| Ahsanul Habib | Efficient Algorithms for Computationally Expensive Optimisation Problems |
| Nickolaos Koroniotis | Designing an effective network forensic framework for the investigation of botnets in the Internet of Things |
| Vu Lam | Intermestic Public Diplomacy in Vietnam: Boosting International Standing and Drumming up Domestic Support |
| Carlos Macana Morena | Modelling and Control of Inverter Based Microgrids |
| Awanthika Senarath | Embedding Privacy into Software Systems: A Privacy Engineering Methodology for Data Minimisation |
| Vu Phi Tran | Formation Control of Multi-Vehicle Systems using Negative-Imaginary-Systems Theory in Uncertain Environments |
| Yuanlong Wang | New Developments in Quantum Tomography |
Comments